By Madeline Liao
With cars driving by and people going about their days, the alleyway beside Pho Pasteur is a hectic one. Sounds of streetcars, honking, and people's casual conversations fill the space. But somehow, the giant painting on the wall overpowers all with its vibrant colours shining bright in its dark alleyway home, giving the street a sense of joy. The mural is named after a meaningful word: hope—something that creates feelings of safety, belonging and positivity within a community. That's what Wenting Li sought to achieve when she named her impressive piece.
Along with works from other artists, Li's artwork is a perfect example of public art initiatives providing opportunities for racialized artists' creativity to flourish. They help to bring livelihood into areas buried by buildings and rapid urbanization. To help accomplish these feats, community organizations like STEPS Public Art have sponsored various art initiatives in Toronto neighbourhoods. And that's how The Hope came to life. Li created this work to symbolize the immigrant community in the area and act as a part of Chinatown's culture, offering encouragement in the troubling pandemic.
With multiple Chinatown neighbourhoods in the Greater Toronto Area, the historically "old" Chinatown between Spadina Avenue and Dundas Street West provides a foundation for Asian communities. Filled with unique life stories, smells of delicious food and residents conversing in their native languages, this area is rich with culture. The art embedded in Chinatown's neighbourhood characteristics, communicating through alleyways, park benches and storefronts, enriches its cultural landscape.
As such, Li's brainstorming process focused on those aspects of the neighbourhood. It first started when Toronto's Chinatown Business Improvement Area (BIA) approached her with the idea for a mural in August 2021, funded by STEPS Public Art.
To properly research for the piece that would represent the community, Li consulted residents on social media, asking about their dreams for Chinatown's future. Besides praising the renowned food, respondents noted a desire to preserve culture through intergenerational mingling—putting emphasis on connections between different generations such as grandparents and children, and parents and cousins.
With that idea in mind, Li developed the theme. Having lived in Chinatown while going to school, she understood the importance of cultural preservation. This connection allowed her art to "reimagine equity in our cities, ensuring the stories told come from the communities themselves," as Ima Esin, program coordinator at STEPS Public Art, said.
After the planning, came the actual painting. When working on her mural, Li would roll out of bed every morning at 7 A.M. and get on her bike. She would ride over the bridge to Chinatown, accompanied by the rising sun. It would take her around an hour to set up the materials she stored at Pho Pasteur and the Chinatown BIA office in the alleyway.
Throughout each day of painting, residents of Chinatown would pass by with lingering looks, friends would stop by with snacks and people would even offer to watch her supplies so she could take bathroom breaks. Most days, Li painted until sunset, but sometimes she continued painting with a headlamp into the hours of the night.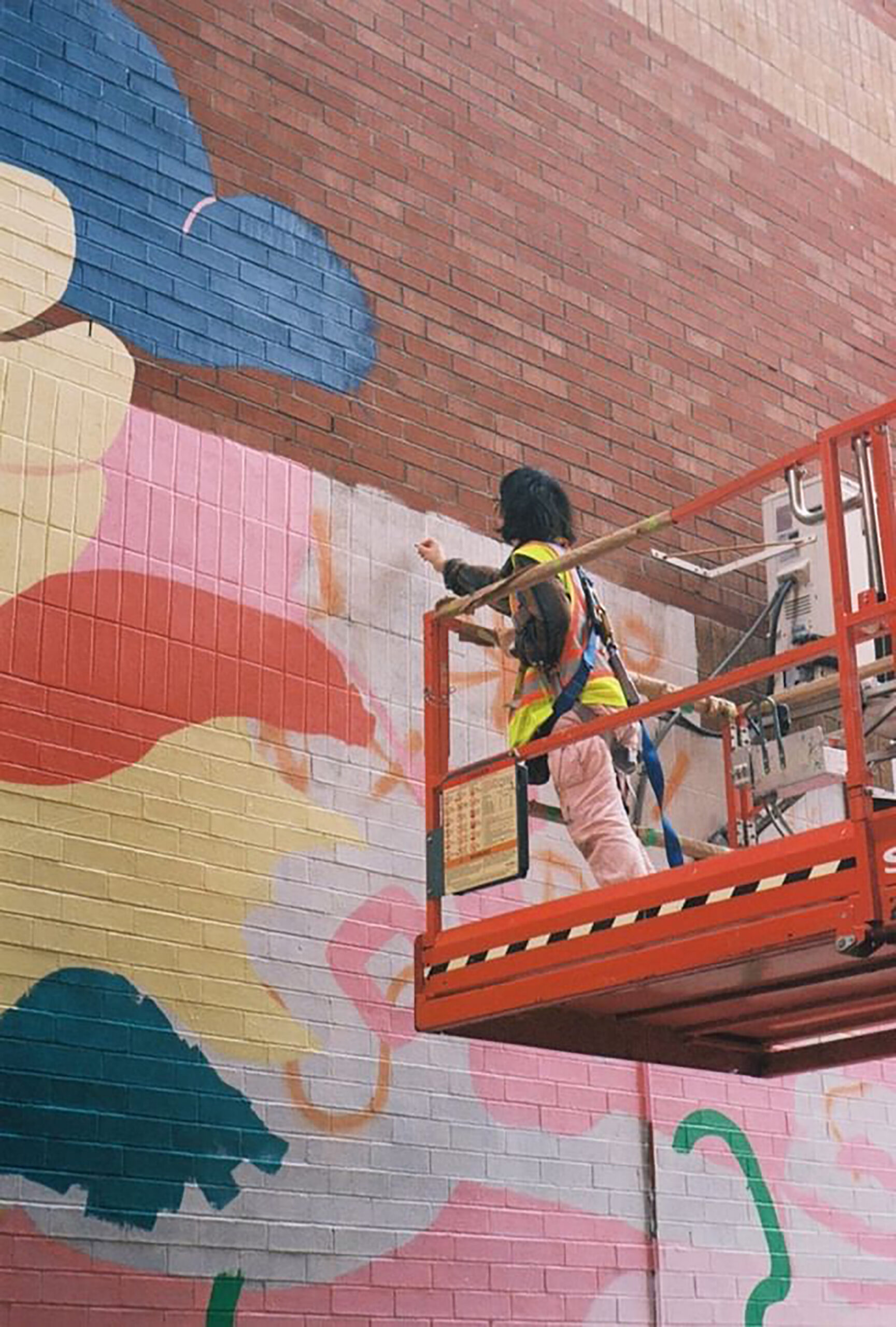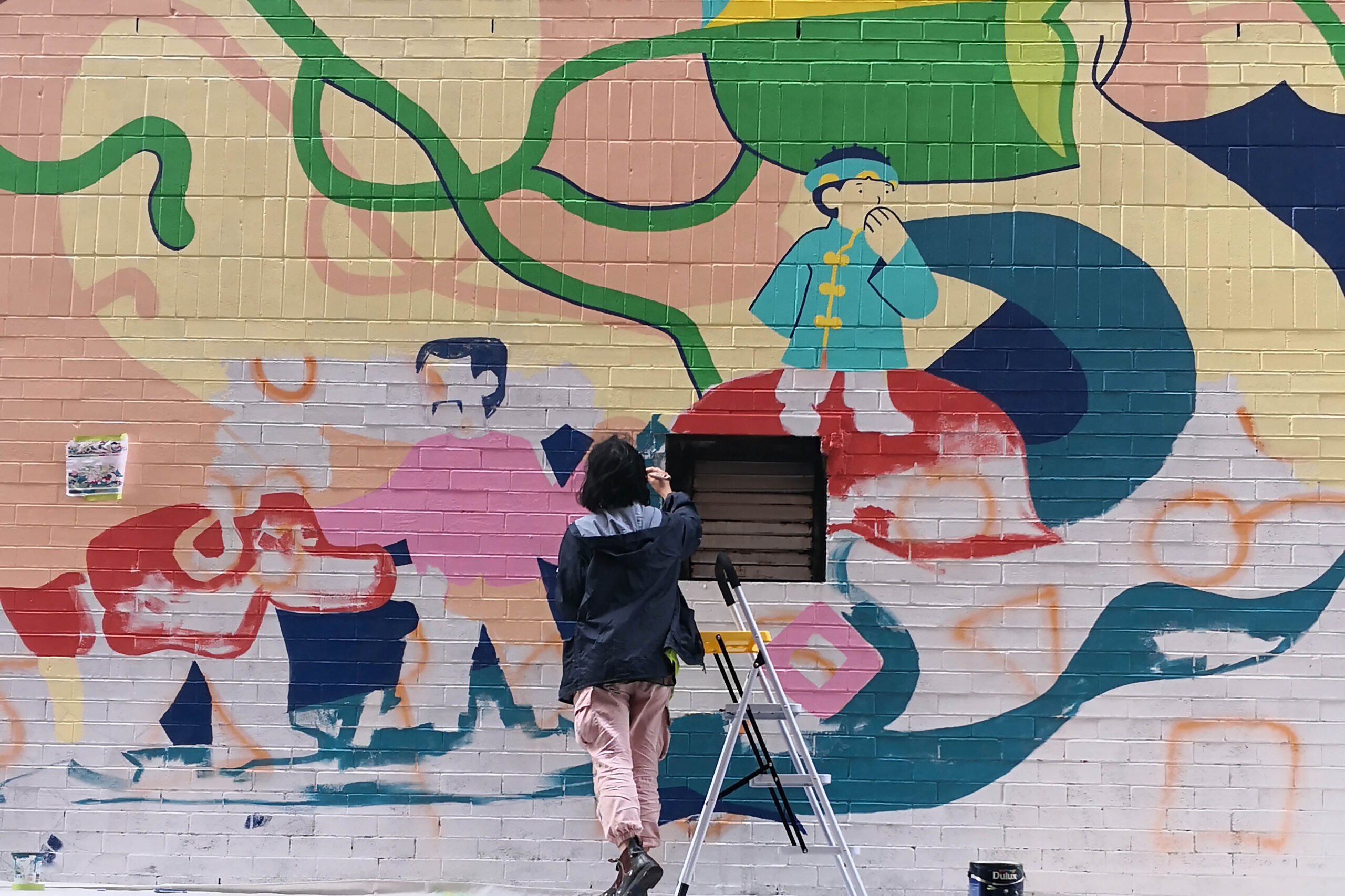 People surrounded the area even during long nights of painting in the dark. The experience was far from lonely and reinforced the mural's purpose of togetherness. As residents walked past the artwork, the sight of Li working became part of their daily routine for a short while.
"It's like we [were] moving toward the future together," Li expressed.
Although worth it, the painting process was a strenuous one. With the size of the wall, Li used a scissor lift for the first week of production to paint the top of the mural. She hit section by section across the wall until the piece came together. There was a lot of physical movement involved, operating heavy machinery and paint rollers to put the work together. She did this work mostly by herself, but fellow artists would occasionally pop by the site to help out. The piece took approximately 200 hours to complete in September 2021.
The eight-foot-long artwork displays various characters, representing different generations of Chinatown residents, connected through flowers and a trio of large red-crowned cranes. These East-Asian birds symbolize luck, longevity and fidelity. Splashes of reds, pinks, yellows, teal and greens make up the background, making it pop out on the brick wall. "It's like a long Chinese scroll," Li described. She went on to say that the mural also represents the immigrant experience, illustrated through the bird migration.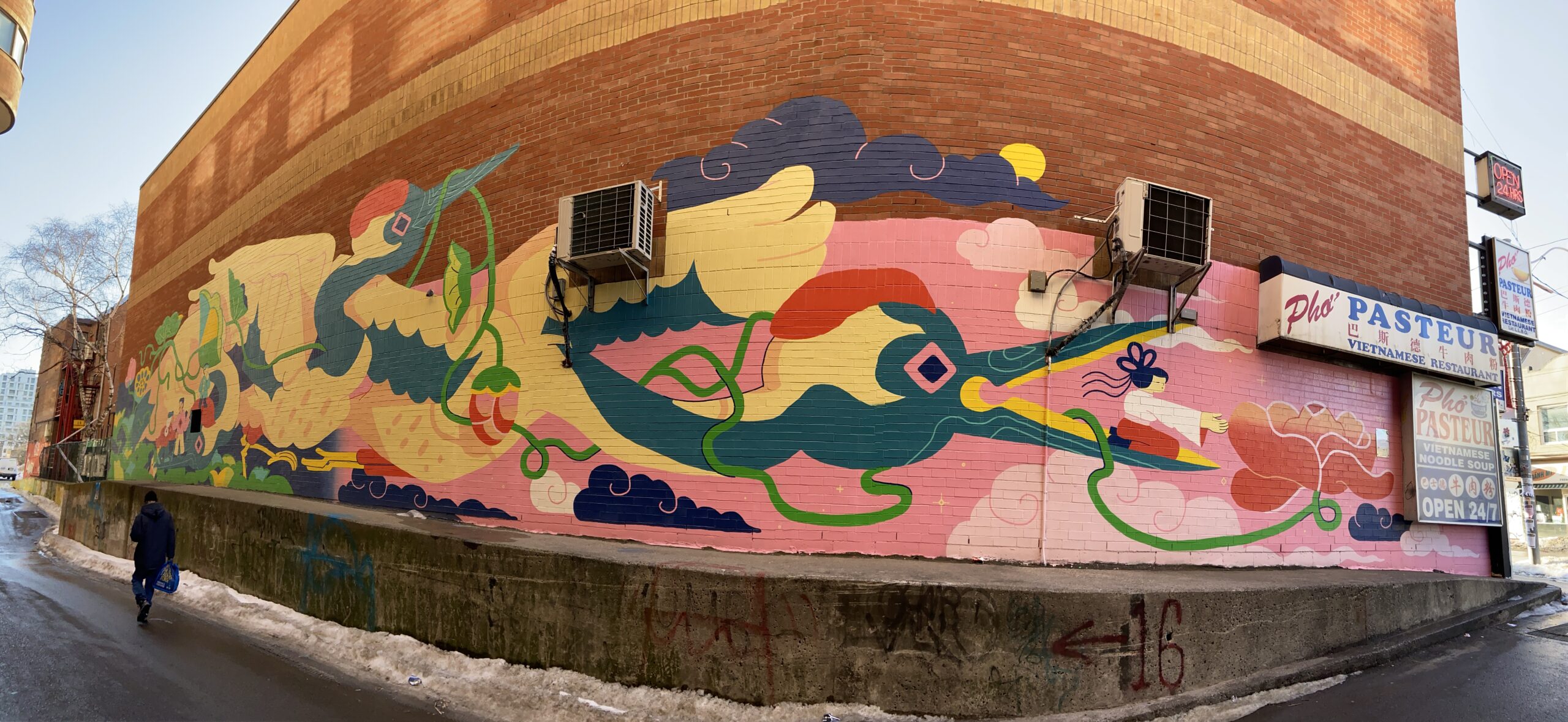 The Hope is just one of many artworks around Chinatown. Various public art installations have popped up, especially during the pandemic, including a summer project from Justine Wong.
---
Walking up to the solid black building on St. Andrews Street with buckets of brightly coloured paint, Wong remembers the ghost stories she heard as a child about its haunted basement. Formerly a dim sum restaurant, the now-vacant building stands out ominously beside vibrant red structures, surrounded by streetcars whistling by, music playing from stores and people chatting as they walk past.
Before winter approached, Wong's parkette mural sat between Chinatown and Kensington, representing the artists who worked in that space. With rent increases and pandemic difficulties, many artists have had to leave their studios in the area.
Joined by the hustle and bustle of the Chinatown community, this was the perfect place to add some more colour to combat the haunting spirits that may linger nearby. The parkette captures a pastel pink and green scene, highlighting a dragon, animals and a "parade of different types of people celebrating together," said Wong.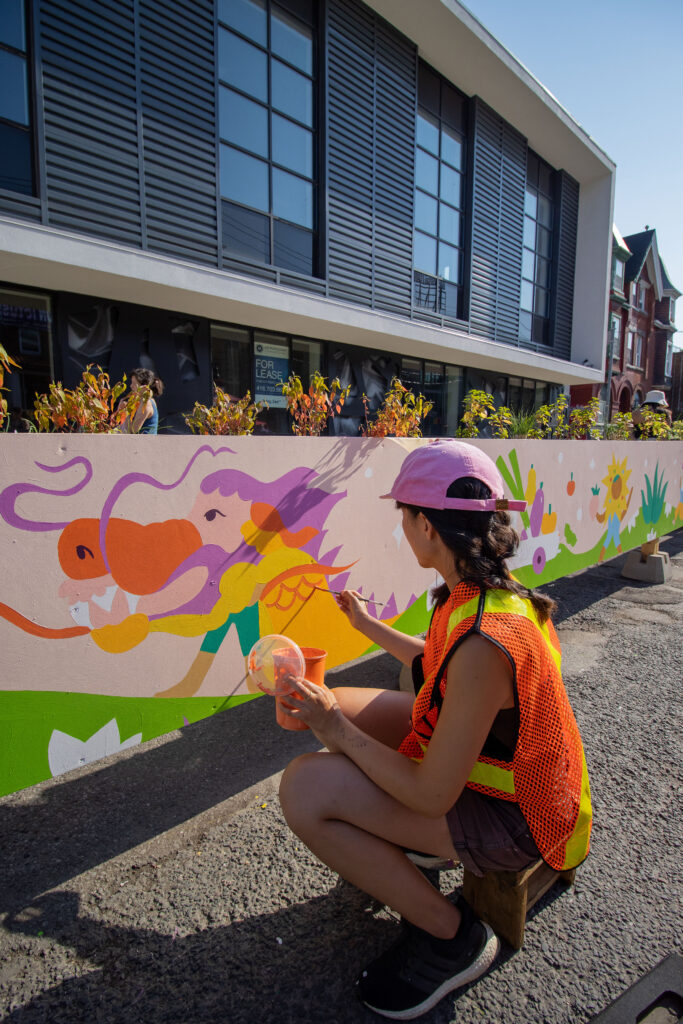 Situated in the middle of a busy intersection, Wong's experience painting the mural was never dull. Like with Li, people constantly passed by her as she worked in the summer heat. From restaurant owners bringing her water to friends stopping by to help paint, Wong encountered feelings of life and belonging that she wasn't used to. As someone who primarily worked on pieces alone, this mural allowed her to immerse herself in the city's spirit.
"I felt very comfortable and very safe there," Wong reflected. She made a lot of meaningful memories while working on this project. These artworks and their memories provide stability to a Chinatown that undergoes constant shifts and changes.
"The art just brings joy," said Shulin Feng, Chinatown BIA's project and event planner. "[The murals] make people feel more welcomed when they walk down the street," Feng continued.
---
According to Li, public art also incites creative inspiration for others. She recalls how a parent and teen walked by one day while she was painting. Initially shy, the parent encouraged the teen to speak with Li and it turned out that the teen was interested in art and wanted to pursue it, inciting a spirited conversation between the two. Li said that they seemed inspired by someone producing such a large-scale piece.
Today, Li still passes by her mural while running errands and feels proud when she sees her work on that wall. "I think the most satisfying part of finishing a project that's public-facing is that people get to see it," she said. "I feel like that's such a privilege, that it lives within the space of their personal lives and landscapes."