By Cameron Wheeler
Angela Bradley walks through Toronto's Annex neighbourhood on her way to work. She passes towering Victorian-era homes, topped with powdery snow. Lights twinkle in windows as their inhabitants rise and prepare for the cold day ahead. To Bradley, winter of 2020 seems to be never ending.
After months of lockdowns, restrictions and uncertainty in the spring and summer, Bradley feels like there had been no break.
Unlike many of her peers, Bradley has kept her job at Community Living Toronto through the pandemic and is able to continue her on-site duties at its Spadina office. At work she wears many hats, a reflection of her passion for helping others.
A light dusting of fresh snow decorates the sidewalk and the roofs of the century-old brown brick houses that line the streets. Only the most enduring winter songbirds serenade the neighbourhood from the trees. On this particular chilly morning, her walk to work ends in a twist. On the front step is an unaddressed box with no postage that some generous passerby has left.
Inside, Bradley finds puzzles, toys and games and a note dedicating them to the children with intellectual disabilities that the organization supports.
Earlier that week, someone had dropped off a box of toiletries and before that, a box of hand-sewn masks. As the months grind past for victims of poverty and adversity, people continue to show up in the only way they can during times of social distancing: with their skills, time and donations. These little gestures remind people they aren't really alone during this time.
COVID-19 restrictions and lockdowns can be profoundly isolating. This effect is magnified for residents of cities like Toronto, which seemed to vacillate between the most extreme restrictions. Stillness sits on street corners where neighbours normally stop to greet each other.
The Annex neighbourhood is just a short walk or subway trip from restaurants and shopping downtown. The Annex stretches as far west as Bathurst St. and as far east as St. George St. Residents can go window shopping in Koreatown and work up a sweat exercising at one of many public parks.
When the pandemic hit, restaurants slammed their doors shut and scrambled to set up makeshift patios on city sidewalks. For most of the winter, those frozen patios sat empty and chefs cooked up meals to be delivered to customers' houses instead of their tables.
Stores that once served as hangouts for leisurely shopping displayed new signs asking customers to keep their shopping time brief.
The last bastion of unrestricted public space are the residential streets, sidewalks and other spaces that pepper the Annex, offering respite from the crowded commercial streets and the solitude of one's home.
Jay Pollard and his eight-year-old daughter Tatum moved to the area a little over a year ago as the pandemic loomed on the horizon. Time outside keeps them sane. Every weekend, the pair visits Jean Sibelius Square, a small parkette in the heart of the Annex that boasts an outdoor ice rink in winter.
"We were very pleasantly surprised by the rink and how it was kept up for the winter season. There is a great sense of community in the immediate neighbourhood," says Pollard.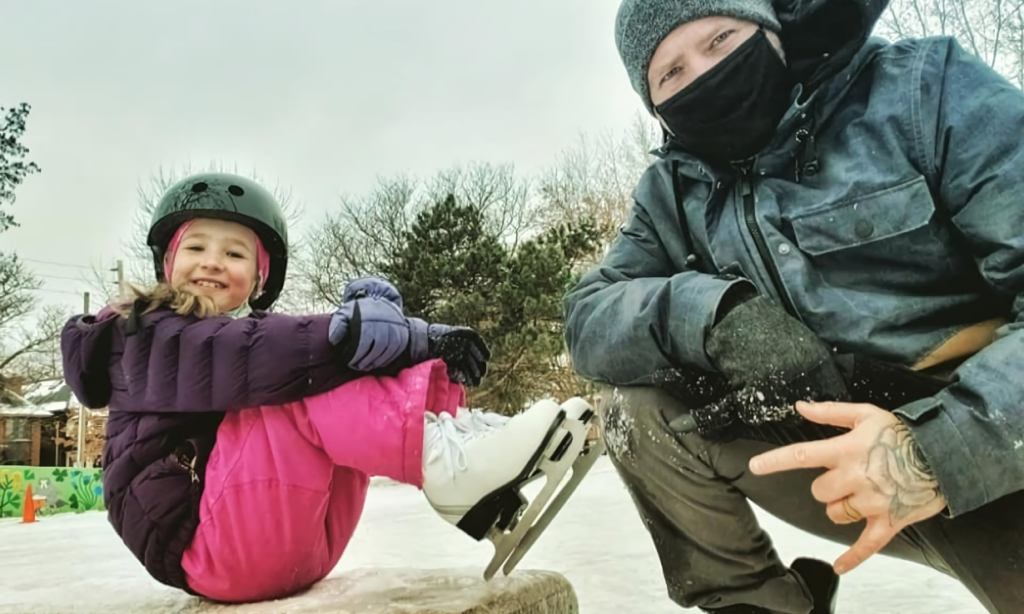 Just before Easter, Tatum told her father she loves their new neighbourhood. Pollard knows that the location they live in has had a great impact on her ability to cope with being home from her elementary school in the Beaches and away from friends.
For Max Ackerman, a nanny in the Annex, public spaces are indispensable during restrictions. The two young girls he is charged with are restless and lonely after months of attending elementary school from home. Their frustration manifests as disobedience, noisiness and lack of emotional regulation.
The girls are wound up on their short walk to Jean Sibelius Square. When they get there, they will have a rare opportunity to meet up with their friends.
"Being outside has been one of the few ways I can connect with friends – I live alone," says Steinberg. Accessing public space helps her feel connected with her city.
In the summer, Steinberg visits the Toronto outdoor picture show at Fort York. The open green space of the old former military base is a place where she can return to normalcy for a few hours and see a movie. Trips to the theatre are what she misses most about pre-pandemic life.
When Steinberg decides to start a new hobby, the Annex has her back. She posts on Facebook about wanting to start collaging and neighbours offer their collections of old magazines for her to pick up from their porches.
When he isn't nannying, Ackerman is the artistic director at the small Dandelion Theatre which roots storytelling in social justice and community. After lockdowns begin, his company is forced to adapt to providing services and opportunities online instead of in its brick and mortar theatre.
By broadcasting classes and short productions over Zoom, Ackerman and his troupe continue their connection to the surrounding community even when they can't meet in person.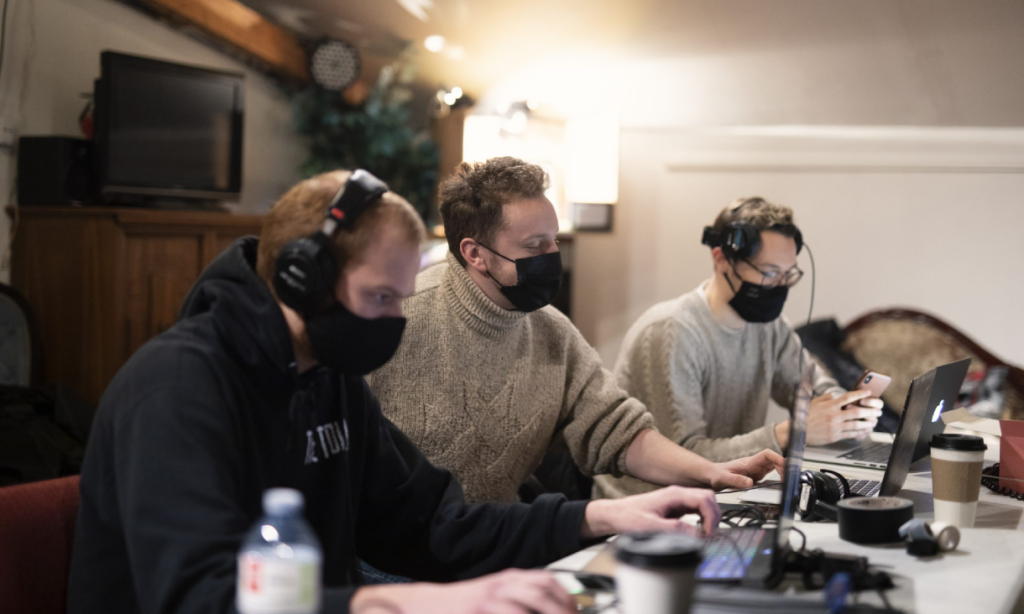 As the sun dips below the horizon, children's laughter floats down Brunswick Ave. The December air is crisp and chilled and surrounding lawns are coated with freshly fallen snow. A jubilant cheer rings out from Jean Sibelius Square where children kick a soccer ball across the hard frozen ground.
Parents look on proudly with warm thermoses of coffee and tea cupped in their hands. The scene is familiar, resembling better, safer times. The illusion is only broken when a mother calls for her son to put his blue pleated face mask back on.
These people have constructed a new normalcy from nothing but their own connections and the space they share.