By Anna Wdowczyk
The phone goes off at 1 a.m. with a loud ring ring ring that quickly bounces from one studio wall to the next, until it finally catches the attention of Ixchel Suárez. Most people would be alarmed by a late-night business call, but it's no surprise for this studio owner. Suárez immediately drops her tapestry to see who it is. "I really need to weave! Please let me in," a student cries while standing under the dark Mexican sky with nothing but a cell phone in hand.
Suárez understands. She already knows the woman wants to put her undiagnosed depressive symptoms to an urgent rest. Without any hesitation, she swiftly heads over to the door and twists the knob open as it lets out a subtle creak.
Back in Mexico, this was a regular occurrence for Suárez as she would frequently stay up past midnight preparing for art shows. Years later in a new country as the head of the Oakville Arts Studio, Suárez maintains a much more regular sleep schedule. However, her sharp pang of responsibility for the mental health of her students has remained constant from the moment she started teaching in 1988.
Suárez's Oakville-based business offers a wide variety of art forms including drawing, painting, tapestry weaving and mixed media. She aims to unite artists of all ages and abilities in a safe space where they can speak openly about their personal lives while creating something that brings them a sense of pride. After about 35 years in business, she has connected with over 300 students as well as the Reach Out Centre for Kids (ROCK), a mental health crisis line for children and youth in the Halton region.
On a seemingly typical Wednesday night Suárez prepares for another painting class at the studio. Strolling under a ceiling cluttered with rainbow-coloured hangings, she twists the faucet open. The rushing water fills empty cups her students will need to keep their supplies clean between strokes.
Next to an array of blank canvases, Suárez lays out paint brushes along with odourless acrylic hues. She momentarily pauses by the music player and hits "Play." Dramatic echoes of Beethoven's symphonies cascade across the room.
The door eventually swings open with a loud swoosh, bringing in the frigid winter wind as students start trickling in. Enthusiastic smiles beam from their rosy faces while they thump thump thump the excess snow off their boots. But something isn't right—Suárez immediately notices a lifeless facial expression when her student Felicity Stone* enters.
Felicity was once a regular at the studio where she would sketch and paint with fellow artists, often working for over two hours with sheer focus and determination.
Upon seeing Felicity's drastic change in attitude, Suárez brainstorms what she can do to comfort the young girl. Before she even manages to open her mouth, Felicity looks up and says, "I just want to share with you that my father died."
This isn't news for Suárez; she already knew Felicity's father lost his battle to cancer a few short days before Christmas. However, seeing the motivation drained from a normally enthusiastic girl who loves to sketch is hard to process.
"Let's talk in my office," Suárez replies after hesitating.
Felicity agrees and follows Suárez into a private room where she releases her facade. "I have to be strong for my mother," explains Felicity. "I can't cry. I can't cry in school because they will bully me."
Suárez nods. She understands these emotions after watching her own son stay strong for his girlfriend, who eventually died by suicide. She looks deeply into Felicity's eyes and says, "Get the largest canvas you can find and throw the colours that you feel. Get my studio dirty. Use your hands, use your feet, your hair, anything!"
Felicity seems unconvinced, but she continues listening to Suárez anyways.
"Of course, you're angry," Suárez says with sympathy, hoping she'll motivate Felicity to pick up a paintbrush after a long break from art class. "Who wouldn't be angry? You lost your father due to a stupid disease. It [cancer] took the most precious thing of your life."
To her dismay, Felicity remains silent. That's when Suárez comes up with a different approach. She smiles gently and says, "You don't feel comfortable. Why don't you write words?"
Felicity's eyes finally glimmer with hope. She picks up a pen back in the studio with the entire Wednesday group that rumbles with excitement.
Suárez shows her how to create literary art by writing verses. "Weave words. Use a tapestry of words," she instructs. After teaching Felicity how to compose a beginner-level poem, Suárez calls her sister who's a poet for help.
With her network of young artists, her sister's support and Felicity's knack for poetry, Suárez unites a musical band. Felicity writes the songs and her band members compose notes.
Just six months later, Felicity sings her own songs while other kids play music to the beat. Suárez decides to celebrate by hosting an open mic.
On the night of July 28, 2018 nearly 250 GTA youth cram together between navy blue walls. Felicity isn't silent anymore. She sings her songs with confidence and the crowd roars.
Felicity's artistic revelations aren't uncommon. A study in the Community Mental Health Journal found almost all participants reported higher levels of self-worth and confidence after completing a community-based art therapy program from August 2012 to March 2015. When it came to physical health, several participants also reported better sleep and clearer thinking.
As an art instructor and professional graphic designer of 20 years, Renata Chubb has witnessed great improvements in student mental health while working at the Oakville Arts Studio.
"You can see the pride in their [the students'] faces when they've created something that they really liked. You know that they were really happy with something that was beyond what they thought they were capable of," Chubb explains. "It's definitely not about creating pretty pictures."
Carol Herbert, Suárez's student of five years, says taking classes at the studio provides her with an escape from the symptoms of her chronic health issues. "Everybody just supports each other and it's a great place to go."
Herbert is grateful Suárez still holds virtual classes for Oakville-based artists three times a week in the pandemic. However, she admits learning online is "still not the same" as connecting in one space. She's eager to return to a studio where she will finally feel the energy of a crowd.
Suárez also dreams of hosting many large gatherings when it's safe, but the pandemic really hurt her business by forcing her to physically lock down on Mar. 14, 2020. To make ends meet after losing her primary source of income, she had to sell her house along with her workplace.
While on the hunt for affordable accommodations, Suárez fled to the much smaller municipality of Trent Hills where she opened the Oak Heights Art Gallery. Two hours away from her close-knit community of Oakville-based artists, Suárez had to re-imagine the way she connects with some of her most loyal students. By finding a workspace in her new garage, Suárez quickly shifted classes online while offering bundles of eight lessons for $80 to $125.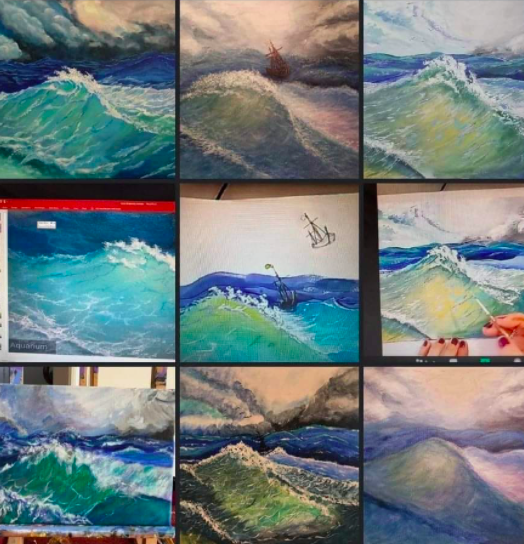 Crammed between vivid tapestries and shelves of art supplies, Suárez yearns for the day she can afford a spacious location where student paintings will proudly hang on every wall. But for now, she's happy she can unite artists in a remote space that allows them to freely de-stress and build a sense of belonging among fellow students. "I believe in the power of art . . . For me, it's a weaving of lives."
*This name has been changed.
Music Credit: Audio Library – Music for content creators on YouTube