By Gabby Cleveland
Last summer was the first time in over 100 years that the Calgary Stampede did not happen. The 10-day event, billed as the "The Greatest Outdoor Show on Earth," is home to a midway full of deep-fried treats, beer tents, carnival rides and the world's largest outdoor rodeo. Remarkably, the Calgary Stampede survived through both World Wars, the Great Depression and a city-wide flood. That was all before COVID-19 stopped it in its tracks.
The Calgary Stampede's famous chuckwagon track and midway have been deserted since 2019.
For accomplished professional chuckwagon driver Jason Glass, chuckwagon racing is the most important part of the Stampede.
This is the first time in his career that he has spent this much time away from the race track.
"It would be weird to go another summer without racing."
Glass is a fourth-generation chuckwagon driver. The Glass name has been present at the Stampede ever since the very first chuckwagon race. According to the World Professional Chuckwagon Association, "in his 30 plus year career, Jason has been one of the most successful drivers chuckwagon racing has ever seen." He is a four-time World Champion and a four-time Calgary Stampede aggregate winner.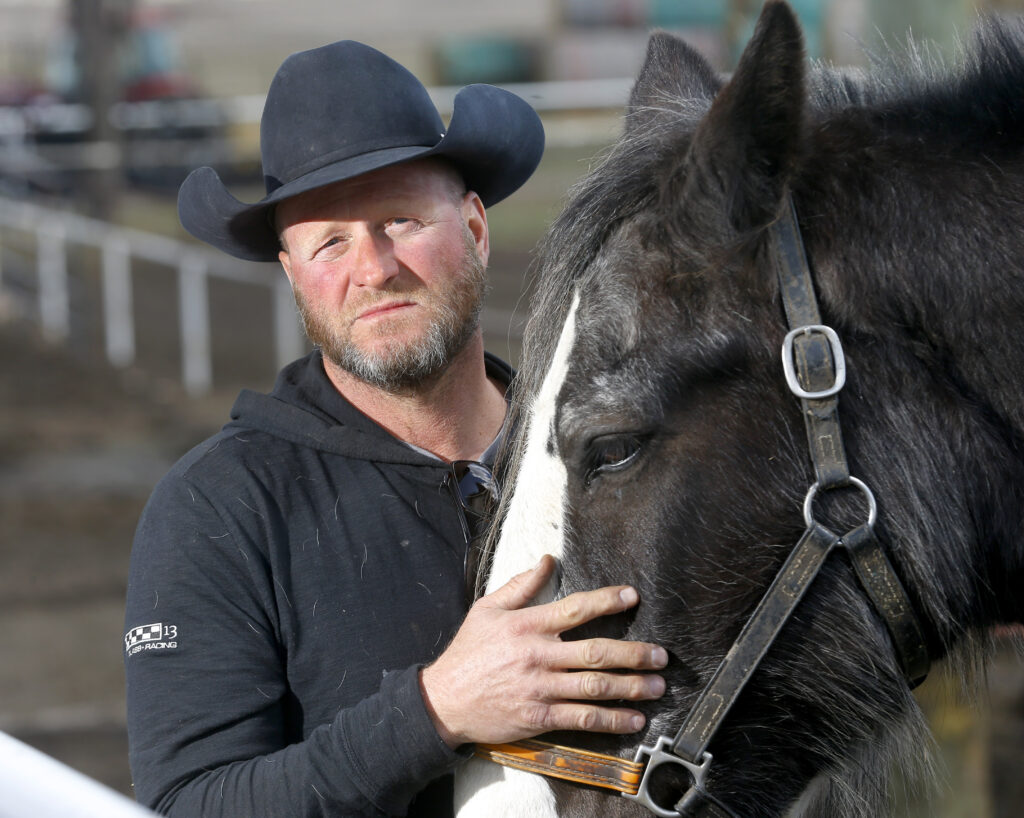 At his ranch, located near High River, Alta., Glass eagerly waits to hear whether or not he will be able to hitch up his horses and return to doing what he loves most.
There is a gate displayed at Glass's ranch separating his 120 acres of land from the road that almost perfectly paints a visual picture of an Albertan chuckwagon race. The gate is adorned with metallic details of Rocky Mountain scenery, and a chuckwagon driver guiding his horses. Most prominently the fence features a checkerboard-patterned wagon with the "unlucky" number 13 placed on its side. Ironically, Glass who is obviously not superstitious, has had quite the luck racing as number 13.
Going along with the checkerboard theme, there are also photos on Google of Glass wearing black-and-white checkered cowboy boots.
Someone who is unfamiliar with the Glass family may wonder about the recurring checkerboard theme, which has been an icon in the rodeo industry since the 1950s.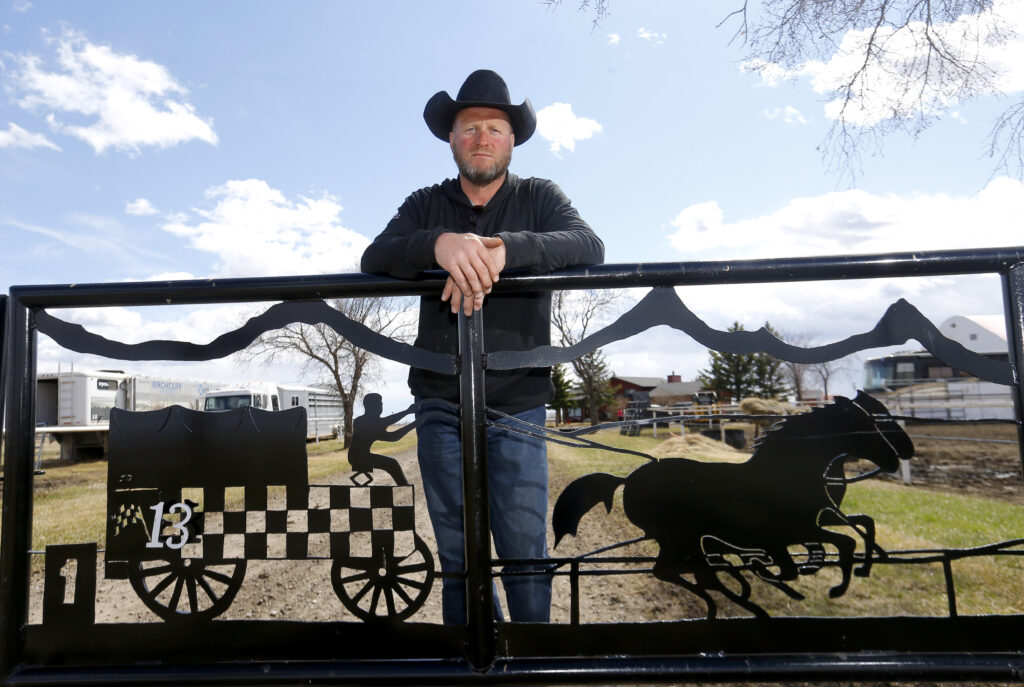 Around 30 years after Glass's great-grandfather competed at Calgary's first chuckwagon race in 1923, Glass's grandfather was racing when one of his horses crushed the front of his wagon. After the race, he and his wife packed up the damaged wagon and horses and drove off to the next race, hoping they would find a repair solution. While on route, the couple noticed a checkerboard-patterned chunk of wood laying in a ditch. They saw potential in this scrap material and since they were in a panic to fix their wagon, they grabbed the piece of wood and attached it to the kicked-in front. To the couple's surprise, they were captivated by the black-and-white pattern, so they decided to paint the rest of the wagon to match.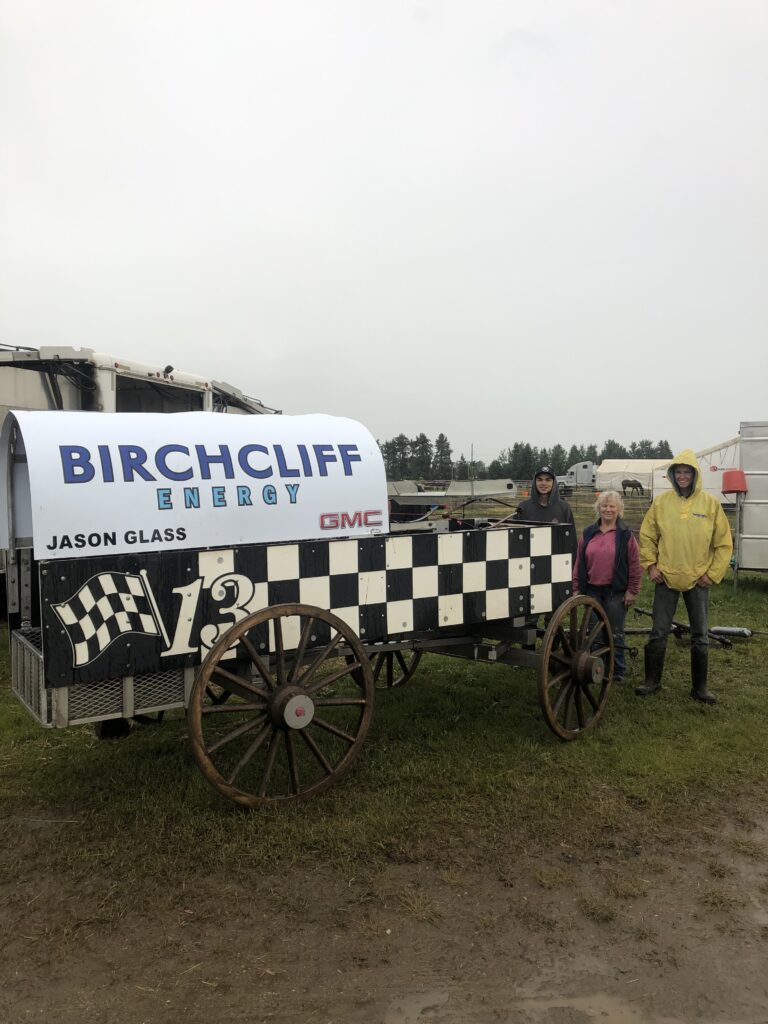 Ever since then, the checkered wagon has been passed down through generations in the Glass family. Glass himself continues to represent this legacy through incorporating checkerboard detailing in his cowboy attire and more importantly, driving the checkered chuckwagon to victories.
A timeline of the Glass family throughout the years:
Glass says his horses are also eager to get back on the Stampede track. Glass's priority has always been his horses that pull the checkered wagon. He has 35 thoroughbred horses and compares this to having 35 extra kids around. Every day, Glass makes sure his horses are fed and taken care of before he takes care of himself.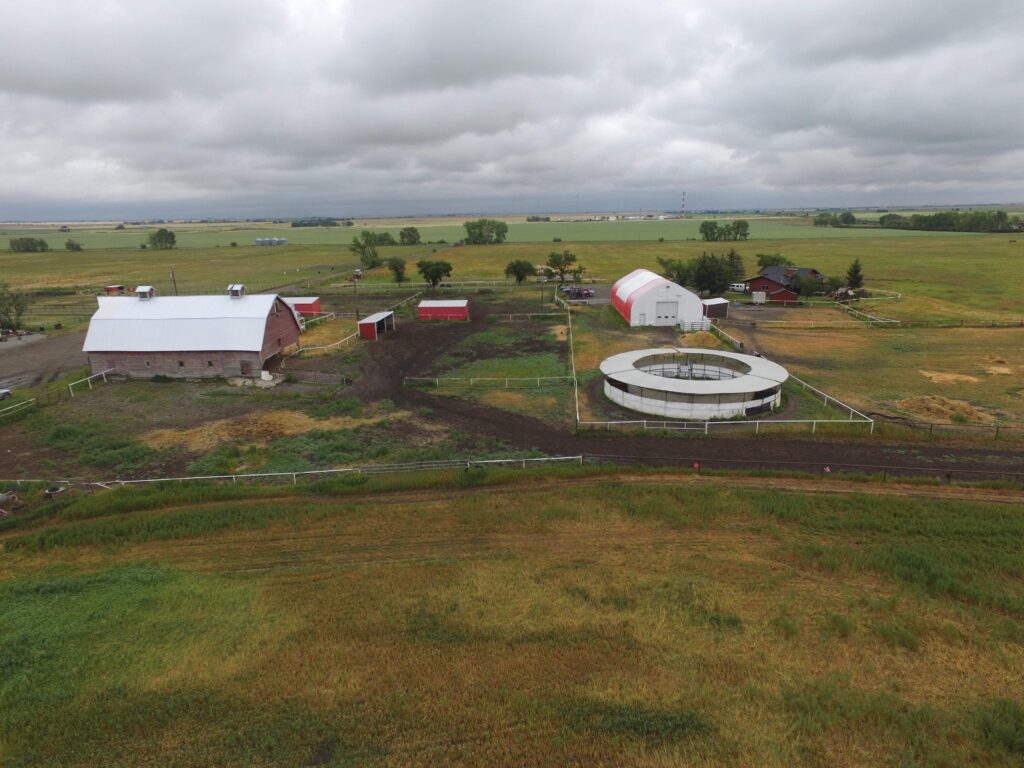 With more time on their hooves to travel throughout the pastures, the horses have remained strong and healthy, but "mentally and physically they need to start working and training again," says Glass.
Glass typically begins training his horses in March, once the ice begins to thaw and the long Albertan winter comes to an end.
He has a track on his property where he puts the horses through many methods of training. Some are put on horse treadmills, others are put on a circular track that is separated into four sections. The horses are unable to exit this track, which continuously encourages them to run.
The final step in preparing the horses for pulling the checkered wagon, is to attach one new horse to a chuckwagon alongside three veteran horses and take them around his at-home track.
Despite this being Glass's favourite time of the year, the adrenaline he gets from training horses does not compare with actually being at the Calgary Stampede's Rangeland Derby, which is the most prestigious and famous chuckwagon race in the world.
The Rangeland Derby has become an invite-only event. Glass says only the safest cowboys who genuinely take the sport seriously are able to attend.
According to the Calgary Stampede website, in past years once competitors were selected, fans could witness the thrilling action as 27 chuckwagon drivers and 162 horses vie for nearly $1.5 million in prize money during the 10 days of racing.
It's July 2019 and Glass's checkered-patterned wagon stands out among the crowd of colourful chuckwagons at the packed Stampede Grandstand Arena. Filled with roughly 25,000 people impatiently waiting for the horn to blow, Ushers pace the arena with carts full of buttered popcorn, freshly squeezed lemonade, and the Stampede's famous mini doughnuts.
Closer to the track, fans line up with a Budweiser, the official Stampede beer, in hand, and their muddy cowboy boots pressed up against the rails.
Glass clearly thrives on danger. In addition to embracing the risk of chuckwagon driving, which has taken the life of two of his relatives, he was Leonardo DiCaprio's stunt double in The Revenant.
"As a driver, if you are scared on the race track, you are not cut out for the sport," says Glass.
Once the horn blows, the thundering sound of hooves immediately begins to echo throughout the arena. Glass quickly guides his horses in a figure eight around two barrels then they whip around the track at almost 65 kilometers per hour.
After just over one minute of racing, the horses slow down and Glass "looks around, waves at everyone and soaks it all in."
The Grandstand Arena clearly hosts quite the celebration, yet, throughout the 10 days that the Stampede takes place, the festivities extend well beyond rodeo events. There is all sorts of entertainment. Live concerts all day and night, carnival rides, a nightly firework show, agriculture events and much more.
"Come July, Calgarians reach into the back of their closets, grab their cowboy hats, denim and plaid and fit right in," said Jason Coxford, the Stampede's director of corporate communications.
Once guests receive a cowboy-hat-shaped stamp on their wrist, and enter the renowned Stampede park, their noses are filled with smells of various treats. Jennifer Andrews, owner of Family Squeezed Lemonade, an award-winning food truck, says people from around the world come to the Stampede to try the absurd foods offered on the midway.

There are deep fried Oreos, peanut butter cups, ice cream, tequila shot bites, and anything else to satisfy your deep-fried cravings.
"It's really fun to be a part of something so enlivening and uplifting for Calgarians and the people that come here," says Andrews.
Last summer, Family Squeezed Lemonade and many other food truck businesses were left trying to discover new inventive ways to sell their products.
"Not having the Stampede had a huge impact on our business," says Andrews. "Gratefully, we have a very strong connection with the Stampede so we were able to help organize Stampede food truck drive-thrus last summer."
A drive-thru where locals were able to get their favourite Stampede treats without exiting their car.
Performers and businesses who rely on the Stampede also continue to struggle.
Cowboys Music Festival, which is held during the Calgary Stampede, thrives due to rowdy fans, liquor sales and of course, live entertainment. Dave Urner, the president of Penny Lane Entertainment, which is the company that owns Cowboys Casino, says this festival is the "world's largest house party."
"I'll look around, and there are 5,000 people in this place," says Urner. "Their arms are up and their cowboy hats are waving in the air."
There is still no final decision on whether or not Stampede 2021 will happen, but, Urner says right now he has a hard time believing Stampede park will be able to host as many people as it did in 2019 and years prior.
"The Calgary Stampede has just been going on for many years and it's such a long standing tradition of the western way of life."

-Jason Glass
Glass explains the historic event as "the biggest 10-days of the year for my career, my family and the city of Calgary."
"I look at the Stampede and chuckwagon racing as my full-time job," says Glass. "It has been way too long since I've been on that racetrack."
When the announcement is made that the Stampede will finally return to Calgary, whether that be this summer or the next, Glass will "run outside and get started" on training his horses to pull the checkered-chuckwagon to more victories.
-30-