By Pia Araneta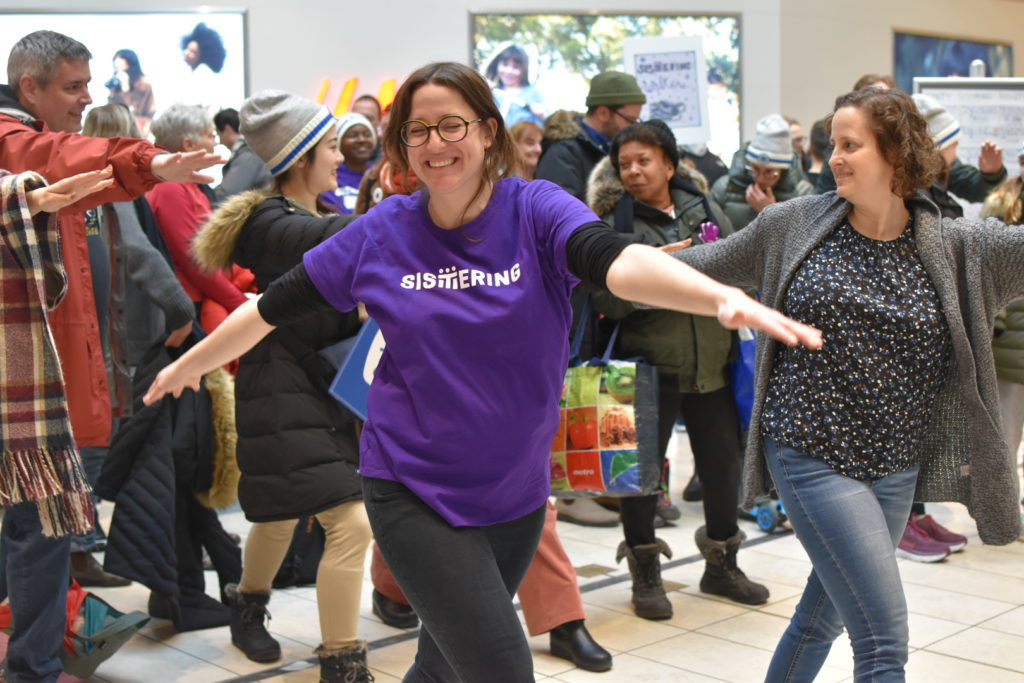 Night began to settle on Bloor St., as the pedestrian traffic became sparse and stores turned off their neon door signs. The Maker Bean cafe began to fill with people, taking their seats on the bright, metallic chairs. People from surrounding businesses and community members gathered for a de-escalation training session led by one of the cafe's neighbours, Sistering. De-escalation refers to methods used to avoid conflict, and conflict is a regular customer with Sistering in the neighbourhood.
"We lost somebody—one of our participants—today," says Priyanka Sheth, one of the directors at Sistering who begins the training session. "Just so people know if I'm a little quiet…that's where the mood is at." She says there's a lot of bad drugs on the street and the people at Sistering may not always know how to help.
Sistering is a drop-in centre for at-risk women and transgender people located at 962 Bloor St. W. Being a low-barrier drop-in means that people are accepted as they are, with no questions asked. Women can walk in at any time and be fed, have a shower, do laundry, and use other services or access support. In contrast to shelters—which might have curfews and limitations on rules such as bringing pets—Sistering doesn't require women to give their names or register.
"If you don't know where to send a woman, you send them to Sistering," says Sally McLean, a long-standing volunteer who works the medical reception desk. She says that women sometimes arrive in taxis wearing hospital gowns. "We are the last place."
In November, 2013, Sistering's senior team and a group of activists rallied outside a building at Shelbourne and Dundas Streets. About two months prior, around 4 a.m., a woman had been assaulted on the same steps they were just metres away from. She was assaulted twice—by two different men. Outraged, the community rallied on the state of homelessness.
"There was no place for her to go," says McLean. Sistering at the time was only open during the day and the overcapacity of shelters left—and continues to leave—women vulnerable. "So Sistering thought 'Well we better open 24/7' and they did, quite quickly."
Sistering became a 24-hour drop-in centre in November 2015. In 2016, just over 2,500 people stayed overnight. In 2019, that number grew to 20,000. Since the drop-in centre changed its hours, the kind of people coming in changed drastically. Before, when Sistering was open from 9 a.m. to 2 p.m., seniors or newcomers to Canada would frequent the space. After the switch, the demographic became much more vulnerable—including more drug-users and sex-workers.
"We got much more fragile people looking for a place to sleep," says McLean. And because Sistering isn't a shelter, the absence of beds means that women sleep on yoga mats or the few La-Z-Boy recliners in the front. The capacity is around 35 people; however, there are usually about 70 people staying there.
During breakfast, some of the women line up in the fluorescent-lit room. Women sitting at surrounding tables are offered meal-service by one of the volunteers. While one of the women uses a pink comb to brush her arm, her breakfast is brought to her.
"We meet them where they're at," says Shagana Ehamparam, one of the senior associates at Sistering. "There's definitely a lot that we try to do beyond just giving the space but also [build] that sense of community and really making folks feel seen and respected."
Sistering's decision to open their doors for 24 hours, along with Sistering's origin story, both show how communities must adapt when faced with adversity and marginalized populations.
Sistering started as a tea and cookies program in the early '80s. At this time, the government had begun to deinstitutionalize people, promising to provide community support programs for a smoother transition back to society. Those programs, however, never came and women wandered Toronto with no place to go. A group of women saw this vulnerability and created Sistering.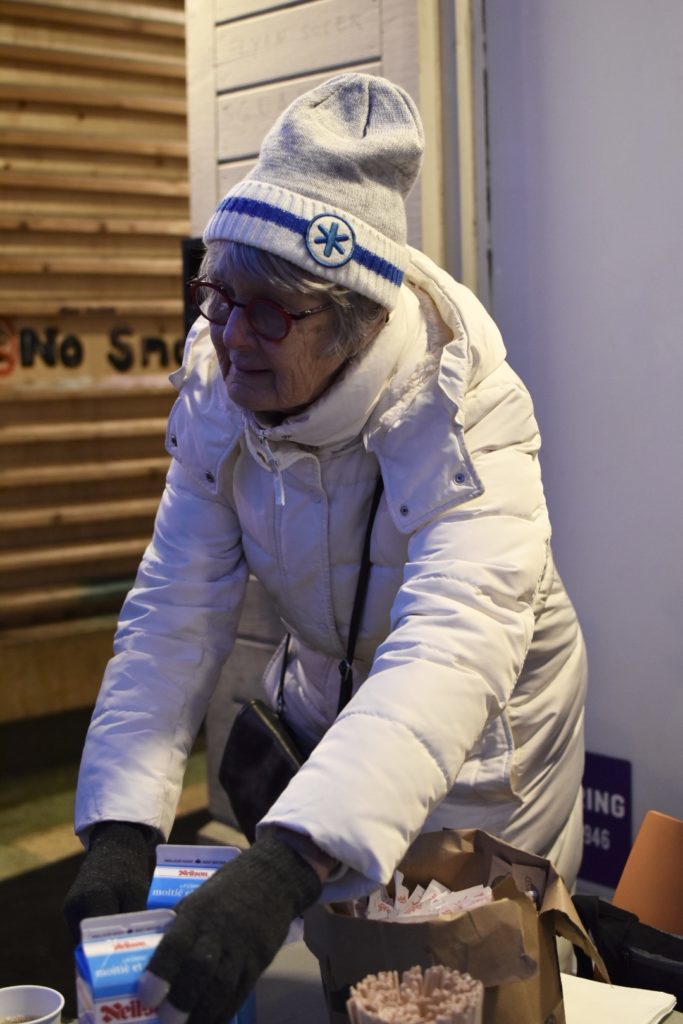 "The community found it a real strain to adapt," says McLean, who is also part of the community advisory committee. McLean recalls canvassing businesses along Bloor St. from Crawford to Dufferin Streets, asking owners if it was hard having Sistering in their neighbourhood. "People would say 'These people belong at CAMH'," says McLean, referring to the Centre for Addiction and Mental Health, a psychiatric hospital with several locations in Toronto.
Annabelle Bernard took the role as Sistering's community liaison in November 2019, after three years of working in the drop-in centre. She recalls holding an open house last February at Paradise Theatre where community members and people who worked in surrounding businesses could ask questions about Sistering.
"All the questions that the audience asked…were basically 'How can we help?'" says Bernard, "Which is very different what it used to be where people would use the public forums to be like 'Okay, what are you doing and how are you dealing with this problem?'"
Bernard thinks the community's opinion on Sistering changed because time and exposure made the situation on homelessness the new norm. "I think there's also a lot of people who kind of see what Sistering is facing as just being replicated all over the city," says Bernard.
Part of Bernard's role is to respond to crises happening in the surrounding community, such as people's safety being at risk or if someone is having a mental health crisis. People can call her because police may not respond as quickly.
The community support is an undeniable crutch for Sistering, having partnerships that provide services and spaces without expecting much in return. Some examples of this are Union Yoga,—a yoga studio neighbouring Sistering that provides a space for Sistering participants on Tuesdays and Fridays—Cloré Beauty Supply, who donates products for black women's hairstyling/salon nights, and Dufferin Mall, who provided a space for Sistering's Coldest Night of the Year (CNOY) walk-a-thon.
During CNOY, participants and Sistering volunteers gather outside of Walmart to begin the opening ceremony with some stretches. A river of purple—Sistering's branding colour—join to limber and loosen before the two or five km walk.
The walk begins at the mall, looping around Bloor St., and circles back in front of Sistering's exterior. Participants buzz under the violet-blue sky, huddling around the check-point break-table. McLean, 75, hunches over the table in her plump, knee-length white parka, handing a coffee to one of the walkers. She addressed a few passerby's by their first names, smiling behind her bright-red glasses.
"They (Sistering's participants) just need people to show up," says McLean. "It's about building relationships."