By Gabrielle Angeli Olano
The distinct smell of new shoes, metal chains, and locks fill the air of an at-home design studio. On the floor sit 27 unlaced pairs of white Nike Air Force 1 sneakers, each one stacked on top of a shoebox that reads "DANIELLO" across the lid, all with a destination to be reached.
What would have been a regular Sunday four years ago for Tetangco, has now become a full day of running metres of chains through hundreds of widened shoe eyelets, taking approximately three hours for each pair. When all are complete, some will be flying to the United States, Australia, Russia, Kuwait, North Macedonia, South Africa, Netherlands, Germany, and the United Kingdom, with hopes of establishing a name for Toronto in the fashion world.
Toronto's street culture has always been an inspiration for Daniello Tetangco's style. After beginning his own brand, he knew he wanted to share Toronto's fashion with the rest of the world, hoping his designs would make the city as influential as the "Big Four": Paris, Milan, London, and New York.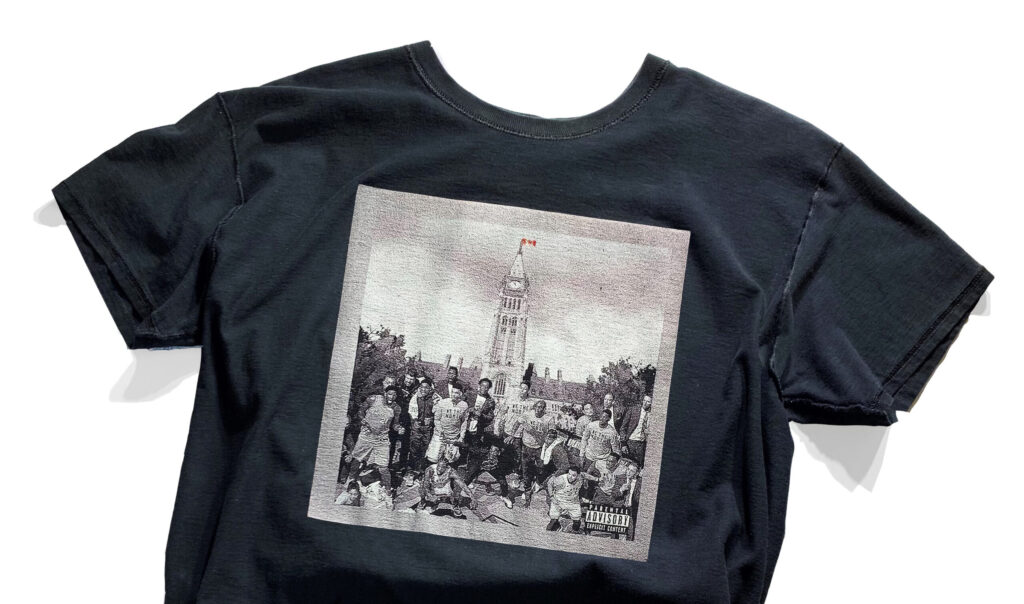 Walking down Queen Street West, looking into clothing stores, and seeing what others are wearing is how he began learning about Toronto's clothing industry and how it could become a major fashion capital.
"We have to become the trendsetters, that is how we'll receive our respect and recognition," he explains. "Toronto designers need to dig deep into our creative realms and create product and art that is unique and hasn't been done before."
Selling custom-designed shoes and clothing with his name on it wasn't exactly the career plan he had in mind when he graduated high school in 2015. Over the next two years, he'd master the skill of sewing while indulging himself in YouTube tutorials and videos of fashion shows in preparation of starting his own brand.
Just over a year after the brand opening in 2017, DANIELLO began making sales globally. The most popular product being Tetangco's rendition of the classic Nike Air Force 1s. He describes the process of making the shoes as "intense labour".
The shoes start off as a plain white Nike Air Force 1s, straight from a local Nike shoe supplier. Before Tetangco gets to unlacing the pair, he fixes a solid brown shoebox with a glued-on brand label on the lid, which he will use to send out the shoes. Then, Tetangco takes a seam ripper to the original label on the shoe tongue, slowly and carefully picking at each white-coloured stitch so as to not damage the leather. Depending on the colourway, he goes on to hand paint the Nike check on the sides using a fine brush.
The next step, which Tetangco has determined takes the longest time to finish, is to make the eyelets wider so that the chain "laces" fit through them. Using a handheld heavy-duty hole punch, he punches 16 holes on average per shoe, which means 32 holes per pair. He shakes off the soreness in his hand every few minutes. For his usual drop of 45 pairs, that means 1440 holes to be punched. Then come the final details, meticulously sewing on self-made labels, lacing each shoe with metal chains, which he closes with a silver lock, and finally, adding the lock's keys onto the chains to complete the look.
These shoes gave the brand the exposure it needed to go worldwide. Tetangco knew that he wanted to own a business at some point of his life that would go global, but he said he never expected that it would all start in his bedroom in a small townhouse in Scarborough, Ontario.
When Tetangco isn't making and designing products, he is doing his other job as the family driver, taking his parents and sister to and from work. Every weekday morning, he wakes up at 5 a.m. and takes his first passenger, his sister, to downtown Toronto. At 8:30 a.m., it's his father's turn to sit in the passenger seat of Tetangco's all black Jeep Wrangler, followed by his mother at 9 a.m.. From the time he gets home, Tetangco has a couple of hours to take a few power naps and work on his brand before resuming his family driver duties to bring everyone back home.
Though it is tiring, Tetangco says it's not so bad because he gets to see the morning daylight and breathe in the fresh air. Sometimes, he catches the sunrise as he drives along the semi-empty highway on his way downtown. Most importantly, it's his duty, as the only son of the family of five, and as the brand owner who is forever grateful for the support of his family.
"It's like a thank you, for the city that made me who I am today."

Daniello Tetangco
To show his appreciation for Toronto, Tetangco's designs incorporate things seen in or related to the city.
"I want to be one of the designers that help put Toronto on the map of the fashion industry," he says. "Every design I have released has been unique. In my pieces, I try to incorporate street culture while representing the city I was raised in."
Although Tetangco draws his inspiration from the city's culture, Toronto has yet to be recognized for fashion on the world stage.
Ramona Amante, who recently quit her job during the pandemic to devote herself full-time to launching her brand, Shop.Rawmoans, feels that the city "has always been a hot-spot for streetwear fashion".
"I think Toronto is underrated as a place that shows diversity in people and fashion. We're like a baby New York," she says in hopes of bringing more exposure to the city with her handmade garments. "If all creators stayed true to what they love, not what's in demand, we can keep the uniqueness and diversity alive, which will be what separates Toronto from other fashion cities."
Patrice Femm Olila, who just launched FEMM Collection in January, focuses on making pieces that resonate with the people of Toronto, which she says would lead to the right exposure.
"When you are able to create this unforgettable experience and/or feeling through your designs, clothing pieces, marketing, all the way to [your] packaging, it gains more recognition within not only [your] brand but the fact [you're] able to do so in Toronto," she says.
Additionally, designer and owner of Personal Identity, Paul Joshua Palacpac, believes that making personalized items that pushes uniqueness and individual expression would help put Toronto on the map as a fashion city.
"People in the city want to stand out, and fashion is a language many of us speak. We express who we are through what we wear," he explains. "In terms of growth, Toronto artists need to support each other more. There's definitely room for more connectivity and teamwork from one another to help push forward individual brands."
Although DANIELLO has brought some exposure to Toronto's fashion industry, Tetangco still feels that he has so much more to do in the future to really make a name for the city.
Looking back, he realizes how big a role Toronto's culture, along with the support of friends and family, has played in helping him succeed as a designer.
Tetangco eventually plans to open his own stores all over the world, and with the success, he says he wants to give back to the community.
"It's like a thank you, for the city that made me who I am today," he says.