By Reedah Hayder
On the side of a busy road sits a quaint, blue building that welcomes customers with a handwritten chalk sign: "Our shop is open, come on in!" A string of snowflake lights hangs from the dark gray overhang. Large, wood-framed windows and shelves add to the rustic look. Crystals glitter in the bright sunlight while soft pop music plays in the background. The cozy, boho-inspired store is adorned with sandalwood and plants. Long wooden tables display a range of vibrantly coloured products, each accompanied by a business card. Framed in one corner is a print that says "Give big, Shop Small." This is no big-city outlet, it's a neighbourhood store where you can truly appreciate local talent.
Inside, Tanya Stander sports a long, mustard coat, contrasting with her silver hair, as she stacks more products. Elaine Evangelista, wearing clear cat-eye glasses, stands by the cash. The two opened Bean and Basket in November 2020.
Located at the end of Old Kingston Road, and huddled between dentist offices and accounting buildings, the Ajax shop is the real-life version of Schitt's Creek's Rose Apothecary. Selling everything from houseplants and masks to granola and chocolate, the heart of the store is in every little detail and every selling product which is made by a small business.
The move to buy small has impacted everyone and if there's one store that completely embraces the movement it's Bean and Basket.
The store, affectionately known as 'The Bean,' was started by Tanya, who moved to Canada in 2014 from South Africa.
Growing up in South Africa, Tanya was surrounded by lively culture, community and a strong appreciation for handcrafted goods. It was something that she wanted to bring to this small town of Ajax and so began Bean and Basket.
The journey has had many twists and turns.
Originally, Tanya had been running an Airbnb out of her home when she decided to expand the business into a bed and breakfast.
"From the start, I would have loved to do a shop… but that sort of overwhelmed me completely because I had no experience in any of that. [Since] I'd been hosting in my home with Airbnb, I felt comfortable to go that avenue."
To Tanya, the small hotel business was a safe plan but even still, she dreamt of using the front as a small shop for small businesses.
So when things took a turn, Tanya took it in stride, flipping her bed and breakfast into 'Bean and Basket,' the retail store.
"In a way, being forced to be pushed out of my comfort zone, it all came together. It's funny how things work out like that," says the 41-year-old.
During the process, Tanya's original partner stepped down for personal reasons, and that's when Tanya's family friend Elaine came in. Elaine had followed along with Tanya's journey for a long time before she ever considered joining her.
Elaine gives a small chuckle and says she had to think the idea over for a few days before she told Tanya, "Yes I'm all in."
The two have grown to be more like family than friends throughout their work.
"Every decision is shared so there's a flavour of both of us in here," says Tanya.
When asked if she ever thought she would grow up to be a shop owner, Elaine replies, "Absolutely not."
Two years prior, Elaine had worked a human resources job before she made the difficult decision to quit "climbing the corporate ladder" when she was pregnant with her second child.
The opportunity to open a business came at the right time, she says, noting that it was the perfect next chapter after being a stay-at-home mom for two years.
For both of them, it was their husbands who helped inspire and support them throughout the process. Tanya's husband has a coffee place down the street and Elaine's husband has a printer shop across from Bean and Basket. Like the Rose family in Schitt's Creek, they are an ambitious bunch of family-owned businesses.
Though opening a store during COVID-19 may be daunting to many, it didn't faze the two very much. Despite the potential challenges, to them it was an, 'if not now, then when?' moment.
"We didn't have a grand opening or a party… but still we have been so supported by the community and friends," says Elaine.
"A lot of people are now more conscious of buying local."
The sentiment has pushed many Ajax residents to come in and support the small businesses. Others have long awaited for a place like 'The Bean' to buy products that offer a more personal touch.
"The store has been a great addition to the street," says Darren Brand, who lives across from Old Kingston Road. He hopes to see more outlets like 'The Bean' that bring some life and vitality back to the street where people can meet and gather, all while remaining six feet apart.
The boutique has about 30 makers featured in-store and they are still looking for more.
On their Facebook page, the shop has its weekly #featuredmaker to highlight independent creators and their products that can be found at Bean and Basket. One featured maker is Sarah Northey who makes soy candles, a hobby she started during the first lockdown. Cafe Candle Company candles are made to create ambiances that people love but can no longer enjoy because of the pandemic by recreating the scents of these places.
When universities moved online, Sarah missed sitting in a Starbucks, studying for classes. So she created her signature candle, 'Cafe,' which transports her back to the expensive cafe that she used as her study place.
Through collaborating with Tanya and Elaine, she's been able to grow her reach and also meet other crafters as well.
"It's a place where we can all meet together in a way, support each other and connect," says Sarah.
Bean and Basket is filled with character that draws people in —every detail and item has a special history.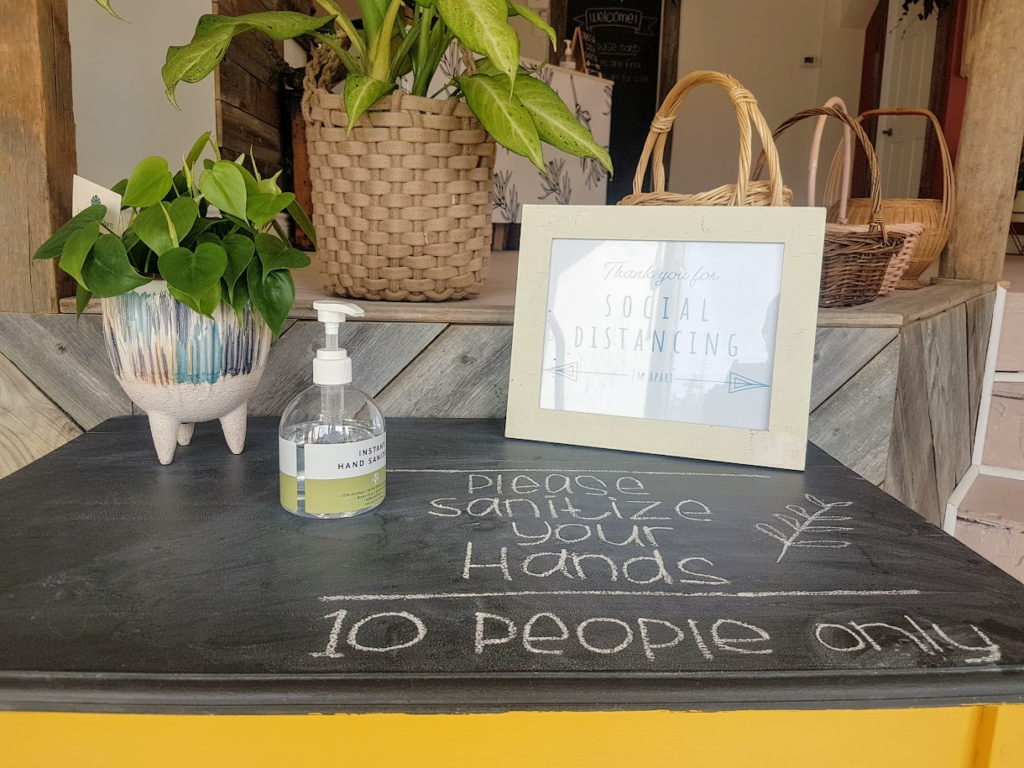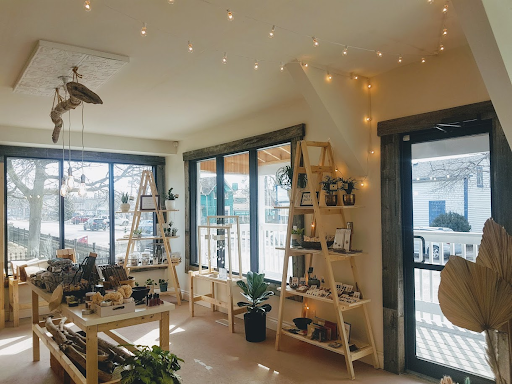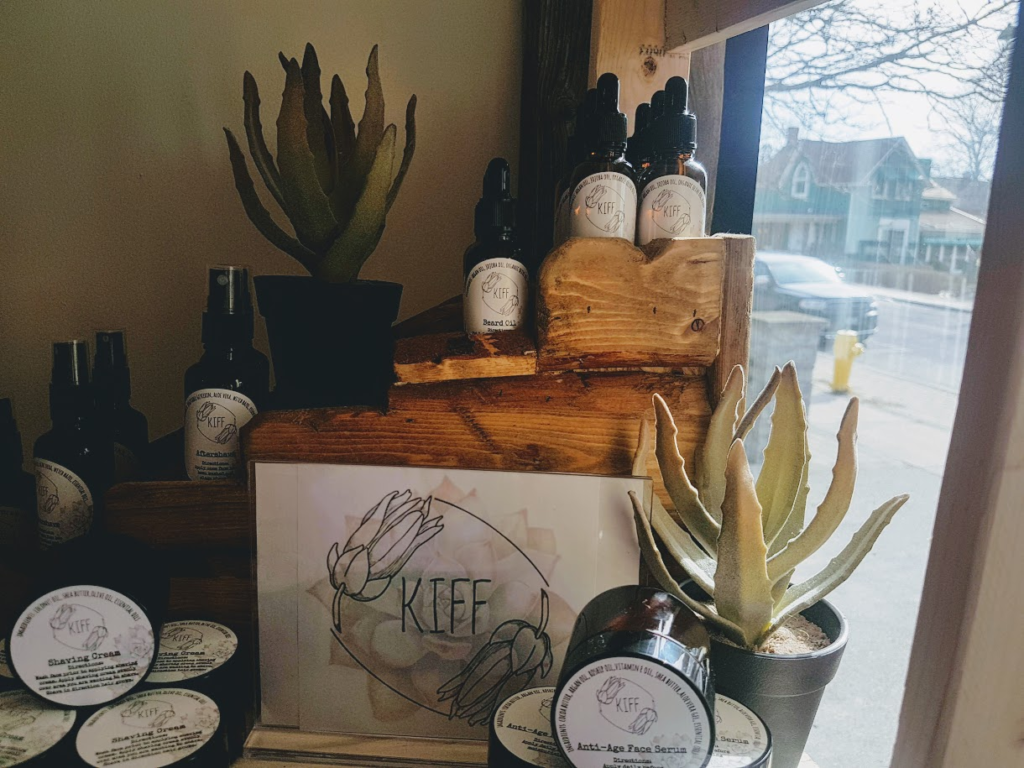 On a sunny but chilly October day, Tanya, her husband and her 15-year-old son drove out to the Ajax waterfront with the idea of searching for some driftwood. It's been a family activity to gather little pieces whenever they have visited in the past. "It just felt like an adventure, finding all these pieces." They collected many bits, in whatever size they came, and brought them back for later when they could sand and clean them.
Inside the shop, the driftwood is used everywhere. Pieces of it have been made into a chandelier, branches are used as decor under the tables and modeled by the windows.
"There's so much of a story behind everything that we've done… Everything was out of our hard work, sweat and tears," says Elaine and points out a table that Tanya brought all the way from South Africa.
It used to be Tanya's kitchen table for years.
"We basically brought it in, cut it in half, put it against two walls and just repainted the legs. We've hosted so many people around that table. Now, we share it with everyone who comes in," says Tanya.
The 20-year-old weathered wood used as trim on the windows came from an old fence from Elaine's childhood home. "That's a piece of my history right there. There's just so many different things that are purely out of our own," Elaine says.
"We can proudly say that we did that. We've come a long way. There's just like a little bit of our hearts in here." She glances around the store, taking it all in.
Music flows across the floor, crystals are glittering and the subtle smell of a cafe candle fills the shop. Time stands still for a second as Tanya and Elaine welcome the community in their cozy store —even if it's while being six feet apart.