By Peyton Lake
The last time Shveta Hariharan sat on a yellow school bus was over a decade ago. Early in the morning on a chilly March day she squished in the very back of a yellow bus between her hiking backpack, her four best friends and a group of strangers. With every bump in the road on the way out of Toronto, the two back rows of the bus were tossed into the air. The entire group laughed and shared in the collective nostalgia of the moment. This was how Hariharan chose to start her 31st birthday. Wanting to spend her birthday in nature instead of at a bar, she woke her friends and family up at eight in the morning to go hiking. But without a car, Hariharan had to get creative with her escape route.
That's what led her to Parkbus, a company that takes urbanites on guided hikes. Companies like Parkbus and similar operations like Toronto EcoAdventures have become popular options for downtown residents who love the great outdoors as they take away the need for a car. The company's goal is not to just transport people into nature but to build community within that nature. And that's exactly what Hariharan found.
Many residents in downtown Toronto are looking beyond their skyscrapers for relief. Hariharan, however, is not alone in lacking her own set of wheels. A survey conducted by Transportation Tomorrow showed that in 2016 as many as 55 per cent of households in downtown Toronto do not own vehicles. The reasons many Torotonians are car-free vary from cost to environmental activism. Whatever the reason, though, not having access to a vehicle makes venturing outside city limits a challenge.
Twenty eight hikers loaded onto the bus early the Sunday morning of Hariharan's birthday. At the front of the bus stood Ksenia Ha, the hike guide, armed with a speaker as the bus pulled onto the highway. Since 2010, Parkbus has mastered the act of bringing city-dwellers into the hiking community with welcoming arms. Ha instructed everyone to turn to their neighbour on the bus and to do three things: introduce themself, tell them one new thing they did this week and why they ended up on this hike. The bus erupted in chatter.
"I love nature and I love the city but I needed a little break. I can feel it when I am not in nature,"
Hariharan said to the two women she had just met in front of her. The ladies, Veronica Dejo and Sarah Daly, echoed Hariharan's sentiments. Both wanted to clear their minds. Working from home, both women felt isolated. As avid Parkbus users, both Dejo and Daly use the company as their sole way out of Toronto. "When the pandemic shut everything down I started using hiking as my version of the gym. Now I love it because I get to meet new friends," Dejo explains.
She's worked from home since March 2020, which left her feeling isolated. According to Vanessa Bilan, an environmental educationalist for the Canadian Parks and Wildlife Society, there has been a drastic rise in the number of people who found refuge in nature since the start of the pandemic. In Ontario, Ontario Parks reported a new record of 11 million visits to parks in 2020. Without companies like Parkbus, locals without cars would be left out.
"People see nature as this thing that is somewhere else, that our homes and cities aren't a part of it. It would be great to see people shifting those mindsets to see people interacting with it,"
said Bilan, expressing how important it is to search for nature in one's own surroundings, no matter how difficult that may seem in a place like Toronto. Parkbus and other Toronto hiking groups help residents like Dejo be physically active but they also foster new communities.
Forty-five minutes outside the city the bus pulled into Milton. Dejo excitedly jumped out of her bench and pulled the birthday group straight outside. Hariharan and Dejo's energy bounced off each other to infect the whole group with excitement as they participated in a group stretch. Dejo joyfully found her spot in the middle of the pack once the hike starts. She tries to get on at least two hikes per month with Parkbus. This was not Dejo's first rodeo.
Throughout the past two years, she has made sure to get everyone's name and contact information. As the hike continues she effortlessly flows between the very diverse group of people. Conversations with Dejo often end with laughter. She recounted memories of her past trips and how she saw a woman she met on a hike on a commercial or how she met another friend who now works at her local grocery store. Climbing through heavy snow up to her knees, Dejo never lost her smile.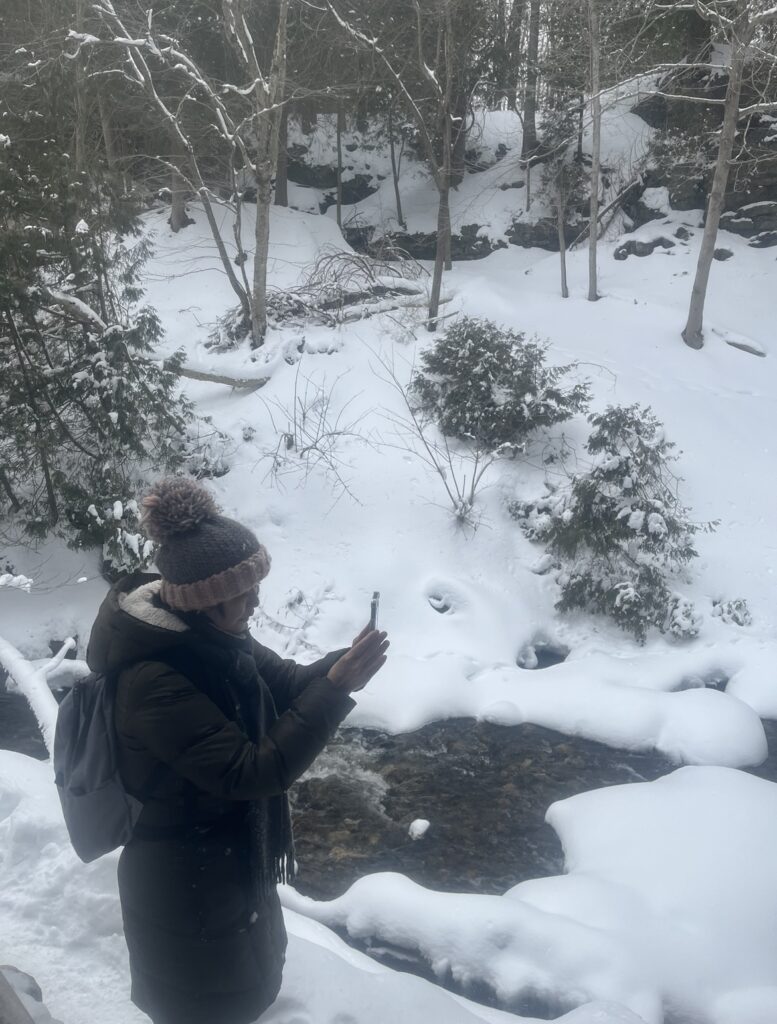 An hour into the hike, the group noticed a sound off in the distance. It was faint at first, but with each step through the crunching snow, the sound of running water became clearer. The narrow path opened up to a beautiful clearing with benches, fire pits and a view of a half-frozen waterfall. Parts of the water were still frozen and clinging to the cliffside while the rest of the water flows into the river below. The entire group took a moment to listen to the sound of running water. No car horns, construction or traffic. Just running water.
Hariharan and her friends eagerly climbed down the wooden steps to explore further. It was the nature and reward she wanted as her birthday gift. But the frozen falls were only the start of her birthday surprises.
The group gathered around hiking leader Ha, as she built a fire. The sounds of the crackling fire and ambient chatter were the backdrop for Harihran's friends gathering all 28 hikers to sing happy birthday. In a circle, the group sang loud enough to just barely cover the sound of the falls behind them and Hariharan joyfully smiled.
"You get to see others you might not have ever seen before in your life and make connections and memories I never would have before,"
said Hariharan on her first Parkbus adventure.
The group then piled back into the yellow school bus to be return to the city. New friendships charged the drive with electric energy. Hariharan and her group of friends excitedly invited anyone on the bus to join them on their next adventure of doing the CN Tower stair climb. Phones were passed around to collect numbers and calendars pulled out to look when the next Parkbus hike was happening and when the community could see each other again in nature.