By Maggie Feldbloom
On a quiet afternoon in March of 1972, sunlight flooded through the snow-frosted windows of a tiny library. Gene Gerry, touring a circuit of libraries with his wife, made a left past the foyer into the children's section, its surfaces scuffed with time and age. To his surprise, he was met by the sight of an elderly woman in a rocking chair, moaning, "John, John, John." Gerry quickly turned to call his wife, but upon turning back, not a single trace of the woman was left behind – instead, only the chair sitting mystifyingly empty in the corner.
"If you could find out if anyone has ever seen this lady, even one person, well, just let my wife know. Then I will be vindicated," reads Gerry's letter to the editor of a local newspaper. This story would soon become the Thornhill Village Library's most notorious ghost encounter.
Author John Robert Colombo – known as "Canada's Mr. Mystery" – included Gerry's anecdote in his novel, "Mysteries of Ontario."
"Most 'ghosts' and hence most 'hauntings' are sounds rather than sightings, less often combined," says Colombo. "The account is vivid because of its telling."
When it comes to Thornhill Village Library's more permanent residents, it appears Mrs. Ellen Ramsden has decided to take on the lead role in what might be Thornhill's very own haunted house. Ellen Frizzell married John Ramsden, a miller, in 1847, and the home was originally built for her. Ellen passed away at the age of 39 shortly after, and left the home to her infant son, John.
This begs the question – which John was Ellen calling for from her chair that afternoon?
Old Thornhill Village revolves around Yonge Street, clustered between John and Centre streets. It's a designated Heritage Conservation District, and the library is surrounded by plenty of other historical homes.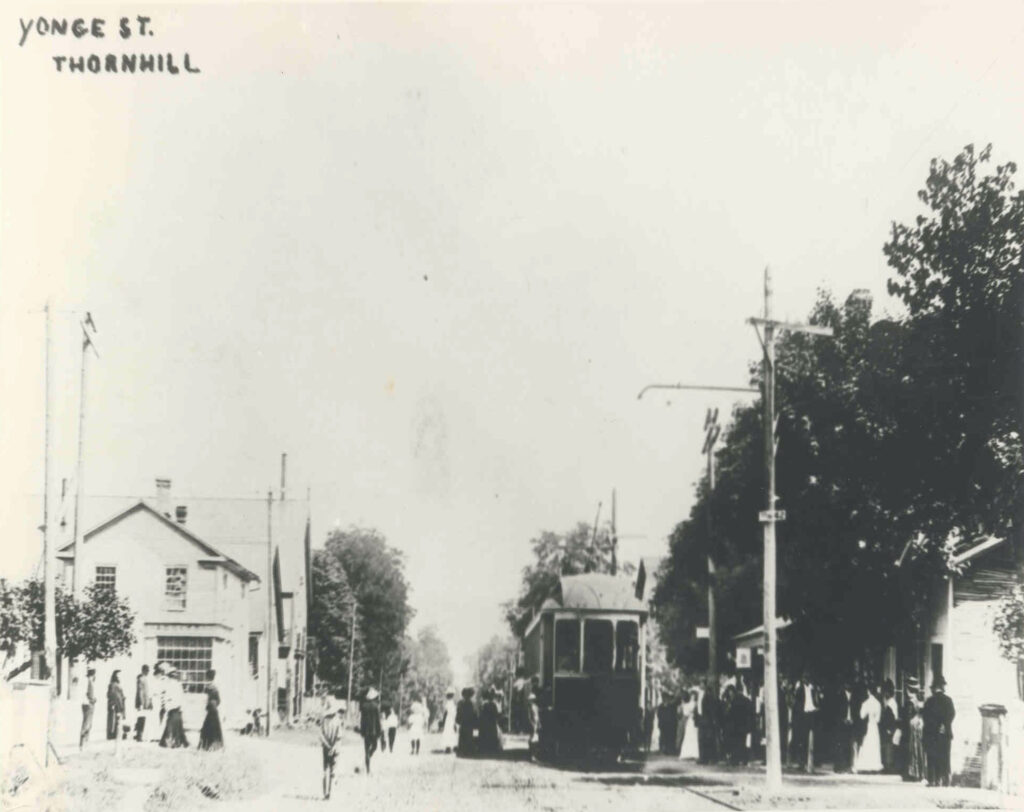 Thornhill at Yonge and Centre streets circa 1900. (Courtesy City of Vaughan Archive)
Andrea Dunn, current librarian at the Thornhill Village Library, flips through the library's historical binder at her desk, whose pages outline paranormal experiences from decades past. She's read these passages before, and quite a few make her smile. As a face of the library, she is often the first person that patrons report to after an unordinary experience.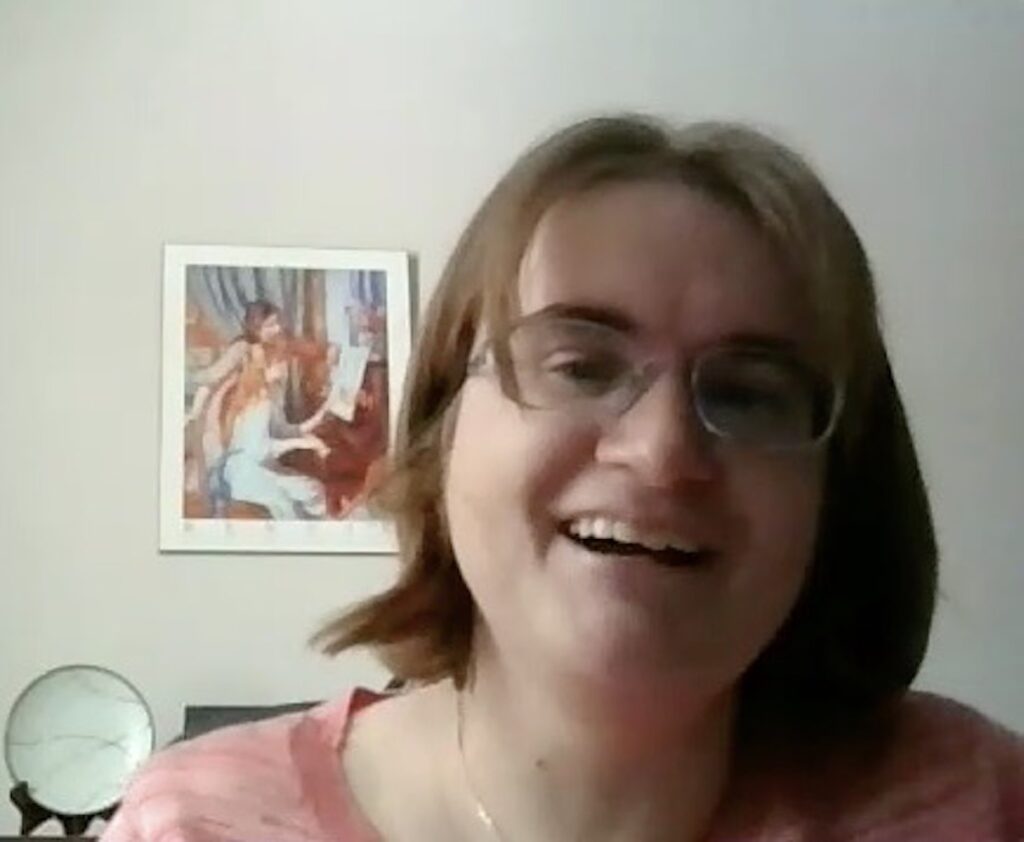 The majority of stories fit nicely with the description of Ellen. Staff members have claimed to hear a woman's voice whisper goodbye on their last day of work, as well as seeing a Victorian-style skirt sweeping by the top of the stairs up to the second floor. Multiple library patrons have also told Dunn that, when they drop off books at the library late at night, they see the silhouette of a woman looking out the upstairs windows.
Cynthia Tappay, a past branch librarian, intentionally stayed away from the library after hours. She told a reporter in 1988, "I do not intend to spend Halloween night or any other night in the library, for at night the library belongs to previous occupants. I myself may someday haunt the building."
Though the building was expanded in the 1990s, the exterior of the library still closely portrays its original, Victorian-era character with white, clapboard walls and elegant moulding.
It certainly caught the eye of children's author Deborah Kerbel on a summer day in 2008, as she turned onto Colborne Street in hopes of finding some parking to run a quick errand to the local paint supply. To her left sat a little white building that appeared to be a small house, frosted by large, black shutters and neighbouring a quaint garden.
Kerbel says that she felt inexplicably compelled to enter. She would go on to title her novel 'Lure' after that very feeling.
She ran inside, passionate and full of excitement – in true Kerbel fashion. Asking the librarians about the building's history, Kerbel learned of the library's paranormal presence.
"They all looked at me and said, 'When we started working here, we did not believe in ghosts.' They all believe in ghosts now," Kerbel says.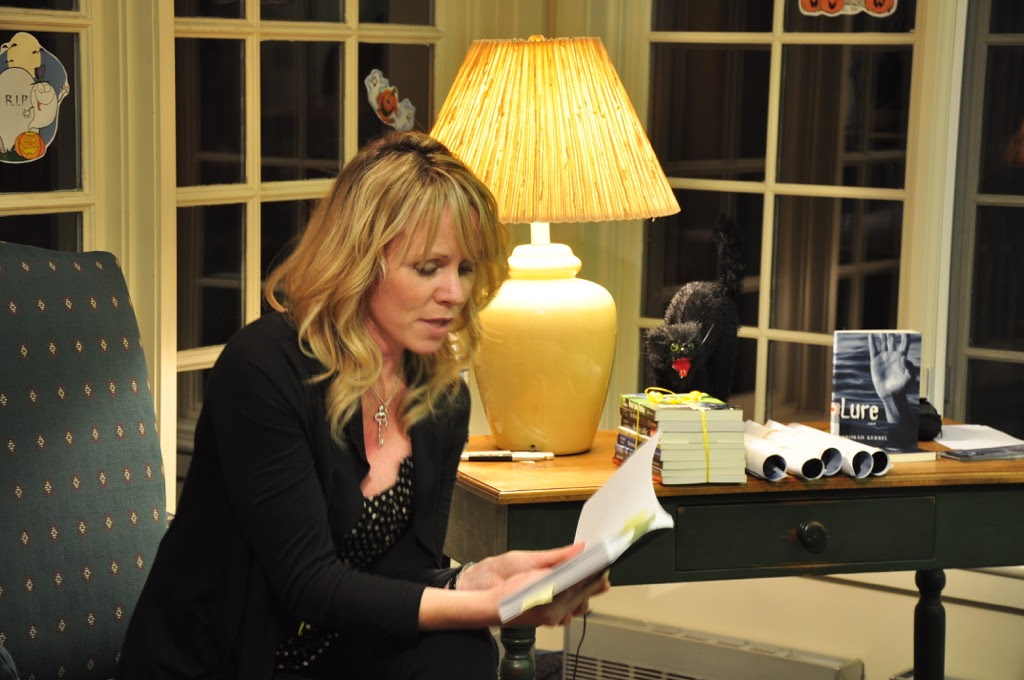 She even attended a 'ghost tour' where librarians pointed out the spot the infamous rocking chair once sat – now, it remains in the building's basement.
"I felt a big creative wave," Kerbel says, her eyes widening. "This is why that house was attracting me, this is the pull I felt."
Her young-adult novel 'Lure' follows a 16-year-old boy, Max, who has recently moved to Thornhill, and is contacted by a ghost named John who lives in the Village Library. Kerbel used the real stories that she discovered throughout her research as a baseline for some of the events in her novel.
While the historical home has had an array of residents, it may also include one that isn't human at all. Dunn tells me through a grin that one ghost in particular has been quite prominent recently.
Just a few years ago, an older man stepped up the ramp, past the picturesque, white lattice that frames the side-door of the library. He felt a quick brush past his leg – what could only be described as when a dog passes you by.
"Did you guys see that dog?" he asked as he set foot in the entryway, approaching the front desk where Dunn sat.
"No," she replied. She was confident she had seen nothing walk in – plus, the library doesn't allow dogs. But the man was sure of what he had seen: a dog ran into the library, and it must be somewhere. Baffled, they asked around, but sure enough, nobody had seen it.
The library staff decided to research the sighting, discovering that the library had been a veterinarian's clinic from 1902 to 1911. What's more, recorded tales of fifty years ago revealed patrons had felt that very same four-legged friend brush by.
Click on the markers to learn more.
It's been a while since the last sighting at the Thornhill Village Library, but Dunn says it's these long, uneventful periods of time that usually indicate something is about to happen. And no visitor is exempt from potentially being the next person to glimpse a silhouette or dog on their way in.
"From what I've heard," Dunn says, "the people that experience something the most are the ones that are most adamant that it's not real."