By Trevor Carter
Dressed in an all-black Champion sweater with the hood pulled up over his head, you probably wouldn't guess Kieron Harper had just returned from a seaside photoshoot two hours outside of Tokyo.
Like most recent high-school graduates, the 18-year-old starts his day by checking his phone. But unlike most of his fellow teens, the Halifax native scrolls through his messages looking for casting calls like the one that put him on the runways of Paris Fashion Week, and in the pages of the January/February issue of GQ Japan.
Harper is in regular communication with his agent, but he's on his own when it comes to navigating the Tokyo subway system to get to his next gig on time. He maneuvers quickly through the underground maze, knowing he can't afford to be a minute late.
"I think the Tokyo subway is one of the most complicated in the world," he says, laughing. He has learned the hard way to leave extra early whenever shooting in a new location.
There are other obstacles when he arrives, like the language barrier. It can be awkward sometimes, but once his image takes center stage, life gets a lot easier.
"It's nice with modeling because once you're in front of the camera, you can just kind of read what the photographer is looking for," he explains.
Becoming a full-time model has been in the works for a while, but Harper's performing career started at the barre. At three, he began taking ballet, and it became the main focus in life for over a decade.
"When Kieron was little he was just moving all the time," said his mother, Laurissa Manning. "We were like, well, let's just put him in something to keep him busy, so we put him in some dance classes and he seemed to really like it."
Like many energetic kids do, he cycled through a number of other activities including soccer, gymnastics, and track and field but none of them stuck.
"He was at a soccer game when he was ten or eleven and had just scored three goals for the team. He came off the field and said 'I quit, I hate soccer'," his mother recalls. "He said 'I just want to focus on dance' and we were like, okay, that's cool."
He excelled at dance, though, and got good enough to secure a spot at the Alberta Ballet School, where he studied between 2015 and 2017. There, he got his first taste of what life would be like living away from home.
Halifax teen Emma Courish met Harper in ballet class when they were seven, and they have been friends ever since. When they were young, she didn't expect that her friend would find his career on the runway.
"He always had such a beautiful face," she recalls. But she didn't see his confidence emerge until he was a teenager.
"The emotional and physical strength that he got from ballet is what's going to get him far," she said "I mean look how far he's come and he's only 18."
Harper traces his interest in fashion back to high school and says it was his friends and other kids in the community that sparked his interest in it as a possible career.
"Other people wanted to start modeling and I was like, huh, I kinda want to give this a try," he said.
Once he set his mind on it, he was determined, using fashion-focused hashtags on his Instagram account and talking with modeling scouts over social media when he was just 14.
While some said he was too young, he stuck with it, and in 2018, Dimitrios Seymour, a talent agent from Angie's AMTI Toronto, messaged Harper on Instagram. After meeting with a few other Toronto-based agencies and weighing his options, he signed with AMTI.
"Kieron and I have really developed a strong relationship over the years," said Seymour, adding that the relationship extends to his family as well. "When you're managing a teenager who's yet to turn 17, you're communicating mostly with the mom and dad at the very beginning. Kieron is really lucky to have amazingly supportive parents and they definitely did their diligence by asking great questions early on."
AMTI has signed some big names in male modelings, like America's Next Top Model Cycle 21 winner Keith Carlos, as well as fellow contestant Matthew Stephen Smith, perhaps best known from reality dating show Too Hot to Handle on Netflix.
Manning, Harper's mother, said it didn't take long to decide Angie's was the right fit for them.
"We didn't know the industry at all. The other agencies we met with were nice-ish, but it was a different feeling with Angie's. We met Dimitrios and just absolutely fell in love with him," she recalls. "One of the things that really stuck with us was that they were really emphatic about the importance of education and finishing school."
Harper fast-tracked his high-school graduation, graduating in January 2020 instead of June so he could start working as soon as possible.
The international travel was part of the appeal for the Maritimer, whose hometown offers a sharp contrast to the big-city life of Seoul and Tokyo.
"I was never really a small-town type of person," he said, thinking back to what ran through his mind the first time he visited Toronto. It was during a trip with his school soccer team in the fifth grade.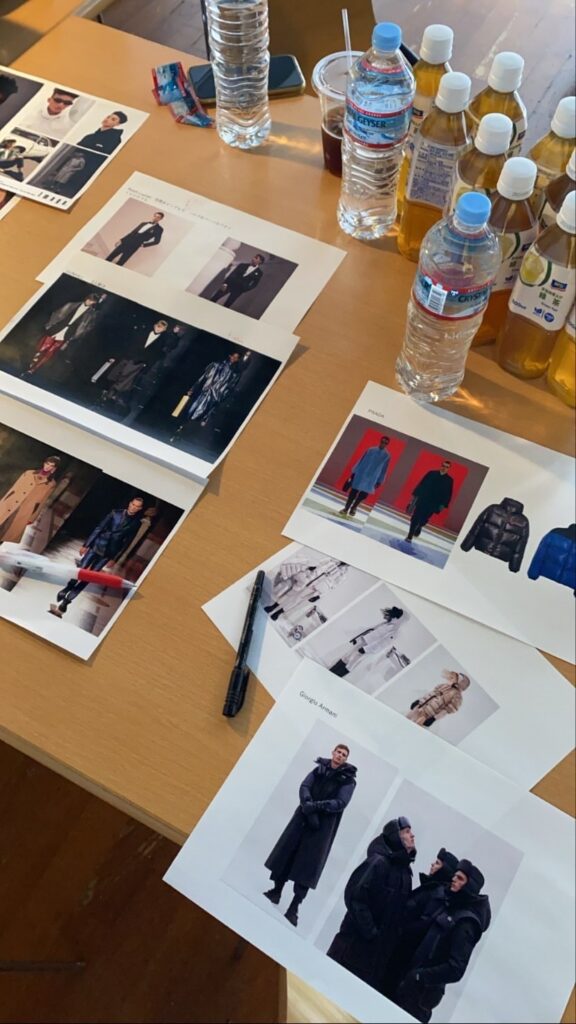 "We stayed with a host family and they toured us around and I thought 'I need to live in a city like this," he said, recalling how quickly he fell in love with the vibrant energy of Canada's largest city.
A fast-paced environment is also something that drew him to modeling, and a reason he hopes to continue a career in the fashion industry long after his modeling days are over. "I just really love the energy and the go-go-go pace," he said, breaking into a smile.
Harper has traveled to China, Mexico, South Korea, and Japan to work. Most recently, in the heart of Tokyo, he has found himself booked and busy.
"Originally I was supposed to be here for two months, and then I kept extending my visa to make it six, and now nine," he said.
His first job in Japan was the type of opportunity that any model would dream of, but it was meteoric for a Canadian boy just a year out of high school. He was featured on not one, but six pages of GQ Japan.
"I was so excited about that, I was still in quarantine in my apartment, and my agent told me 'you got GQ' and I was like, are you kidding? It was so cool, during the shooting I was like, oh my god, just take it all in."
He arrived at the studio to see clothing racks filled with high-fashion outfits. He was greeted by four other models who would be shooting with him. Despite being a crucial moment in their young careers, the energy in the room was relaxed and light. After touch-ups from the make-up artist, Harper was ready to see the stylist. Printed photos of the day's looks were scattered across a wooden table.
They suited him up in several different outfits. The first, a silver Moncler puffer jacket, was paired with white tights, black gloves, and matching boots. On top of his head sat a floppy black sun hat.
Standing in front of the iridescent orange backdrop, the photographer asked him to start moving fluidly through different poses. Yusuke Miyazaki, the photographer working for GQ Japan, quickly noticed the way Harper effortlessly contorted his body in front of the camera and asked if he was a ballet dancer. Miyazaki then asked Harper to showcase the movements he had learned from his years at the barre. Without missing a beat, Harper leaped and spun in the air as the camera flashed, capturing the photo that would earn him the feature in GQ.
"For me, the thing that I'm most proud of is that he wanted to do something, and he did it," said Manning. "He doesn't take no for an answer."
Listen: Ballet to billboards
Kieron Harper shares some of the tribulations that come with being a teen runway model. A career path filled with rejection, uncertainty, and features in Paris Fashion Week. The former competitive ballet dancer spoke with me after returning from a seaside photoshoot just outside Tokyo.
The Moncler GENIUS 6 1017 ALYX 9SM Collection
Kieron Harper in Moncler for the January/February issue of GQ Japan. Image via GQ by Yusuke Miyazaki.
Photo Gallery
Kieron Harper Photo Assignment
by Trevor Carter
Map of Location
From Halifax to Tokyo
Explore some of the locations the Canadian teen has worked in over the past three years.