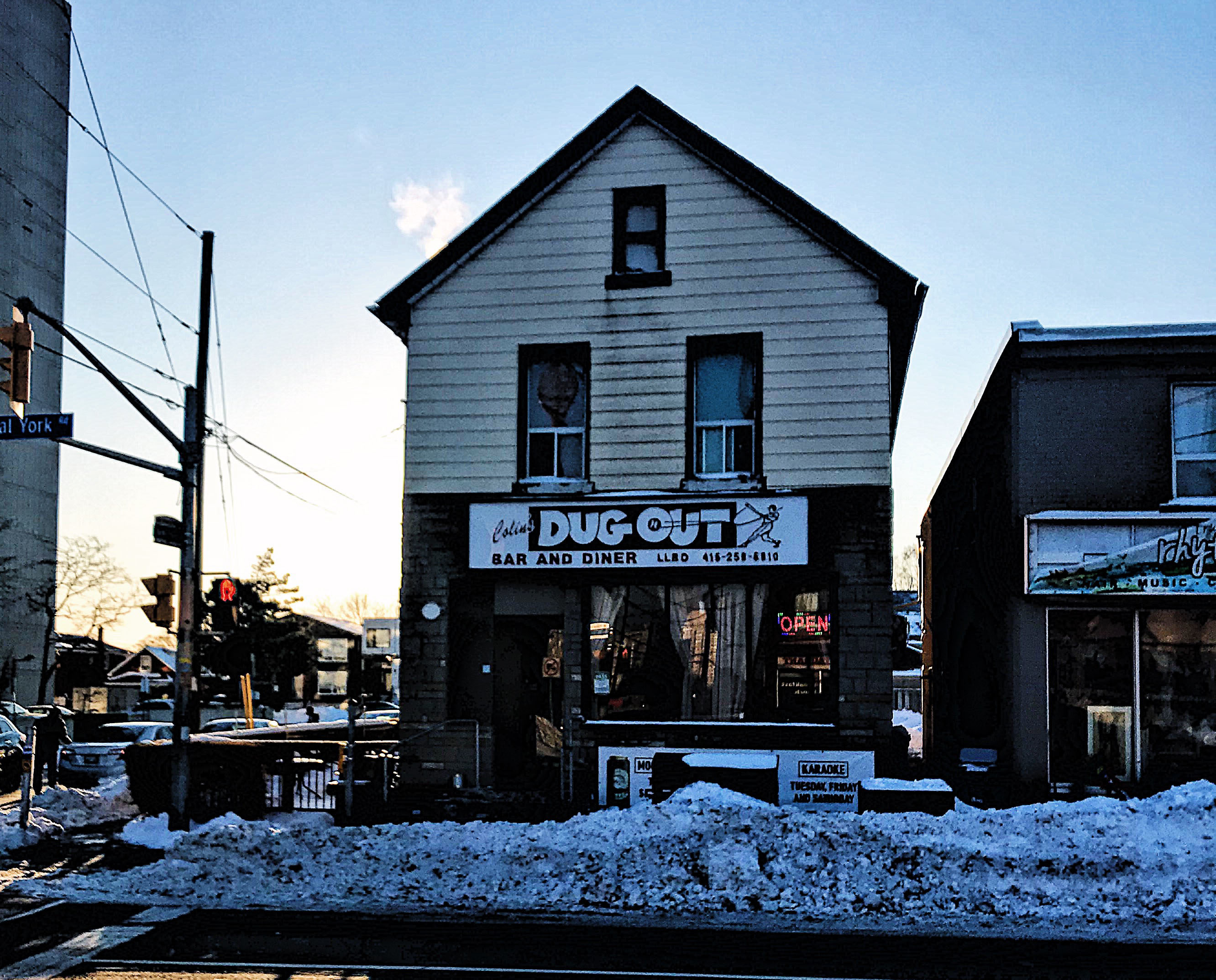 By Ammar Karam
The door flew open. The freezing winter air rushed in and everyone shivered. It was followed by Mitch, who was short, disheveled and stumbling drunk. He growled as he walked in, clutching at the closest bar stool. The weathered, grey-haired bartender, Betty, sighed deeply and said, "I'm not giving you anything any more Mitch.". As she opened a beer and handed it to another guest, Mitch slammed himself into a chair and shouted, "Beer, gimme a damn beer".

Everyone in the bar was quiet and the news talked over the silence. We all just sipped at our drinks and watched Mitch float from empty chair to empty chair in the bar and repeat "Beer" under his breath. It started very slurry but as he got more agitated and impatient, the words began to form more clearly. "Gimme a fucking beer, goddammit" was the fever pitch of his drunken groans. Betty finally responded with, "I'm not giving you no more beer Mitch. Scram, go sober up."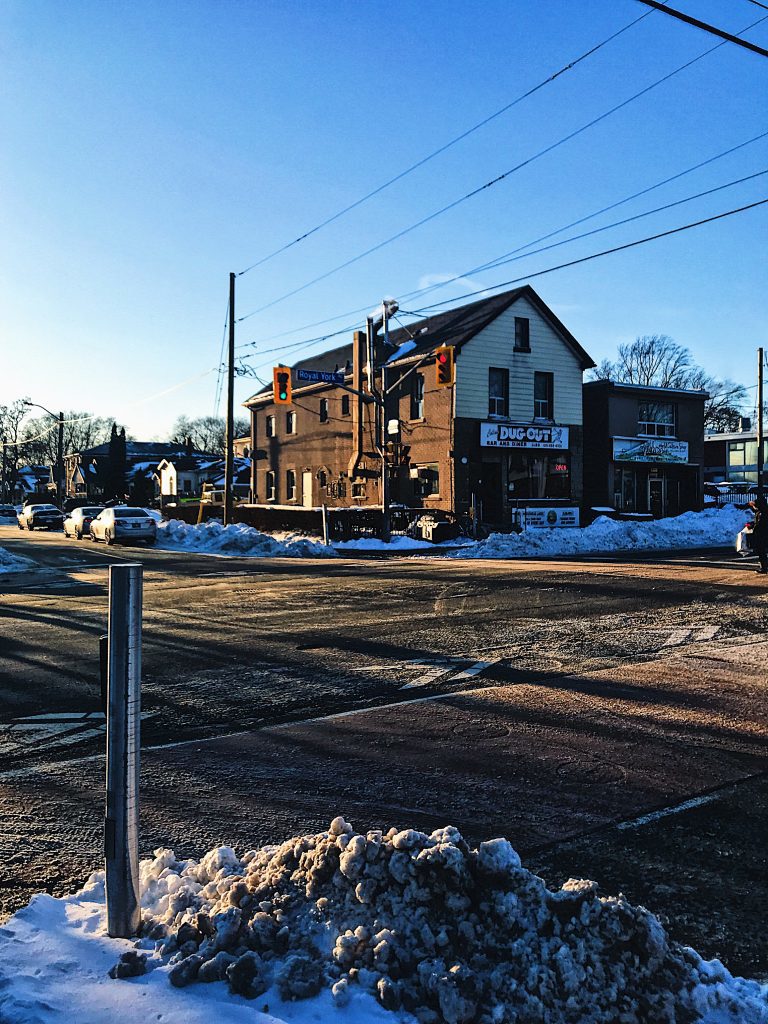 Colin's Dug Out is a small watering hole on Royal York Rd, a stone's throw away from the Mimico GO Station. A free-standing bar across the road from a small strip mall that consists of Mimico Pub and Grill, a barber's shop and a family restaurant. That parking lot is where bartender Jessica saw people get beaten up on her car.

It's a small place, not meant for more than 65 people standing. An L-shaped unvarnished bar takes up most of the left hand side as you walk in with a clutter of tables and chairs on your right. A black chalkboard on the right across from the bar with the prices is unnoticeable at first but you eventually make out "Domestic – 3.75; Jameson – 4" in the dim light.
A free jukebox will have you hear Alanis Morissette, Warren Zevon and Justin Bieber in the space of three songs. Next to the bar, is a flat top grill, a fryer and a small refrigerator where they keep the bagged ice. Pint glasses are hand-washed, so everyone drinks bottles and cans. Boxes of empties stand next to the ATM which is adjacent to the second side door patio entrance. The kitchen is in the back of the building and the bathroom is behind the chalkboard. It's all rather compact.

People from all walks of life gather in this bar, there's a gentleman who is doing his business on a Microsoft Surface Go with a small bag of peanuts and a pint of dark beer. There is a quiet lady who browses YouTube videos on her phone for hours. The younger gentlemen with face tattoos who hang out and leave regularly for 15 to 20 minutes then return, making no secret as to what they were doing. All topics talked, but usually settling on women and how they drive us crazy but that's why we love them. Everyone paid almost exclusively in change, thanks to the prices.

"The customers are great people. Older crowd" said owner Chris Benoit to what his favourite thing about the Dug Out was. And truly, every time I went, I was the youngest person in the room by a margin. Pretty much all locals, even the non-regulars like a gentleman I met one night, were from the immediate surrounding area. "From around here?" was the general greeting that I got whenever anyone wanted to chat.

I might get tetanus or be shot.

Phil Linton, Dug Out patron
"I might get tetanus or be shot" is the impression that the Dug Out gave my bandmate Phil Linton when he first walked in. "It's definitely on the lower side of not hitting the health code." With a hole in the ceiling right above the bar with wires poking out and rusty old lawn chairs in the back, it's not hard to see where the impression comes from. There was a pool table in the back of the bar, but that got moved "to make more seating space", according to the owner Chris Benoit. The seating space consisted of six completely unique and different chairs around two steel patio tables.

My first time ever going was as part of my band when we had finished a long day of recording and our producer, a local, Nixon Boyd suggested it for a quiet beer. He had first saw a sign that said "Beer and Burger – $5" and made plans to go. But he forewarned us about the clientele; that night a regular, Steve, would show off how he played pool with a backwards cue shouting at us to watch him the whole time. That was also the night I first met Benoit.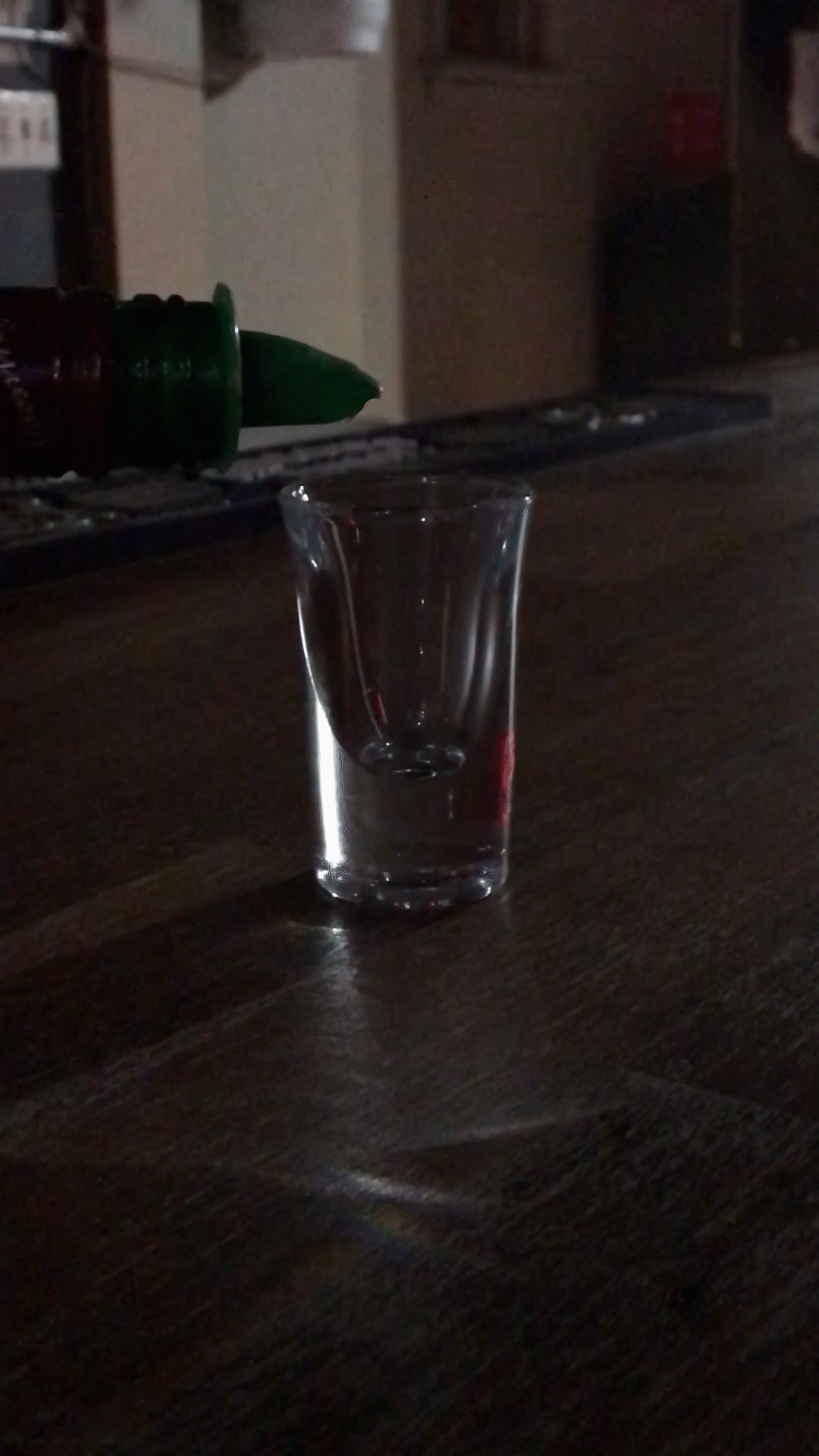 He talked a lot about how he books bands and how he's booked solid for three months and how he owns the Delray Grill in the Junction. After being puzzled about the name mismatch (it is named Colin's Dug Out) I later found out that Colin was in fact the previous owner and was a big baseball fan. The term "dugout" is the name given to a baseball team's bench where the team sits if they're not batting or active on the field.

16 year old boys aren't meant to be kept in small towns, you know?

Chris Benoit, owner Colin's Dug Out
Chris was from a small town in Newfoundland. He grew up very close to his mother. She was "the woman in his life" until he was 16. He was restless and explorative as a 16 year old and felt that the small town was too restrictive. It was too slow, too boring for him. He wanted excitement. And that's what brought him to Toronto.

Bright lights, bars, music, excitement, girls Toronto had it all. And that's what Chris came for. "16 year old boys aren't meant to be kept in small towns, you know? We're supposed to explore and see the sights. We used to go to clubs all the time, sneak in. There were women everywhere.". After moving to Toronto and working as a dishwasher in Missassauga, he worked his way up until he owned a place. He's 47 now. "That's what I do" was his answer to why he bought The Dug Out, "I buy bars. And this one is close to where I live."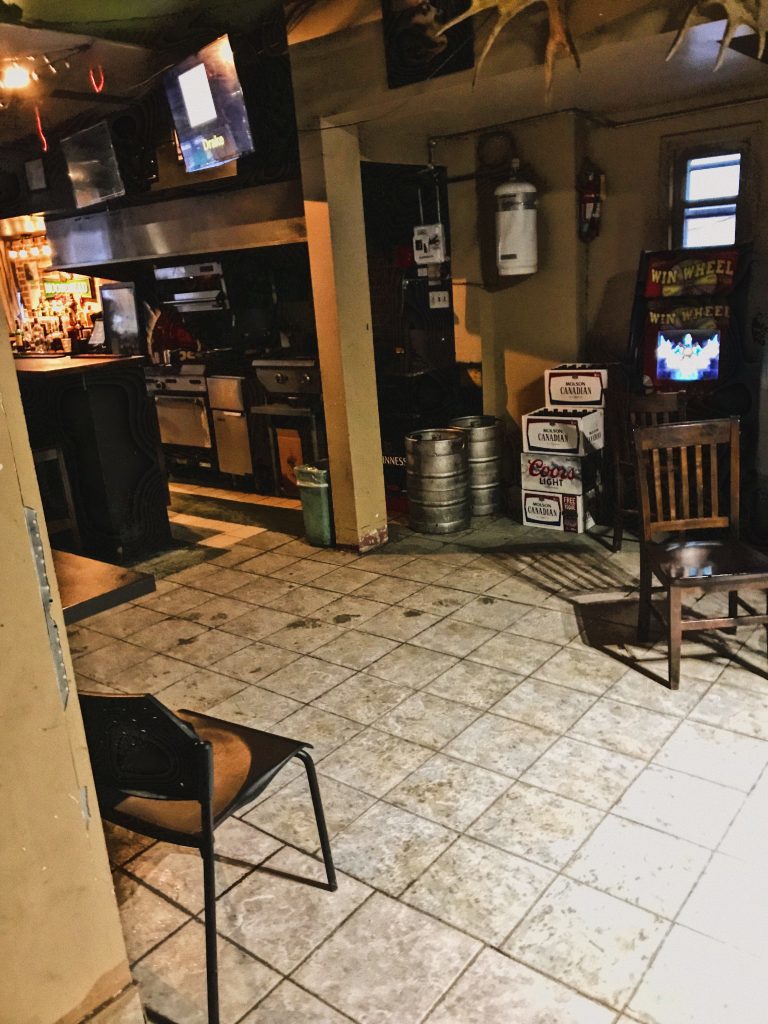 "Bring some more items on the food menu. Push the food a little more. Push the restaurant on social media a bit more." Chris talks about his plans for the future of Dug Out. And for the place that banned the infamous Toronto personality Zanta, after a confrontation involving someone's girlfriend, those are modest plans. But there is change in the neighbourhood, "San Remo, it's coming up bringing in lots more people, families and such." Chris also has plans for the patio, expanding and improving it.

I don't think you'll find a cast of characters like you'll find at the Dug Out…it's cheap, it's dark and it's different.. which is both a good and a bad thing.

Nixon Boyd, local producer
Mitch sat in the back corner groaning about the cold and rocking on one of the decrepit chairs. To be fair it was actually quite cold in the bar and it was -23 degrees outside. As Mitch quieted down, his drunken pleas sank into the general chatter that started back up again between everyone in the bar. Someone joked about giving him a beer, Betty rolled her eyes and glanced over to Mitch who began to make himself comfortable but hadn't stopped asking for beer.

One of the other regulars, a grey-haired man with a Bass Pro cap puffing on an e-cigarette, walked over to Mitch and talked to him quietly then escorted him out of the bar through the side door. Betty looked at me and apologised for him. Someone piped up, "Where's Mitch living these days?" Betty shrugged, "I don't know but he's still got his tab from last time. Gotta pay up."