By Lily Han
Sun shines through the large windows of the yoga studio, lighting up the room with rays of warmth. Colourful yoga mats are on the hardwood studio floor in a circle, all facing Echo Wang. Faintly, outside the room, there's a noise of tiny nails scratching excitedly on the door. Students take their places on the mats, anticipating what–or who– they already know is on their way to bounce inside any moment now.
Deep breath in… and
exhale
. Echo starts her classes with light stretches, but the attention quickly turns to the real stars of the class.
Tiny paws
rapidly make their way around the studio, on a mission for playtime. Little
barks
break the quiet and fill the room with stifled laughter melting away any trace stress on people's faces as they go into downward dog. Around them, a litter of eight fluffy puppies roam free.
Puppy yoga is not just a trend that is providing extra enjoyment for people who partake in it but it's also a new part of Echo's dream becoming a reality. She says she wants her teachings to "turn chaos to calm, strengthen interconnection to the world and to embrace one's imperfections." That is exactly what Yoga Kawa has done and implementing puppy yoga to her business adds playfulness and more exploration in her classes.
This serene scene is a far cry from where Echo was 11 years ago. It felt as if she was simply going through the motions without truly living her life. She was stuck in a loveless relationship that drained her emotionally and was dealing with a crisis that left her and her family homeless. She felt as if she was stumbling through life with nothing stable to hold on to. With all these stressors in her life, she developed insomnia, hyperthyroidism and eczema, a "sign of my own body attacking myself," as she describes it now.
Then one day in 2011 hope hit her in the form of a 10-day yoga pass. At the time, little did she know that those six classes would change her life. Being away on the retreat gave her a moment of pure relief and peace. Echo says that yoga connected her "to a powerful inner compass that was buried under a mountain of cloudy judgment, fear, anxiety and self-doubt."
With yoga now firmly her life, heart and body were being healed,she was no longer feeling suffocated by the heavy air of a chaotic life but instead, for the first time in a long time, felt like she was getting that proverbial breath of fresh air. That was the moment she knew her calling.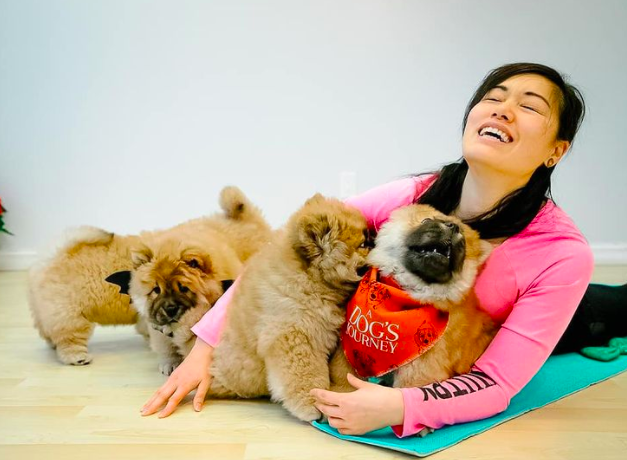 Echo started puppy yoga at her company, Yoga Kawa, a few months before the first COVID-19 lockdowns. She saw it trending on social media and wanted to give it a try and even though she only managed a few classes before shutting down, they were a hit and she knew she wanted to keep doing it. 
A woman of colour, Echo has never let go of her entrepreneurial dreams despite the situational struggles of the pandemic. Two years later, she's welcoming a return of her beloved practice, priding herself on running an ethical business where the safety of the puppies is the top priority. Whereas some people in the business opt to use more convenient puppy mills–which are inhumane high-volume dog breeding facilities–Echo emphasizes her detest for this practice, "that is not why I believe there should be puppies in the world," she says.
It was more challenging to get registered breeders because there are not many who trust people with their dogs. It was something she worked hard on finding because she would not compromise her beliefs or the puppies well-being.
"It took a lot of convincing, it took a lot of calling and checking everywhere."
After a lot of research and time, she found a registered breeder that ethically cares for their puppies.The dogs participating in classes show up with their breeder and return home once the classes are done. Despite having to go through the hassle of getting just the right kind of puppies, Echo knows it was worth reaching out to people who like her care about the welfare of the animals.
Keeping the puppies safe during class is Echo's main priority. Everyone can get super excited when the animals arrive, and it makes it easier to forget that the animals are fragile and still need to be protected.
Sometimes the excitement is too much for the little ones, their tails wagging uncontrollably as they hop on their hind legs to greet the new faces. The only way to relieve the excitement is to relieve themselves, which is where puppy wranglers come to the rescue; they help doggy duties. Some people notice and scrunch up their faces as they see the yellow puddles on the ground, but it barely catches their attention as the puppies are right back to give slobbery kisses.
Just before the class unfolds the puppies are with their breeder waiting excitedly outside the room to be let in. As the puppies saunter in, Echo watches as one of the tiny white and black spotted bulldogs climbs onto her student's rising and falling stomach and nestles in. She explains later this is when the puppy has "chosen their person." Echo loves seeing this happen during her classes.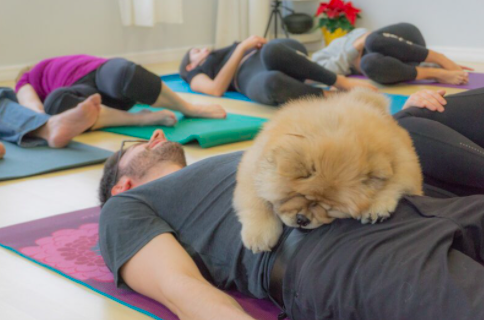 She recalls one of her most memorable classes was a Mother's Day event, where some members brought their kids and others brought their elder parents. It was special to see the young kids with bright smiles mingling with the older adults, the parents and the grandparents with wrinkles from a life already lived. And puppies everywhere – running around with laughter filling the room. Three generations all in one class and ready to try something new.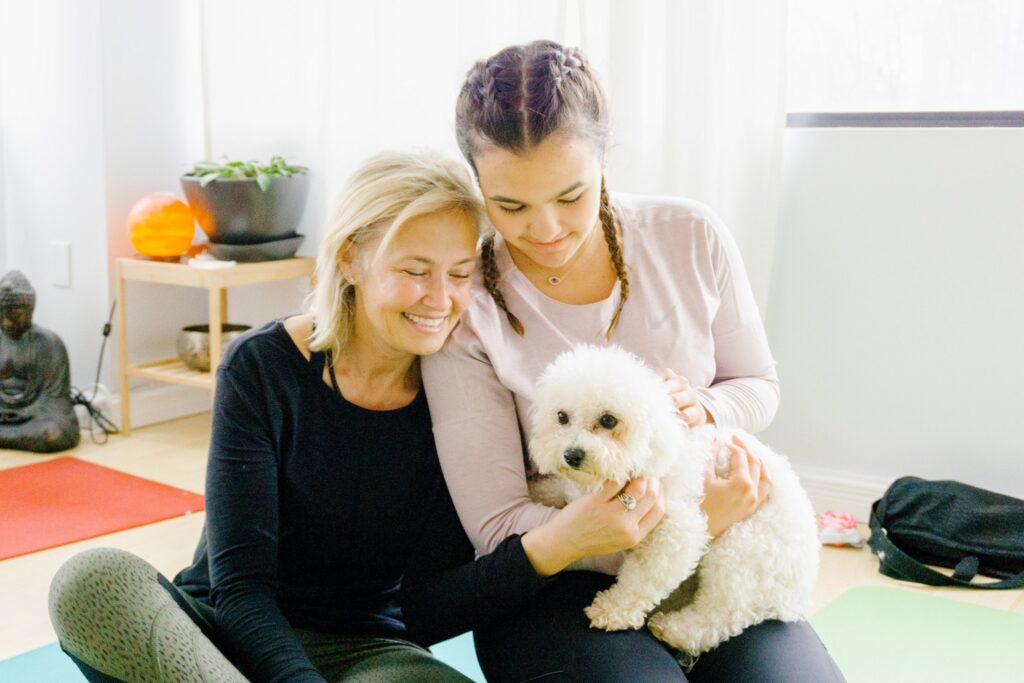 "When people are so relaxed and enamoured by the puppy's love, people appreciate seniors and the generational love," she explains.
However, Echo's favourite part is when classes are over–the puppies on their way home with their breeder–and a student walks up to her with a massive grin on their face and shyly confesses they didn't think puppy yoga would help.
She remembers hearing her students say, "I changed my mindset of so many things; life is joy and love," hearing those things, she smiles and says, "it makes my heart faint."
Although Echo's business is thriving, having another person to share responsibilities to make things easier is important.
Andrea Lo and Echo met during their time at the University of Toronto together but lost touch after graduation.
When Andrea first heard of puppy yoga, she knew she had to go. She was surprised to see an old friend's name when she started researching classes. Excited to support her friend and with a love for supporting female entrepreneurs, Andrea booked a class immediately.
"We found each other again through puppy yoga," she says.
When Yoga Kawa started gaining traction, Echo wanted some aid with her business, Andrea was there to lend a helping hand. First as a puppy wrangler, then managing classes on her own, and now as the Toronto coordinator.
Andrea can't help but talk about her favourite moments that she refers to as "the gasp." She recalls, walking over to a woman in a yoga pose with one knee on the floor and her hands up. A smile broke out on the woman's face when she saw Andrea approaching with a puppy. Andrea put the excited puppy in the woman's hands, and the woman let out an excited gasp. This is a particular sound that Andrea and Echo came to recognize among some of the participants who can't help their excitement when they see a puppy headed their way.
She was familiar with that reaction, having experienced it herself with Bobby, a tiny, brown-spotted pup she met and named during a class in 2020. Before Bobby came into the class, it felt like any other yoga session, but everything changed when he chose her. "You feel like you have this special connection with them," she says.
Seeing Bobby get moved around to a new person, sniffing their hair and crawling into their laps instead of hers, stirred jealousy in her she had for this small brown spotted puppy she only just met today.
"Every time they waddle to you again, your heart just melts," she laughs, "you just want to keep them and hide them."
She recalls another time when she attended a class feeling a little upset. Entering the space with her shoulders slumped and sighing, she reluctantly put her things in a cubby. She didn't know what to expect from the class, especially on a bad day, but she plopped down on her mat and got ready for class to start. Her mood shifted instantly when the puppies came in. "You can't help but smile," she said. It was hard for her to stay upset with over-excited fluffy bodies jumping on her and slobbery kisses all on her face.
A puppy ran between her and another class goer, and while running a little too fast, one started sliding on the hardwood floor, unable to control their speed. Andrea looked up at the person beside her, and they shared a laugh at the scene they saw, both people now filled with a warmth that wasn't there before the class.
Puppy Yoga Guide
by Lily Han