By Kate Jones
On the corner of Main Street, in a small village in Southern Ontario, sits a rectangular house — an average-looking home where few would guess what goes on inside the closed doors. On the outside, the building is splattered in multi-coloured, hand-painted 3D cubes, projecting onto pedestrians as they walk by. Inside, rustic decor of dark wood, antique tables, and black iron display units reveal the history behind the house, which used to be a former Freemasons lodge. It's now turned into a chocolate shop.
Delicate bars of chocolate carefully rest along the thick, dark wooden beams, fascinating customers with unconventional creations like Kimchi Chocolate and Fennel and Beet bars. Although at first glance the combinations seem peculiar, it's what is inside the tasty treats that represent the people in the community.
The artist behind the shop, Angela Roest, rushes out of the open space in the back of the store where she assembles her creations, with white floury stains pervading her black, cotton apron. She indicates her hard work with a sweeping gesture across her forehead, pushing her dirty blonde bang to the side, giving a wide, inviting grin as she says, "welcome."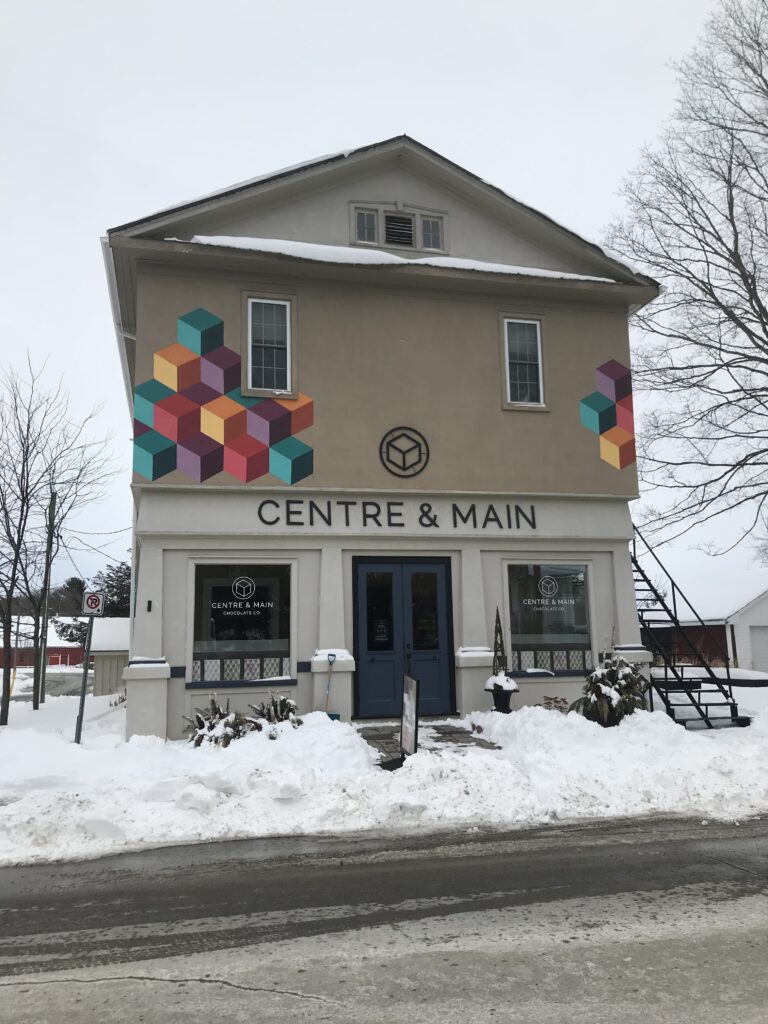 This inviting hospitality is not uncommon in the small town of Warkworth, Ont. With just over 1,000 residents, the arts town in the municipality of Trent Hills is a top destination for many summer travellers who stop by on their way to the scenic views of Prince Edward County. The businesses that infiltrate the historic Main Street all have one thing in common: a desire to support and represent their community by using local ingredients in their products, aiding in a unique and top-quality result.
"We use what we have, and we get creative," says Elizabeth Aikenhead, Owner of Our Lucky Stars Cafe in Warkworth.
The common local-inspired theme among the businesses reverberates through the town. It's that "we're all in this together" sense of community, according to Nancy Allanson, executive director of Trent Hills Chamber of Commerce. Allanson's role in the community is to help deliver services and programs to various businesses in Trent Hills, while also promoting tourism in the area. She expresses that businesses in Warkworth have always focused on involving the community through their products.
One of the stores Allanson refers to is the house on the corner, Centre and Main Chocolate. Inside, newcomers are pleasantly surprised when they test some of Roests' velvety chocolate, like the "Picante Bar," instantly infatuated with the contrasting taste of the sweet dark chocolate and the spicy Portuguese peppers from local business, The Humble Herb. The store's scent explodes with freshly melted ethically sourced chocolate from around the world, but it was Roests' key idea to mix the ingredients native to her region into her chocolates that set her apart from any other chocolatier, creating an endless cycle of support in the community.
"Chocolate is a very traditional food," Roest says. "The flavours connected with chocolate traditionally are those that are in Europe, because they would pair their food with foods they had." Roest notes that often, the fancier chocolatiers get, the more foreign their ingredients can be.
As Roest became more involved with chocolate, turning her career choices towards the delicacy, she began to realize that the local foods she regularly eats, like fresh, sweet rhubarb and tart blueberries, weren't "celebrated" in chocolate the way exotic foods are, concluding that there's "no good reason for that."
And so, Centre and Main Chocolate began its mission to enhance traditional chocolate by creating unique bars with ingredients Canadians eat the most, celebrating those local flavours.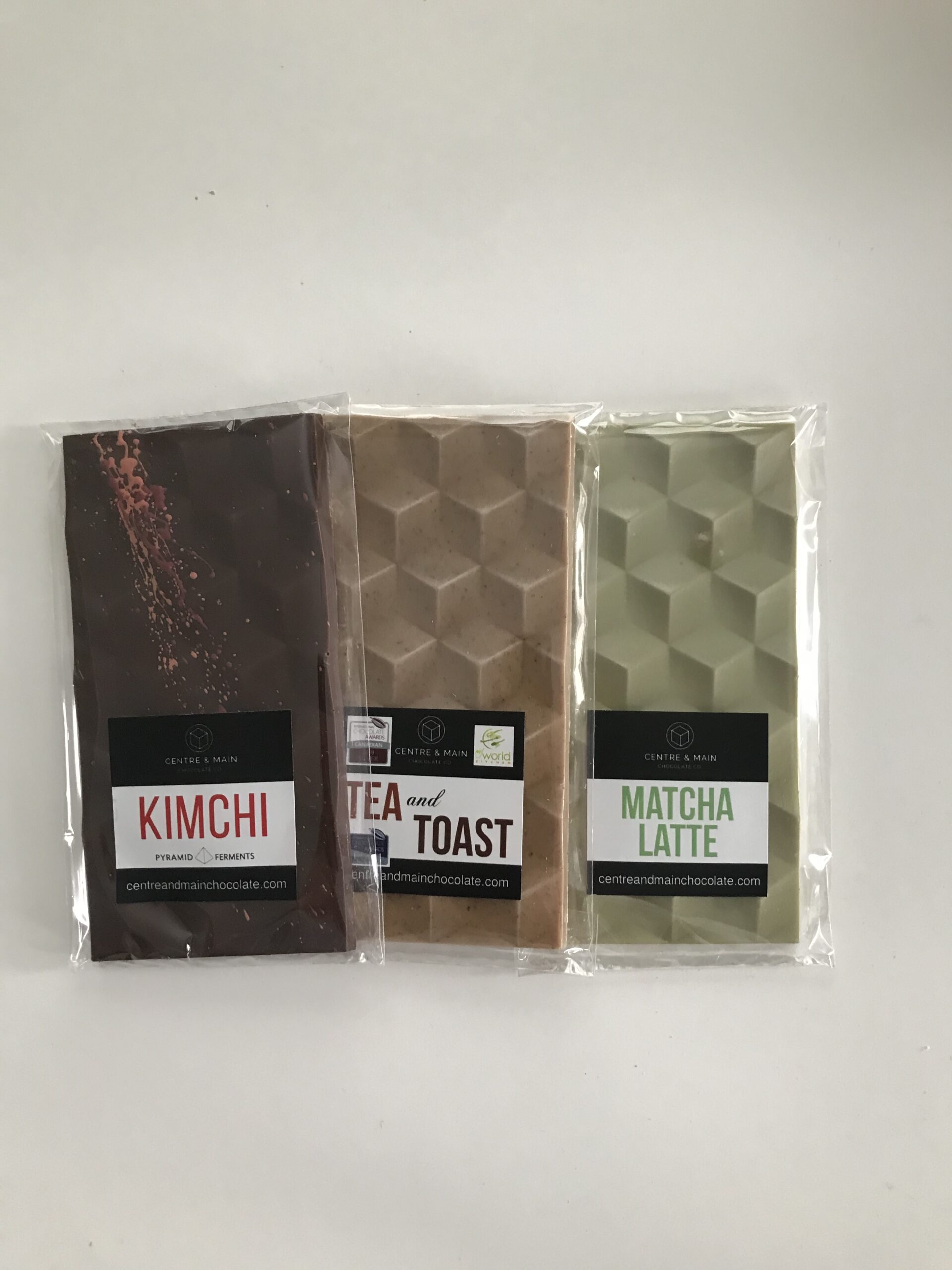 In particular, Roest's Tea and Toast Bar is a customer favourite at the shop and has won a Silver Medal at the International Chocolate Awards and an award for Innovation in 2019. The bar uses bread from a local baker, Annie Boulanger, deeply toasted to perfection, mixing effortlessly with the sweet white chocolate, replicating a classic English-inspired afternoon tea.
Boulanger's scrumptious bread is commonly made with heritage red spice whole wheat flour from local Jubilee Forest Farm, yeast, sea-salt, water, and occasionally full fat two per cent buttermilk from the local Reid's Dairy, a rare find in Ontario.
"The better the ingredients, the better the product is," says Boulanger.
This is also the mindset for Aikenhead, owner of Our Lucky Stars Cafe, a two-minute walk down the Main Street from Centre and Main Chocolate. Aikenhead grew up with the idea of using what you had around you, a sustainable way of life, which shows through her innovative menu.
She has worked with Roest to create three different chocolate bars that incorporate the cafe's ingredients.
The partnership between the two has allowed for not only a movement of businesses supporting businesses but "also providing an experience for visitors that come to the area," says Allanson. "They partner with other local producers and local growers and then they provide an actual story behind the products that they're selling."
Our Lucky Stars Cafe, similar to Centre and Main Chocolate, is inspired by the local and seasonal ingredients when creating their menu. Their moist, crumbly, dense white chocolate and raspberry scones use local Brambleberry Farms berries, instantly melting in your mouth as it slightly touches your taste buds.
"In some ways, it can be more expensive to buy local, rather than some big box stores, but it's amazing what we do have available," says Aikenhead. The cafe owner consistently goes out of her way to support other businesses in the community. This year, the crops of her local lettuce supplier failed. However, he had a stellar arugula season, according to Aikenhead, so that's what she took, adapting to what she had available around her, creating creamy arugula pesto and crunchy, tangy salads.
Although Boulanger and Aikenhead value supporting local businesses, using those ingredients in their products, they give the credit in the creation of their chocolate bars to Roest, agreeing she's the "genius" behind the products.
"I think she (Roest) got the whole community thinking, 'You can add saffron to this and herbs to that," says Aikenhead, re-establishing that using available ingredients can only lead to creative success.
Before turning the house on the corner into Centre and Main Chocolate, Roest flipped through the pages of copious chocolate recipe books, never seeing the ingredients she used every day. Now, when you walk into her store, customers don't see a representation of a classic bourgeoise chocolate shop those recipe books showcase, but rather a museum of life in Warkworth.