It's after hours in the Black Sheep Lounge and Lucas Spinosa fires up his coffee roaster. When he opens a burlap jute, he's hit with the grassy, vegetal smell of green coffee before a roast. In an instant he's remembering one of his first visits to a coffee farm in Nicaragua, looking up at a two-kilometre-tall mountain that seems as though it's sticking straight up. Coffee grows at high altitudes and there's only one way to get there. It's a hard trek — made harder by the thinning air — and he's dripping with sweat by the halfway point, struggling to keep up with farmers who make the climb daily. When he finally reaches his destination, he's able to pluck ripe coffee fruit off of a branch and taste it.
It's the same every time the smell hits his nose, whether he's remembering hikes in Nicaragua or tasting different roasts at a cupping table in San Pedro Sula, Honduras. But more than anything, he's thinking about all of the people he's met along the way, both home and abroad.
"If I had to do coffee without having community, I don't know if I would have the same passion for it," he says. Spinosa is tall, made slightly taller by the starkly bleached, firmly-spiked hair atop his head. Tattoos cover his arms and hands, and his long goatee sticks out from underneath his mask. The Black Sheep Lounge is an eclectic mix of both his style and the people he's met along the way; community art — like a painting of a dark forest with a psychedelic sky, or two crafted fish with colourful buttons for scales — almost completely covers the walls. Beans are on display right as you walk in the door, and Spinosa's pride and joy, his 1980s Probat L12 roaster, sits in the far corner of the shop next to a small stage filled with various pieces of musical equipment, where the café has hosted musical acts over the years.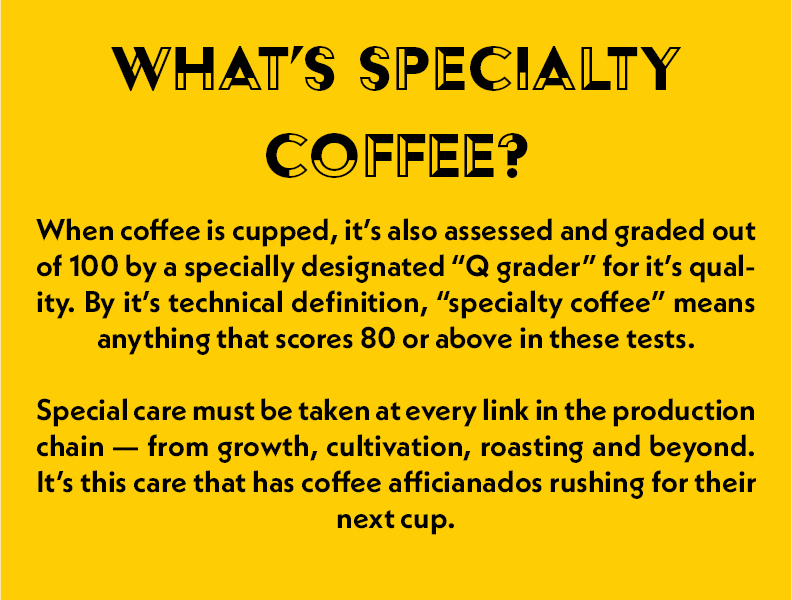 When he speaks about coffee, you can hear the passion in every word. He has a reverence for the drink and everything that goes into it — but he would've been reluctant to call himself a coffee person when he opened the café.
Spinosa spent most of his youth working in his dad's bakery, although despite his best intentions, he was a lousy baker. But if it wasn't for getting kicked out of the kitchen and having to deal with people face to face, he would've never discovered his love for the relationships he formed with regulars. More than anything, he looked forward to the "stereotypical coffee shop arguments" that arose from the daily coffee breaks. He realized coffee was more than just a drink. It was an excuse for a connection.
In 2015, Spinosa took that idea and opened the café in his hometown of Welland, Ont., a city where specialty coffee was a foreign concept. It was a risk, but Spinosa saw it as an opportunity to bring something entirely new to the community. Over the years, the city has embraced the Black Sheep Lounge, and bean sales continue growing steadily, especially as the number of Canadians making their coffee at home during the pandemic rose to 87 per cent from 78 per cent, according to a study by the Coffee Association of Canada.
This wasn't always the case, however. In the six months before opening the Lounge, and without the means to roast for himself, he started touring the province's coffee scene in search of a supplier. His mom had heard about a roaster in Cambridge, Ont. who was doing amazing work. That's when he met Graham Braun of Monigram Coffee Roasters.
"He came in with his red hair straight up and looking like the little devil," recalls Braun with a smirk. Having opened Monigram in 2012, Braun had become a force in the specialty coffee community. Despite the juxtaposition of his clean-cut appearance next to Spinosa's punk aesthetic, the two hit it off. "[He was] just so infectiously enthusiastic about what he wanted to do."
Over time, Braun became not only a mentor, but a lifelong friend. He helped Spinosa with the logistics of running a café, and it was Braun who encouraged Spinosa when he was looking to roast on his own.
But more than just serving coffee, the Black Sheep Lounge has also been a platform for change in the community. Since opening, the Lounge has run annual community clean-ups along the city's canal — an initiative Spinosa started after noticing the accumulating garbage around his building and the adjacent waterfront, along with the city's unresponsiveness to complaints. Since 2017, the Black Sheep Lounge has also awarded an annual scholarship to Welland Centennial High School students looking to pursue odd careers, keeping in theme with the ethos of the café as a celebration of the "black sheep" of the community.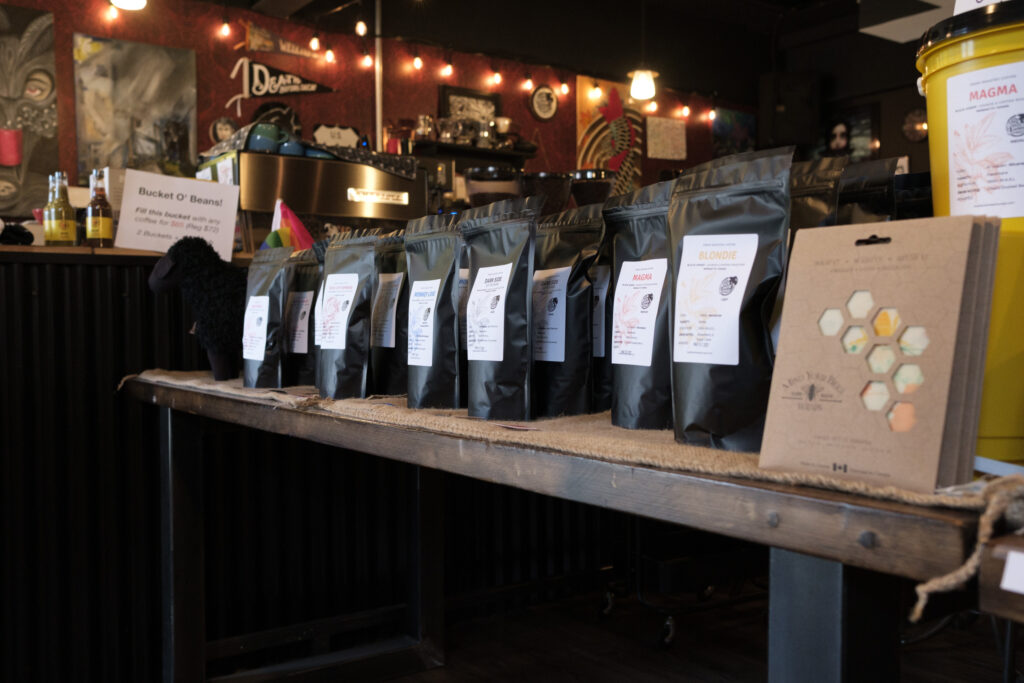 Spinosa has also grown into something of a mentor to others in Niagara's coffee scene, carrying the torch from Graham Braun. In January 2021, he helped create a custom roast for Wandering Spirits Coffee, a mobile coffee bar run by Gregor Sayliss in the neighbouring town of St. Catharines, Ont. Sayliss had been sampling beans from other roasters around the region when the two struck up the partnership. Spinosa later invited him to a roasting session to workshop the roast.
"He literally explained every ounce there was about roasting," recalls Sayliss. "Almost as much as, if I wrote it all down, I could open up my own roaster."
The resulting roast, named "Lost" — keeping in theme with the Wandering Spirits brand — is a balancing act between the fruity acidity of Spinosa's house blend and the more-typical roasty nuttiness of classic espresso. The tasting notes indicate "jelly-filled doughnut," which Sayliss credits to Spinosa's tastebuds.
"He told me five years ago the coffee he was roasting was crap, right? And now he's like, 'I really am starting to like it,'" Says Sayliss. "I had his coffee five years ago. I thought it was great! But it's cool to see someone who can acknowledge that they've kind of improved on this journey."
Right now, Spinosa Spinosa finishes pulling an espresso shot. Walking past the bar, he points to a few things he's been experimenting with lately. One is a bag of beetroot latte powder, another is an unlabeled clear glass jar with an air-tight clasp lid. Inside is a tan powder slightly finer than granulated sugar with flecks of bright colour. He grabs the jar and opens it. "Give this a smell," he says, holding it forward. The scent has vague hints of citrus, a touch of lavender. "Think about it."
A cereal?
"What kind of cereal?"
Froot Loops?
He shoots an affirming look. We have a winner. Combined with steamed milk and maple syrup, the cereal powder will ultimately be a topping for what he's calling a "cereal-milk steamer."
"I'm always thinking of something that people haven't done," he says. One example — which Spinosa says was inspired by spicy chocolate ice cream served at Mandarin restaurants when he was younger — is a drink dubbed "liquid fire," which pairs cayenne pepper with chocolate in a mocha-based drink.
The world of coffee can be an intimidating one, often seen as pretentious and unwelcoming, and Spinosa knows drinks like these may be met with scorn from coffee purists. It's an attitude he's constantly pushing back against in order to make the Black Sheep Lounge an accessible space. In his eyes, it's all part of the plan: "Get people here with things that are fun, kind of novelty, but harmless," he says. If he can get people to think about everything that goes into making a great cup, it was worth it. "If people are enjoying it, who are we to say, right?"
It's another day at the Black Sheep Lounge and a customer walks through the door. Spinosa recognizes them immediately despite their mask. "Hey friend," he calls out. They catch up briefly, exchanging pleasantries, Spinosa asking at one point, "Weren't you getting a different coffee last week?" Beans in hand, the customer holds the door for the next patron. "Hey friend" a familiar voice greets the new arrival from behind the bar.
---