By Zoha Naghar
Without warning, heat rose to my cheeks and my answers became stuck in my throat as the psychotherapist on the other end of a Zoom call, asked me about my personal experience with the "age pause" that young adults were faced with during the COVID-19 lockdowns. Under the fluorescent lights of the empty classroom I initiated the call from, I wondered why she asked me that question.
This conversation wasn't about me, was it?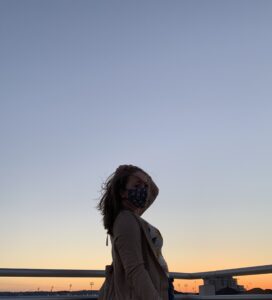 In 2020, the COVID-19 pandemic forced us all into the isolation of lockdown almost overnight. The fear of being infected with a virus we knew nothing about was at an all-time high, and clocks and calendars became useless as time stopped. Three years later, some would say we've returned to what we once considered normal, but during the pandemic, conversations about mental health rose as quickly as case counts, and that has contributed to more awareness. What was slower to emerge was that it paused us in different places. Three years of lockdowns strained everyone's mental well-being in some way, but there is a group of people that doctors worry about more in terms of mental health and development: young adults.
"Young adults are experiencing a substantial increase in mental health concerns, including reported poor mental health and increased stress," according to a 2021 report written by six doctors from the British Columbia Centre for Disease Control. The researchers surfaced trends in behaviours such as nutritional, physical, and sleep patterns. They wrote that not being able to maintain these things during the pandemic has had negative effects on young people's well-being, not to mention, their social abilities and the way they interact with the internet vs. people in real life.
Third-year student, Marwa Houneini, says mentally, she feels three years younger than her actual age because, during the pandemic, her life was paused and didn't change. The natural spring light lit up her bedroom in the early days of the pandemic as she scrolled on social media. She missed out on prom and graduation and says she didn't experience the growth she felt that she should have, either academically, or socially.
"I was stuck in the same routine but I was getting older." Houneini knew she was getting older but mentally, she was falling behind in the race to catch up with how old she was. Yet somehow, within this discomfort, she found a sense of peace. Yes, this pandemic forced her development to a halt, but Houneini says it also forced her to grow in ways she wouldn't have if it weren't for the pandemic.
Ziad Shaarawy, a second-year student at TMU, said that this negative effect came with some positives. His bedroom was his classroom for 2020 and 2021, and he was unable to see his friends, quickly realizing that being stuck in these four walls isn't as ideal as most thought it would be at the start of the pandemic. Shaarawy, who was 16 when the first lockdown hit, filled up his free time with odd jobs and looked forward to the day he could go back outside with his friends on campus.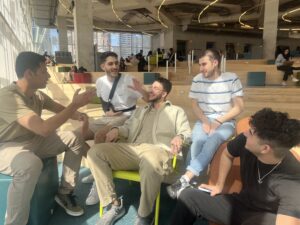 That time finally arrived. Gray icons with name tags written in white, Lato font, became humans attached to those names beyond a screen, and calendars came back to life as the clocks began to tick again. At this point, 19-year-old Shaarawy found himself overindulging in new activities to make up for the time and social interactions that he felt he lost during the pandemic. Shaarawy wasted no more time when it came to socializing. It was nerve-wracking, his palms became sweaty, but he still approached people who sat around him in lecture halls, talked to people at the gym, and now, he has friends who have become a huge part of his life.
Paris Manavipour, registered social worker and psychotherapist says that what society fails to recognize is that the mentality of the pre-pandemic approach needs to change and shift with this generation accordingly. Manavipour says she has seen a worrying increase in reports of depression and anxiety and says that COVID-19 has had a larger impact on young adults than it may have had on older generations because this period of young adult life is a "crucial period of life development."
Through her experiences, Manavipour has witnessed many young adults struggle during and post-pandemic, mentally. It was mid-pandemic when she had an appointment with a client at their home. It was a warm, sunny day out and Manavipour sat in a chair six feet away from the individual she worked with outside of the client's home. Manavipour says her heart dropped as she looked at a student who used to be the smiling, joyful, top of their class, now become a quiet, socially anxious student who could barely look her in the eyes. "It was extremely eye-opening. It's deep-rooted and it's going to be much harder to help these young people that have been struggling so much because of the pandemic."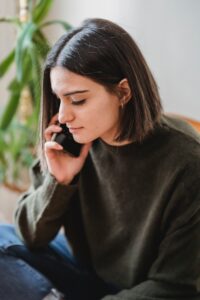 Many young people who were transitioning from elementary and high school in 2020 and 2021, may have had to wrap up their school years behind a laptop and start their first year of college or university from that same harsh blue light screen. Manavipour says that alone contributes to the physical and social isolation because, at this point in their lives, they weren't even getting to celebrate major milestones such as graduation with their peers and loved ones. Living alone in residences away from their friends and family, many were unable to meet new people because of the pandemic.
Lizzie Knowles, a fourth-year TMU student moved to Canada all on her own for university. Not only was she forced to isolate by herself during the COVID-19 pandemic, but she was thousands of miles away from her family in Trinidad, making isolation all the more challenging. She knew she would come home to an empty apartment, but she didn't expect to remain isolated from the people around her.
High school teacher Theresa D'Antonio says she noticed the age pause when she had her very first in-person class since the pandemic. As D'Antonio began to grade work and initiate lessons, she noticed that this group of students was struggling academically in comparison to her students in the past. "There was a two-year delay- I've noticed it with my own kids." As a teacher who is working first-hand with her students, D'Antonio became an outlet for students to share how they were feeling and although her heart broke hearing that they were struggling mentally, there was only so much that she could do as their teacher.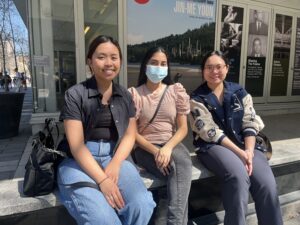 Many students that were asked if they felt this effect of the age pause and mental impact, agreed. They were in a world where "the best years of their lives" were erased and are now referred to as some of the most daunting.
So what is the next step to examine this development delay and adjust back to normal?  The reality is, according to Manavipour, we're not far enough out of the pandemic to understand how great of an impact this will have on young adults long term.
I began to fidget with my necklace as the words coming from the therapist's mouth act like a mirror, reflecting my own bleak experiences as a student during the pandemic back at me.
Turns out, when it comes to the story of the age pause in young adults, I'm not actually on the outside looking in, but rather, on the inside looking for answers.