By Kinza Zafar
The hum of coffee shop chatter filled the room as Amie Archibald-Varley and Sara Fung settled in from an impromptu Costco trip in Hamilton. In between working full-time as nurses and producing a bi-weekly podcast, free time is scarce. Fung, who purchased a coffee and Archibald-Varley with a berry smoothie, sat next to each other, talking about how they use their voices for change.
Throughout their decade-long careers, Archibald-Varley and Fung became increasingly frustrated with the challenges of working in health care. From staff shortages and burnout to what they consider a culture of bullying and silencing, they decided to start speaking out, becoming part-time podcasters just before the COVID-19 pandemic.
The two started the Gritty Nurse podcast as a way to not only find their own voices, but to amplify them for the world to hear. Archibald-Varley and Fung wanted to share their opinions and experiences around nursing, using evidence-based knowledge while centring human connection. Over the course of three years, the pair have surpassed every goal they set while dreaming up new ones, including securing a book deal with HarperCollins Canada.
"[My voice] is the only thing I have control over. It's the most powerful tool," said Archibald-Varley.
What once felt like speaking to an empty room has grown into a vibrant community of listeners within and beyond healthcare. Archibald-Varley and Fung's vision of The Gritty Nurse continues to expand as they examine a plethora of topics, such as TikTok trends, hospital horror stories, economic inflation and sexual health.
The pair promotes nurses as community leaders and health care experts. "Nurses aren't seen as experts, even though [they] have expertise," according to Archibald-Varley. She says many listeners ask her why she is qualified to speak on important issues. To that, she responds: "Why aren't I?"
Despite this, nurses are rarely given a seat at decision-making tables. The Ontario government's role of chief of nursing and professional practice remained vacant for several years until after the height of the pandemic in 2022, even though nurses were at the frontlines.
Archibald-Varley and Fung say nurses are underrepresented in mainstream media, and those who are visible minorities are even more rare. There is a "critical" lack of diversity among nurse leaders, according to a 2018 Journal of Clinical Nursing article.
Shows like Grey's Anatomy primarily focus on doctors at the frontlines of health care, which Fung calls a prime example of the "inaccurate portrayal of nurses." In Canada, there are over 450,000 nurses, most of whom are women, and 90,000 physicians.
However, Archibald-Varley and Fung say nursing is plagued by a culture of infighting, silencing and bullying. "Nurses are cutting each other down, left and right," said Fung. "We can't blame doctors for this – the fact that there's so much infighting within nursing. I don't know if it's a learned behaviour, but it's a part of the culture."
Archibald-Varley and Fung believe the lack of solidarity may be a product of the power imbalance and systemic inequities within nursing as nurses feel bullied by the system so they bully each other.
The Gritty Nurse podcast was their journey of feeling disempowered to creating a platform where they could freely express themselves. They knew their obstacles were not unique.
Fung says it didn't take long for the two to make their dream a reality. After watching a single YouTube video tutorial on setting up a podcast and writing a list of required gear, the two nurses got the ball rolling, "crappy" microphone in hand, she said.
"Because we thought nobody was listening, there was no pressure to really make it perfect. We were just like, 'We're gonna put this out there and see what happens."
Their first episode, uploaded on Jan. 1, 2020, just before the pandemic hit, reached 25 downloads – which they considered a major feat at the time. At first, their listeners were their colleagues, then their reach expanded across the city, province and country – and now, all over the world. The Gritty Nurse has over 140 episodes and consistently amasses hundreds of views across YouTube, Spotify and Apple Podcasts. The podcast is now produced in a fully-equipped studio, funded by earnings from speaking engagements, sponsorships, consulting, Patreon subscriptions and their book deal.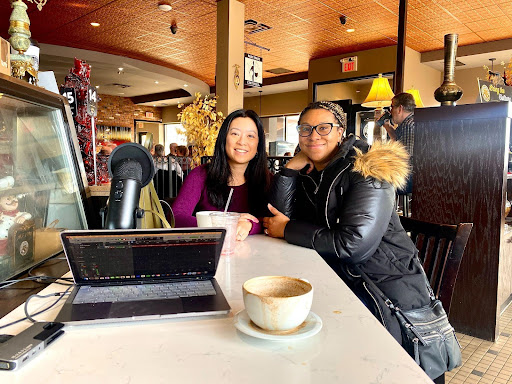 Archibald-Varley and Fung have heard from listeners who say they have helped them feel less alone. Moments like these are when the podcasters realize the "mind-boggling" scale of what they have created, said Fung.
Joanne, a nurse at a Toronto hospital who asked to be identified by her first name because she worries about workplace repercussions for speaking out, said she's had to constantly "walk on eggshells" throughout her career and "didn't know I was even allowed to use my voice."
She listens to the Gritty Nurse podcast during breaks in her night shifts. "It's empowering to see two nurses speak so candidly about what we're actually experiencing, especially during the pandemic."
Fung said the podcast helped her come into her voice. "For me, it was therapy," she said. Archibald-Varley echoed Fung, saying it was a "pretty cathartic process" for her too.
They are currently writing a book with HarperCollins Canada, which is expected to be released in 2025. Archibald-Varley and Fung have continued to think "what's the next dream" they could come up with, said Archibald-Varley.
Born out of hope, the Gritty Nurse podcast not only helped the pair find and amplify their voices, but has transformed into a catalyst for change on a scale larger than they could have imagined.
The dream, said Fung, "can be as big as we want it to be."