By Khushy Vashisht
At an LGBTQ inclusivity workshop in Barrie in 2022, Meg Ramore was teaching her clients the appropriate actions to take if someone is misgendered by their employer. It was going calmly as usual when a client became agitated. He crossed his arms and scrunched his face. Despite her suggestions for colleagues to advocate for one another or give verbal reminders to the boss, this particular client believed that if someone chooses to be transgender or chooses to use certain pronouns, they just have to "accept that people are going to be like this and need to move on."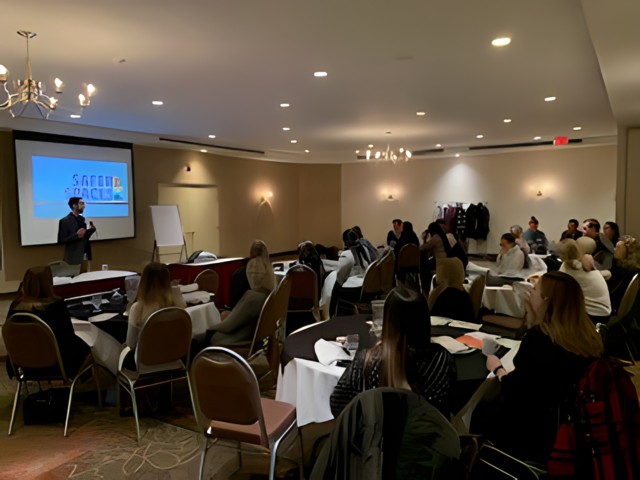 Ramore is a program facilitator at Safer Spaces, a social enterprise of the Gilbert Centre, an AIDS Service Organizations (ASOs) established in 2015. It offers training and workshops to companies and organizations to make them knowledgeable on how to cater a safer environment for the LGBTQ+ community, not only for clients but within the workplace. This involves teaching clients how to unlearn views that carry certain biases and prejudices, including homophobia.
Over the years, Ontario has lost many queer spaces. This includes a multitude of queer bars in Toronto, such as Fly 2.0 and Club 120. Many northern communities have had slow progress in developing inclusive spaces — Ramore notes that North Bay's YMCA is the closest thing to a community centre there. Yet travel guide Lonely Planet called the city one of twelve "most LGBTIQ+ friendly places on Earth." Home to over a million LGBTQ+ people, Canada is ranked as the "most LGBTQ*-friendly travel destination" by Gay Travel Index 2021. Many cities in Ontario are also seen as "top gay-friendly locations," including Brockville and Kingston.
In the face of a decline in LGBTQ spaces, organizations such as Safer Spaces and others have made it their goal to combat the issue.
In 2021, Cheryl Blackman, the then interim general manager of economic development and culture for the city of Toronto, told the city's Lesbian, Gay, Bisexual, Transgender, Queer and Two-Spirit Advisory Committee that up to 13 businesses in connection with the community have shut down starting in the early 2010s –– two of which closed in 2020. Recently, throughout the province, drag queens and artists have voiced concerns over their safety and livelihoods due to protests targeting their shows.
Before joining Safer Spaces in 2020, Ramore worked at the North Bay & District Multicultural Centre for around a decade. Ramore's work was primarily focused on queer and transgender newcomers. But long-time residents of the community kept stopping by the agency to either access an inclusive space or ask how to create inclusive spaces — something Ramore said was beyond their job.
Ramore was discouraged when they realized they weren't able to meet those needs. But soon after, they saw a job posting at Safer Spaces — a "dream job" and a natural next step. Her goal would be trying to "integrate a northern rural context" within conversations and considerations of LGBTQ+ communities.
The aim of Safer Spaces is showing there is no one-size-fits-all approach to such conversations. "No space can be safe for everybody at all times, and what specifically might be safe for you might be unsafe for me," Ramore said. "We all have different needs and experiences. And so, by using the language of safer, it's a verbal recognition, a visual signifier, a reminder [that creating a safer space] is always being worked on."
Ramore made it clear the establishment delivers their training to anyone who requests it but is trying to increase capacity to "serve, support and make space for queer and trans people."
Kelly McLaughlin knew the North Simcoe Youth Wellness Hub wanted to go through Safer Spaces training for queer and transgender-identifiying youths in the region while the Hub was still starting out their "project-mode" in 2018. The Hub already had LGBTQ+ youths engaging with their programs and activities.
As part of youth engagement, McLaughlin often goes out for events such as pop-up shops at high schools in the area to distribute goodies and advertise the hub to students. Recently, during a pop-up at a local high school, a girl did not pick up any of the condoms at the table. When playfully questioned, she told McLaughlin, "no, I'm gay." McLaughlin nodded in understanding and laughed. "Yeah, me too." Their interaction concluded with a "sister-like" smile and McLaughlin was proud of the "organically natural" conversation seeing it provided the girl with comfort and openness.
McLaughlin said it's important to have a staff that represents the people it serves. The Hub recently polled its clients on how they identify themselves to understand and acknowledge the communities they serve. Over 40 per cent of their youth accessing clinical services identified as "gender diverse"––anything other than cis-gendered. Additionally, slightly below 60 per cent of these youths identified as non-heterosexual.
The impact of their services and strategies is reflected in the numbers. McLaughlin said they, "seem to attract and be effectively engaging youth that identify as LGBTQ."
"[I] try to continuously make space for people to feel safe, sexy, seen."

MARISA ROSA GRANT
Like McLaughlin, Nancy Friedman jumped at the opportunity to get trained by Safer Spaces as soon as she heard about the organization in late June 2022. She saw a chance to make her private counselling practice, Win Win Counselling, a place where LGBTQ+ individuals could turn "to share their struggles and feel safe to do so."
Friedman said even the things that may seem little have the biggest impact. Sharing personal pronouns and using gender-neutral words — such as partner instead of husband or wife — in conversation have the power to "magnify a safer space."
Safer Spaces is not alone in this domain. Both up north and in Toronto, there are other initiatives, separate from Safer Spaces, that are using similar techniques for the same purpose.
OUTLoud North Bay is a queer community centre that opened in 2019 after founder Seth Compton "identified a need for support services and a safe hangout space for 2SLGBTQ+ young people in the area." Alongside mental health services, they hold workshops including music therapy, pen pals and more, including programs specific for Indigenous youth.
In Toronto, Marisa Rosa Grant founded STRAPPED.TO. Grant came out of the closet as a queer, non-binary person in late 2018, around the time the last lesbian bar in Toronto closed. They found the queer community spaces around them to be white and cis-male dominated, leaving them disheartened.
A lack of intersectionality within queer spaces is not uncommon. In his 2021 article on whiteness in safe spaces, equity researcher Tim Vo addressed how queer "leisure spaces" remain sites of discrimination based on race, age and more.
STRAPPED was created to provide safer environments for queer women, transgender individuals and non-binary people – with a strong emphasis on people of colour – through parties and celebrations.
"[I] try to continuously make space for people to feel safe, sexy, seen," said Grant. "I'm now trying my best to always create experiences that leave people with some new connections and some new friends."
They created this experience this past Valentine's Day when they hosted a casual get-together at Freeplay Toronto with dozens of queer and transgender-identifying individuals attending.
While Grant's and Compton's pursuit continues in stride, Ramore's is still a work in progress.
"Queerness doesn't look the same in the north in terms of visibility," she said. Ramore added queer and trans people still exist up north even if the conversation doesn't match the visibility in Toronto — therefore policies need to reflect that population.
Ramore called the resistance they face at workshops as rooted in clients "not wanting to mess up and hurt people" which can sometimes come off as defensive and aggressive as they learn to unlearn concepts like binary thinking. Solutions to instances such as the agitated participant in Barrie involve strategies such as "brain-breaking." Here, the root cause of such agitation is broken-down to identify why it occurs.
However, they left off on a note of hope and affirmed that the majority of clients taught — including ones like who she met in Barrie — want to learn and make an effort to wrap their minds around concepts they are hearing for the very first time.
Ramore said she has a month-long waiting list of companies signed up for training, ranging from manufacturing factories to hospice-care centres. As interest blossoms across a variety of sectors, the pursuit of a safer space continues to gain traction.