By Sabrina Scroppo
With his nose buried in the pages of a fantasy classic, a thick Scottish accent surfaces without warning. "Harry – yer a wizard." The smoky tone of Rubeus Hagrid's voice lingers in the McNally home. Crisp pages land together and the ruby red hardcover is shut, the fictional nighttime adventure finally put on pause. Rupert and Danielle tuck themselves into bed and their dad Ben retires his mythical storytelling for the night. The kids grow up with fond memories of their father's magical retellings of Harry Potter.
Baby teeth fall out, birthday parties pass and elementary school graduations arrive. Ben McNally's children are enthused by the art of reading. Thus, a family business is born.
From 2007 to August 2020, when their landlord pulled the plug, Ben McNally Books was a renowned staple in the heart of the city. Located on Bay Street south of Richmond, the shop gave booklovers a place to call their home away from home.
Perched above its entrance, hung a canary yellow sign with the store's name and in a humble black font: "Read the fine print."
A more mellow shade of yellow coated the walls, which encompassed rows and rows of fables nestled away on dark oak shelves. Powder-blue paint coverred the vaulted ceilings, decorated with scattered streaks of an antique gold. Magnificent chandeliers lit up the room, shining a spotlight on each little nook and cranny, and a cash register was stationed atop the main desk.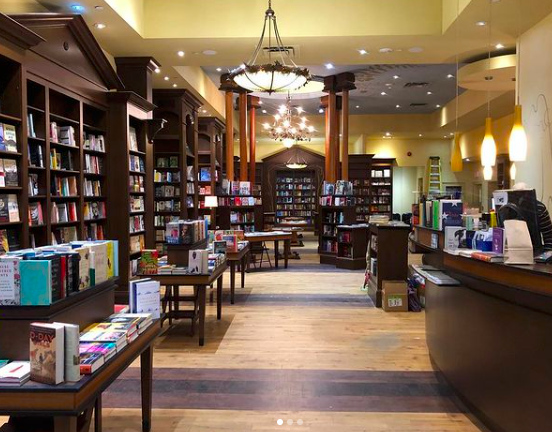 The fairytale environment romanticized an enclosed space of enchantment hidden from honking cars, scrambling commuters and whiffs of brewed coffee. A sophisticated ambience accompanied the scene. The elegant bookstore housed every genre imaginable, from classics to thrillers, mystery to historical fiction, memoirs to poetry.
Lawyer Jared Schwartz passed by McNally's often, whether it was on his way home or during his lunch break. His office in the financial district meant the shop was only steps away from a busy week of court days and paperwork.
"I consider Ben McNally's my store … it was a little pocket of calm in the hectic financial district," says Schwartz. He leans on staff for recommendations every month and values the small business for its charm. "I buy books faster than I can read them because I know they'll be good."
The McNally family called Bay Street home for the last time on Aug. 30, 2020, and now resides temporarily on Adelaide Street East.
Just as the pandemic hit the most vulnerable of small businesses, Toronto's beloved independent bookstore prepared to abandon its stomping grounds of almost 13 years. The building's landlord decided against renewing the lease, closing the doors on McNally and his family.
Ben and Rupert signed a temporary lease to a quaint space not far from George Brown College, suitable for curbside pickup and delivery while they navigate through the uncertain future.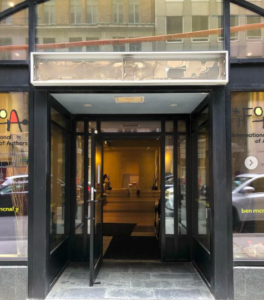 "On the internet you can find what you're looking for. In our store you can find what you are not looking for," Ben McNally says in a video call. The shop is notorious for its genuine attention to detail and ability to find customers exactly what will be a new favourite.
Requests and assistance are at the forefront of the shop's sentiment with recommendations popping up unsparingly. The team hunts down small print brands along with unique finds one won't discover elsewhere. Flooded with emails and buzzing voicemails, staff sift through new and noteworthy novels and timeless classics in hopes of endorsing the perfect fit for each customer. Exploring different genres and drawing on each other's knowledge drives this process.
Scattered across the web are reviews praising the team's dedication and thoughtful finds. A woman from San Diego thanks Danielle for her help in sending a birthday present of three different books to her aunt across the continent. Another from San Francisco compliments Ben's delightful display and collection. A man from the U.K. routinely counts on recommendations for his young daughters every month.
"We have an international reputation and we're just a dinky little bookstore in the middle of the city. People know about us all over the United States and in England, and I think that's pretty unusual," says McNally.
Ben McNally Books has climbed the ladder to fame while welcoming a vast variety of seasoned stars from the industry of storytelling. Over the years, acclaimed authors and speakers took to the store's squeaky wooden stage, among them poet Edward Carson, musician Tom Wilson and literary icon Margaret Atwood.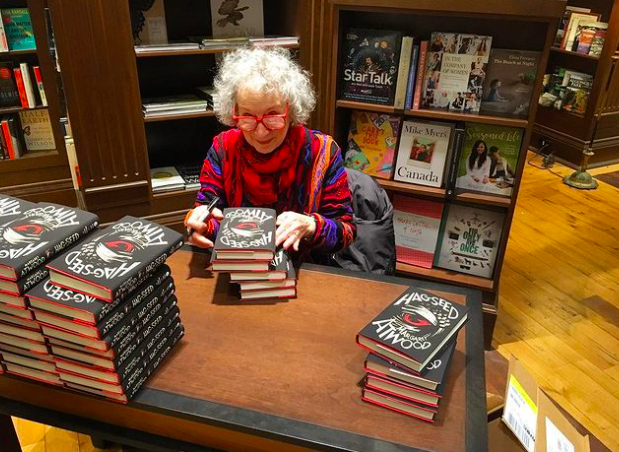 Numerous events seized the space at the original store. In Her Voice, a series of mini festivals designed by Danielle with a motive to celebrate women and non-binary voices. 45 Books in 45 Minutes, Books and Brunch and others. Since the pandemic, several events have been held online the store hopes to bring them in person to Adelaide in the future.
Just a month after the release of her debut memoir Dirty Work, author Anna Maxymiw joined Danielle's pursuit to lend a spotlight to female writers. Maxymiw says reading her own words on the dark oak stage caused her to "fall in love with the shop." As a fresh face to the publishing world, she reminisces how special her time on the In Her Voice panel was and references the old location as a "mini vacation."
"You know, you get a chance to meet an author. That's a big deal. It's special, like stardust," says McNally.
A review by Global English Editing reveals 35 per cent of the world has read more since COVID hit. According to BookNet Canada, 76 per cent of readers said they read for enjoyment, up from 59 per cent in 2019.
With this increase, perhaps customers might turn to Amazon for a quick fix of fiction, which foreshadows stormy weather for smaller, independent booksellers.
"Shops have been managing to tread water for now, and pivot to an online business," says Deborah Dundas, books editor of the Toronto Star. Dundas credits Ben McNally Books as a great leader. "They've gone beyond just being booksellers and have become a part of the literary community around them."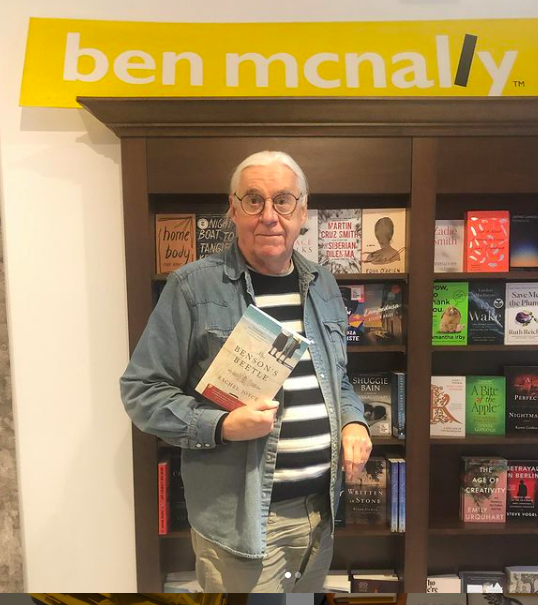 Although Zoom meetings allow readers to travel to Vancouver or the U.K. for hosted events, debut authors are struggling the most. "It doesn't sell books in the same way as before. The personal touch is lost," she says.
It's a tough business and Rupert urges people to shop local as much as possible. "What you get from any independent bookstore that you won't find other places is a connection," he says. "The problem with Amazon is that you lose your neighbourhood."
As a self-proclaimed hippie, Ben spent his youth with his hands gripped around a comic book. The vibrant pop art of Scrooge McDuck and Archie served as a gateway drug to the world of reading.
"My favourite toys were books. I went to sleep with a book in my arm."
As he speaks, McNally sinks back into a red floral sofa with hints of subtle greens and burnt oranges, a jarring wall of at least a hundred hardcovers behind him. His living room is dressed up like a gallery, showcasing each prized possession on a set of sleek shelves that his wife Lynn got him as a 63rd birthday present almost a decade ago.
Round glasses rest on the bridge of his nose as he offers a few final words of advice.
"Read anything," McNally says, then vanishes from the computer screen.