By Alex Baumgartner
It was a cold January night in 2018 Montreal. The streets and sidewalks were layered with a fresh coat of white snow. Despite the storm outside, the frigid winter air was an afterthought for many in the city as the hometown Montreal Canadiens faced off against their greatest rival, the Boston Bruins.
Seventeen-year-old Casey Dobson was one of the many Canadiens fans who gathered by the television that night to watch the game. Casey and her father Dave sat and watched countless Habs games in their family basement over the years. What was supposed to be just another game turned into a life-altering moment for her.
The game was a back and forth affair. Montreal and Boston ended regulation and overtime tied 3-3 and were headed to a shootout.
Before the shootout began, CBC's camera began to pan over at the Bruins bench. Playfully, Casey put on her best "Hockey Night in Canada" announcer impression as she introduced Bruins defenceman Charlie McAvoy to the Dobson household. Nearly immediately after, the camera zoomed in on McAvoy, leaving Dave in disbelief.
Casey always loved sports from an early age. Whether it was watching her parents play soccer or tuning into New England Patriots football games, she was a sports fanatic. From naming random players from different sports or talking about analytics, Casey always kept sports in her heart. Yet, she only saw it as a hobby, not a profession.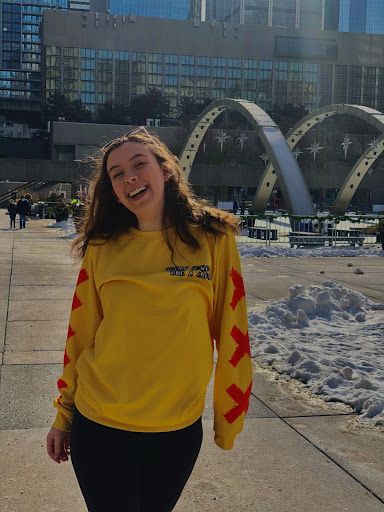 Growing up, Casey wanted to pursue a career in the culinary field. Her father is a professional chef for CF Montreal's Impact. Casey also showed signs of excellence in the kitchen. At 15 she was a contestant on Chopped Canada and was taking classes to prepare herself to potentially run a food business in the future. Casey knew she had a profound knowledge about sports and her parents constantly pushed her to pursue a career in sport media, but her heart was with culinary arts.
"How the f#%* did you know that? He's not that important and he doesn't even play for us," exclaimed Dave as the shootout was set to begin. "I don't know why you don't want to do this as a career."
With her father's reaction and ensuing comments, Casey broke down. Years of pushing a potential career in the sport media field aside all went down the drain as she sobbed in front of her father. That moment made her realize that the culinary industry wasn't her dream, sport media was.
Now at 20 years old, Casey is about to complete her first year of sport media at Ryerson University this month. As a woman who is trying to break into the heavily male-dominated sport media field, Casey decided to launch her own sports journalism outlet, Unbenched Sports.
Unbenched launched in August 2020. The online sports journalism publication has a website, multiple social media accounts across different platforms and two sports podcasts. At Unbenched, you can find videos including their monthly sports spotlight segment where they feature women in sports, weekly series like their NHL Top Three segment and NFL Sunday Sprint.
Unbenched director of basketball and Tennis, Crina Mustafa, doing the monthly spotlight for March. (Alex Baumgartner/T•).
The catch with Unbenched is, it is entirely run by women, more specifically, women in university. As of April 2020, Unbenched Sports has 10 team members, eight of whom are Ryerson students. All of Unbenched's staff are volunteers, so they are doing this unpaid on top of their school work.
Casey said she always wanted to create something where she could show off her work, like a portfolio, but the reason Unbenched came into existence had to do with a conversation Casey saw between some peers.
A few months before the start of her first year of university, Casey was already getting acquainted with her fellow Ryerson sport media classmates. In the midst of a global pandemic, classes were to be held online, so the future sport media class of 2024 students created a group chat.
Many of the ambitious students were comparing experiences they had in the sports media world. Casey noticed that mostly the men had been given opportunities in the industry while the women weren't presented similar chances. "I started Unbenched because if nobody is going to give women an opportunity, then I'm just going to make one for us," she said.
Casey now had the idea for the platform but needed a team to help her make this dream become a reality. She reached out to women in her program and pitched the idea she had in mind. Four of them loved the concept and were ecstatic to be a part of it. Casey dubbed herself and the other four the "Core Five" since they have been with Unbenched since the beginning.
A timeline about the history of Unbenched Sports. (Alex Baumgartner/T•)
Mikayla Guarasci is one of the Core Five. Like Casey, she began her university career looking to put herself out there in the sport media world. Today she is Unbenched's social media manager as well as a hockey content contributor.
Guarasci's face lights up as she talks about the driving force behind the Unbenched's success: the team. "Everybody working behind the scenes at Unbenched is so passionate about it," she says. The drive and work ethic of her peers has had a positive effect on her and Unbenched's leader has been one of them.
"Casey Dobson is one of the most driven and hard working people I have ever met," said Guarasci. "Working with her inspires you to be better, you want to work with people like her."
Holed up in her tiny, one-bed dorm room at Ryerson, Casey spends a minimum of five hours a week working on Unbenched. COVID-19 protocols have made the once loud and chaotic Pitman Hall residence a ghost town. In years past, Pitman was the go-to spot for weekly parties on Ryerson's campus. Now, you can't even bring a single guest to the dorms.
Casey thinks about the hardest part of running a platform during a pandemic. It isn't the workload or deadlines she has to meet, the most draining part is the sense of loneliness she feels living alone away from her family. "It can be hard when it feels like no one is holding you accountable," she explained. "It's a really lonely feeling when you have no one there to tell you to get it together."
Casey hasn't actually met the majority of her team in person. With no in-person classes, she has only spoken with most of her team online. Unbenched has never held a meeting, online or in person. All of the conversations between team members happen via group chats. When Casey or another member of the team have an idea, they'll bring it up in the chat.
Some of Unbenched's work has had really positive feedback from their audience. One example is Sneha Dcunha's article about Sportsnet's Amrit Gill being a racialized woman in her field. Another big article for the site was Casey's article about Bell Media's firings just a day after its Bell Let's Talk campaign.
Looking at everything Unbenched has done over the last eight months, Casey's face beams as she looks at the support she and the team have got. When Unbenched launched their latest podcast, Ball Busters, a weekly talk show that breaks down the latest news in the sports world, many of Casey's peers talked about the show on Twitter.
"Seeing people interact with the content and acknowledge it is rewarding," she says. With the release of Ball Busters, Unbenched's fans talked about their favourite moments from the show and even mentioned their favourite members on social media.
Casey's grin widens as she talks about her members getting all the love. "I'm nobody's favourite yet, I'm just going to fire everyone until I'm someone's favourite," she says as she laughs.
There's not a ton of women in the sport media field for young girls to look up to. Many at Unbenched praised one specific woman in the field as one of their sport media idols.
In 2014, Rogers announced that it was launching a new show, "Rogers Hometown Hockey," as part of its NHL broadcast schedule. Sportscasting icon Ron MacLean was paired alongside a new face to many Canadian sport fans, Tara Slone.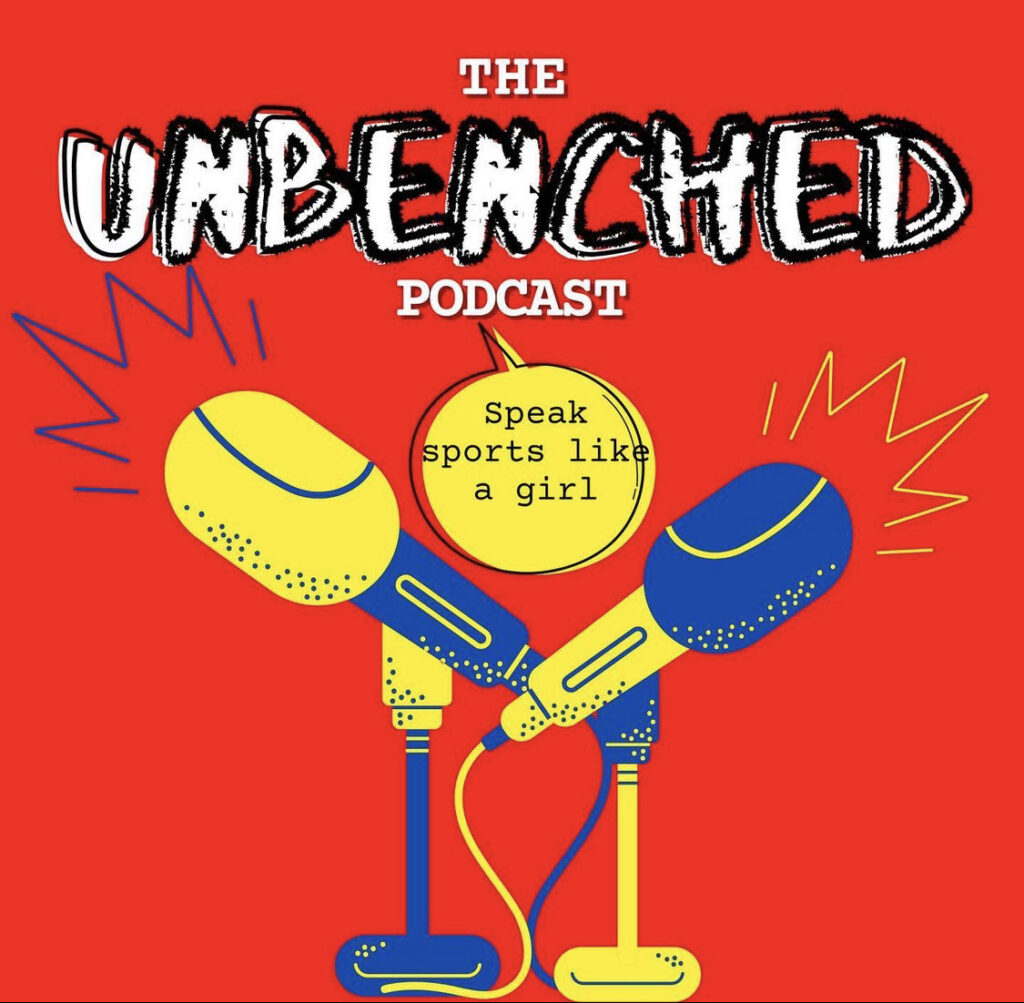 Slone was on the biggest stage in Canadian sports media and as a woman, she was breaking barriers while doing so. Casey remembers watching Slone on Saturday nights growing up. Having someone who looked like her doing something that never seemed possible was a big influence on Casey.
On Feb. 1, Unbenched had released its first episode of the Unbenched Podcast. The inaugural episode was hosted by Casey, featuring her idol, Tara Slone. This episode was a big point in the rise of Unbenched. After the episode aired, Slone retweeted the show and interacted with Unbenched on Twitter. This brought more traction to the publication.
On Feb. 1, Unbenched had released its first episode of the Unbenched Podcast. The inaugural episode was hosted by Casey, featuring her idol, Tara Slone. This episode was a big point in the rise of Unbenched. After the episode aired, Slone retweeted the show and interacted with Unbenched on Twitter. This brought more traction to the publication.
Whaaaaaaa??!!! The FIRST?! 😃 https://t.co/rjGCgLqeoC

— Tara Slone (@TaraSlone) January 30, 2021
Rogers Hometown Hockey host Tara Slone shows her excitement for being the first guest on the Unbenched Podcast. (@TaraSlone/Twitter)
"I've had people tell me how impactful it was to hear Slone talk about how she still gets spoken down to by men in the industry," Casey says.
Reminiscing about recording the podcast with Slone, Casey still finds that moment surreal. She said at the moment she needed to be pinched because she thought it was a dream having someone as influential as Slone acknowledge her network.
"For the first time, I really felt like this is where I was supposed to be."