By Julianna Murray
The lock clicks as Sherryl Maglione-McLean, or Mags for short, welcomes a customer into her shop in the heart of Brandon, Man. Her eyes are warm and crinkled at the sides, illuminating her smile from behind a lilac-coloured mask. She has opened this door for almost two years. Even though her business is more successful than she had ever imagined, the storefront will close in June.
Dunes Relaxed Fashions Manitoba opened its doors in the summer of 2019. Mags balanced a teaching career with running her store. In January of 2020, Mags couldn't understand why she was so exhausted at work everyday. Then she received a diagnosis: terminal cancer. She retired from teaching. With her husband at her side, the two decided they would continue with the storefront until they felt it was time to move on. Now, that time is fast approaching.
"It's just part of the process of living, right? There's a lot of people that are living with different diagnoses… and it's just part of life," she said.
Mags isn't concluding her work as a business owner; she's just taking the business back to her basement, where she first opened it in 2017. She will continue to sell beads, fabric, and ribbon skirts. Whether it's been as a high school teacher or an entrepreneur, her story is one of inspiring pride in Indigenous artistry in her community.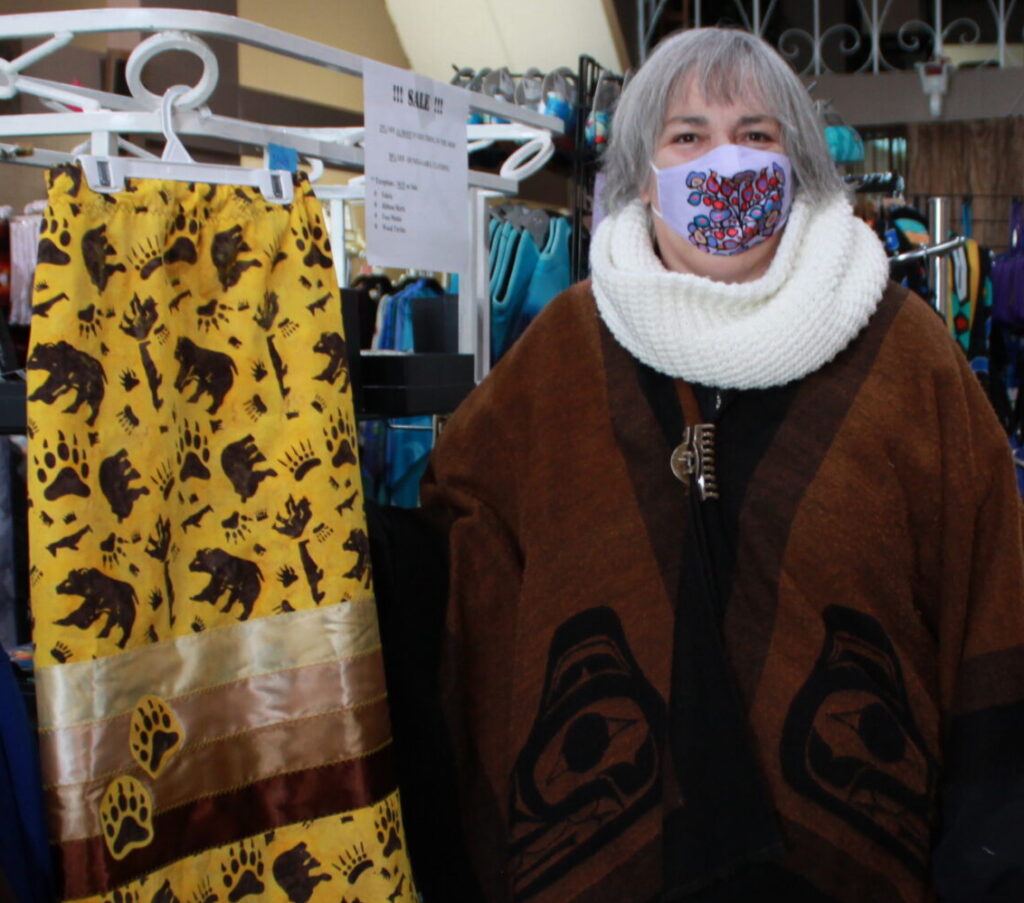 Brandon, Man., where Mags runs Dunes, is a small city that feels like a town, with a population of about 50,000. It's built around the Assiniboine River, just over 200 km west of Winnipeg.
Mags was born in Edmonton to an Italian father and Cree mother from the Saddle Lake Reserve. A natural gift and love for reading as a child led to studying literature as an adult. She later moved to Manitoba. Her passion for the arts blossomed as she navigated the landscape of contemporary Indigenous authors and artists. On the Indigenous Arts Collective of Canada website, Mags wrote of her shop:
"I always knew that I wanted to continue teaching in some way, shape, and form, about [First Nations, Metis, and Inuit] Canadian art and artists. My shop is an example of that dream."
Mags has given her all to her passion for teaching about Indigenous artwork. The high school English curriculum had all but excluded Indigenous literature; Mags took it upon herself to Indigenize the curriculum. She developed lesson plans that related works like Of Mice and Men and Shakespeare's plays to the Seven Sacred Teachings, which prioritize humility, respect, courage, love, honesty, wisdom, and truth. She created activities and assignments that were more applicable to the lives of her students, who were primarily First Nations teens. Mags sells her lesson plans to schools and organizations across Canada.
She becomes especially animated when retelling some highlights of her teaching career.
In June of 2009, Mags and her twelfth-grade students waited in lawn chairs as dusk settled over the white tent of an outdoor stage. Winnipeg's "Shakespeare in the Ruins" was about to present Othello, a tragedy with a biracial marriage at the heart of the story. Michael Lawrenchuk, an actor from Fox Lake Cree Nation, played the lead role. Mags' students were unaware that Lawrenchuk was awaiting them. She had contacted him ahead of time to surprise her class.
The students initially felt uncomfortable. They were hyper aware of being the only First Nations group in a primarily non-Indigenous audience of over 100 people. But the stage was surrounded by trees, and out from behind one of them popped none other than Lawrenchuk himself. He energetically called out to them and welcomed the class to the show. Mags watched her students' unease melt away.
"For them to see a representation of themselves up on the stage, to see what is possible… that was very powerful," she reminisced.
Inside Dunes Relaxed Fashions Manitoba, a mural of a cherry blossom branch reaches across one wall. Most of the merchandise is alive with Indigenous symbolism and artwork. On glossy plates and ceramic mugs, wolves gaze back at you, hummingbirds stretch their wings, and other symbolic animals are embraced by Indigenous artists from across Canada.
Mags returns to her table, which doubles as a checkout counter and a workspace. It's filled with packages waiting to be shipped to customers who ordered online. For a store that opened its doors only months before the outbreak of COVID-19, Mags and her husband Rob McLean are swamped. It's just the two of them running the business.
From behind her desk, Mags swipes through pictures on an iPad of the art lessons she hosted at the shop. Before the pandemic, she held workshops where she taught beading, or a guest artist instructed a class. She preferred to keep the groups relatively small, so that each person in attendance got intimate instruction on their work.
The wolves that everyone is painting look beautiful, but I also can't help but notice the sparkly fairy wings that everyone has on.
"Oh, and I liked to dress them up," Mags laughs.
Leah Thorne-Phillips is one of the local artists that Mags invited to teach at the shop. The pair met when a mutual friend asked Thorne-Phillips if she would teach Mags to loom bead. Mags was still teaching at the time, and ran the store out of her basement. The two became friends in the relaxing atmosphere of chatting and loom beading together. It was only natural that Thorne-Phillips taught the first beading class when Mags opened the storefront. There's something nostalgic in her tone as she recalls teaching Mags the craft.
"She's just a beautiful soul. She's very kind."
Although the pandemic put an end to the classes, Mags can still sell the shop's goods. A long table is piled with ceramic coffee mugs. They're the most popular merchandise; Mags was constantly restocking them. They feature designs by artists across Canada. Among them are works by Francis Dick, a Kwakwaka'wakw artist from British Columbia, and Kenojuak Ashevak, an Inuit artist. Each mug comes in a box with an artist's bio.
Some artists are local. Metal cut in the shape of Manitoba is fixed onto wooden boards. The wall hangings are made by Iron Age Welding, which operates just north of Brandon.
One table is dedicated to Metis items; anything from the infinity symbol flag to traditional sashes. They're from Etchiboy, a company based out of Winnipeg.
Jason Gobeil helped organize National Indigenous Day in Brandon for several years. He met Mags when she brought her store, which she ran from her basement at the time, to the event as a vendor each year.
"Her growth and development into [making and selling ribbon skirts] has been awesome to see…. One of the things that we've really seen here in Canada, and in our own community of Brandon, is that even Indigenous people are still learning about themselves. And being able to purchase something like that, especially for a young girl, is a special moment for them. It gives a sense of pride, of identity, and it's beautiful."
When Mags closes the shop in June, she's going to continue doing business from home. She will keep selling ribbon skirts, beads and fabric.
If you walk out of Dunes and look down, you will see a sidewalk imprinted with bundles of wheat. It's a nod to the agricultural heritage of Brandon: "The Wheat City." But inside Mags' shop is a celebration of Indigenous artistry, the kind of business that was missing from the heart of downtown for too many years.
"It was really a big sense of pride, not only for Indigenous people but for her as a business owner, making her stamp here in the city," said Gobeil.