By Sofia Ariza
BOGOTA, Colombia – Dina Zoraida sits against the dusty stone wall that divides the entrance of Hayuelos Shopping Mall from the busy roads and pedestrian sidewalks in the west end of Bogotá, Colombia's capital city. She cradles her two-year-old son Diego in her lap and entertains him with songs as he fidgets with a toy, a metal screw. The 27-year-old stares at the packed street with sad eyes longing for a better life.
Families and friends walk eagerly toward the large glass doors of the mall, ready to open their wallets. Zoraida makes a daily effort to look presentable by tying back her shoulder-length silky hair and always has her face mask on. She does all that so maybe, "People give me a chance."
She offers the bags, which come in black, white, red, grey, blue, and green, to every person who walks towards the mall. With shifting eyes, some nod in rejection while others plainly ignore her. "Coronavirus has attached itself to the image of poor people like my family and me," says Zoraida as she stares at the ground. "People see us on the streets and assume we are contagious. But we wear our masks and clean our hands just like everyone else."

With the COVID-19 pandemic, poverty has increased greatly and left countless businesses and street vendors in ruins. It's customary in Colombia to purchase food and items from street vendors as a way to help the vulnerable of the community. Drives from the city to the beach and villas always include rolling down your car window to purchase food or items from hard-working vendors, who stand on the side of the road in the burning sun to sell their products.
In Colombia, many people would rather buy flowers and produce from vendors who bring what they grow in their fields to the city to sell, instead of purchasing from grocery stores. Street vendors often have regular clients, but in the pandemic, their support has dwindled and many do not qualify for government assistance.
Zoraida rises at 5 a.m to arrive at her usual spot outside the mall before it opens at 8 a.m. She lives in Ciudad Bolivar, a Bogotá mountainside slum with a population of 733.859. It's plagued with poverty and unemployment which leads to high crime and gang activity. "It's very dangerous. They murder a lot of people here," says Zoraida. Her journey to work includes long walks down the mountains with Diego, who accompanies her to work because Zoraida can't afford a nanny, then two hour bus transfers to finally get to work.
INTERACTIVE MAP
Being brought up in Ciudad Bolivar meant Zoraida had little opportunity to get a good education and job. Lonely and impoverished, she worked hard to find a partner in the hopes that life would improve. Unfortunately, her partner abandoned her and their three kids: Felipe, 10, Cesar, 6, and Diego, 2.
Zoraida says she hasn't received any assistance from the government and that many street vendors she knows haven't either. The only help she gets, and is very grateful for, is from charities that deliver free groceries to poor neighbourhoods in Bogota, focusing on the houses that hang red rags outside their windows. "Putting out the red rag is the way of letting people know that you need help. We always have our red rag hanging outside our window," says Zoraida.
Rosa Castillo, a 36-year-old street vendor sells lollipops. The single mother of two works her spot outside the bank – "Bancolombia" – in Modelia, Bogotá. Castillo lives in Kennedy, an area in Bogotá with high rates of poverty, unemploymment and crime. She too hasn't received help from the government, and sales are few and far between but sometimes people gift her coins without purchasing anything.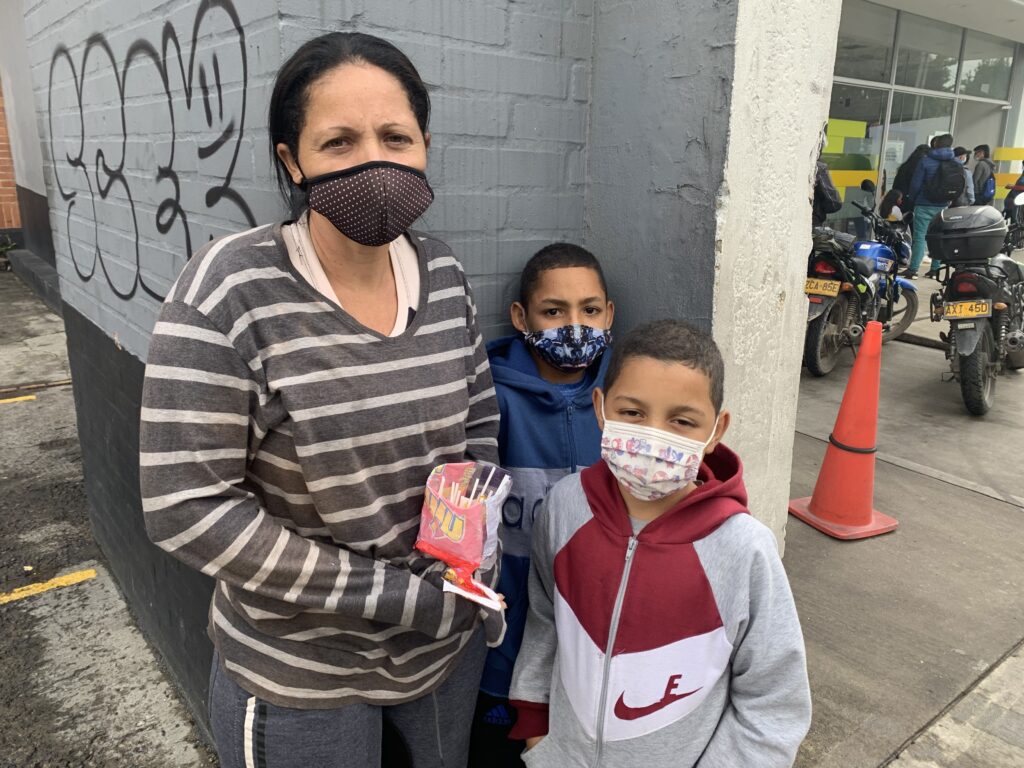 Castillo's two sons aren't in school at the moment because schools in poor areas are closed due to high infection rates of COVID-19. Castillo can't afford a nanny and even if she could she would never leave her kids with one. "One of my neighbours came home from work one night and her nanny and son weren't there. The nanny kidnapped her son and he was never found. Poor and dangerous areas like the ones my family and I live in are not places to leave your kids. So I take my boys with me to work," says Castillo.

A few kilometres away on the other side of the city inside Bogotá's Red Cross building, a place where countless charities are headquartered, Esperanza Gomez, does what she can alongside her Red Cross team. They deliver groceries and clothes to poor people in Bogota. Dressed in her white and red uniform, she rests her hands on her desk full of neat paper piles. With a disappointed voice she explains that the Colombian government does offer some assistance to street vendors, but not all of them qualify.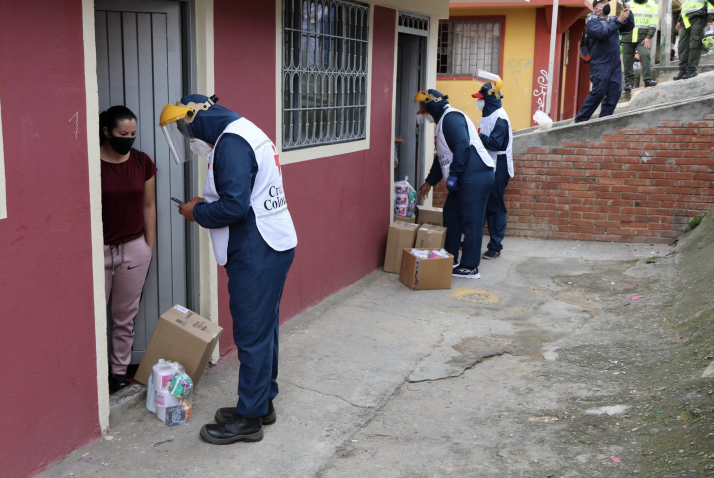 IN THEIR OWN WORDS, DINA ZORAIDA AND ESPERANZA GOMEZ ON STREET VENDING DURING THE PANDEMIC
Qualification is often based on tax reports and government-issued licences permitting people to sell on the streets. "These are things that the majority of street vendors in this city do not have," says Gomez. She says the Red Cross helps as much as it can, delivering free food, medicine and clothes to the poor in Bogotá and surrounding areas.
Maria Gonzalez, a 21-year-old street vendor of heavy duty plastic bags and single mother of two does not receive help from the government. Gonzalez lives in downtown Bogotá with her two kids in a room she shares with three other people. She says that thankfully she has received some donated clothes and food from charities during the pandemic.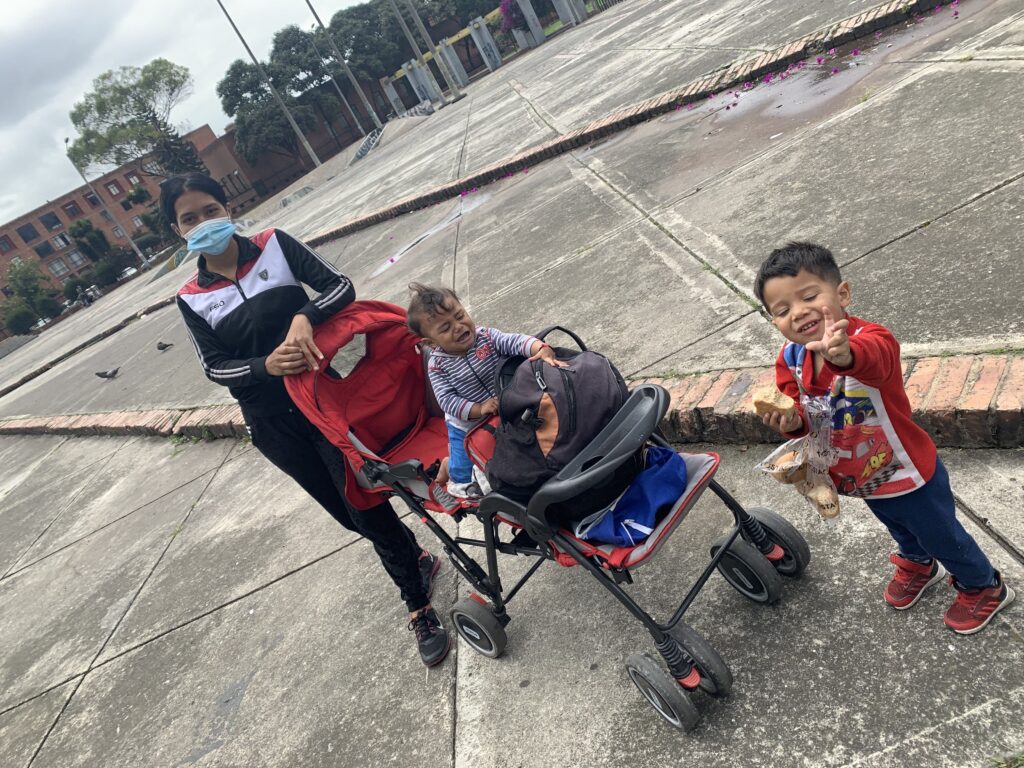 "Today an old lady was sitting at the park and kept staring at us. I think she was praying. She then crossed the street to the bakery and bought us a bag of bread," says Gonzalez. What the good Samaritan didn't know was that Gonzalez and her sons hadn't eaten all day. "That old lady was a blessing sent to me from above today," says Gonzalez.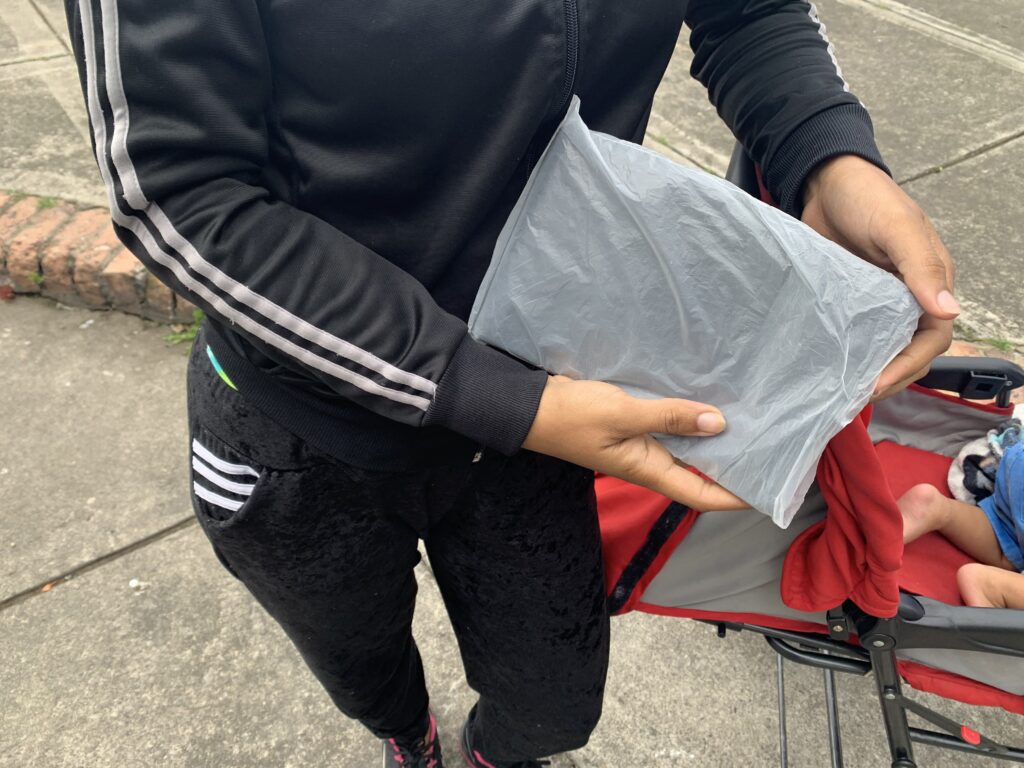 As Zoraida sits on the ground after another day of few customers buying her bags, she is downcast, wondering how she will make ends meet. "The government gives help to those that don't need it, but to poor people like me, we don't get anything," she says with frustration, pointing to the people entering the mall. Without customers or government assistance, she struggles to cover expenses such as rent, groceries, transportation, and basic services such as water and gas.
Zoraida says she has no option but to sell bags on the streets, as it's the only product she can afford to buy and resell at a small profit. She hopes that when the pandemic is over things will improve for her and her family.
"We are the vulnerable of our society. We should get assistance, or at least people should forget the idea that poor means infection. This community has abandoned us when we needed them most," says Zoraida.
INTERACTIVE